Like so many of you fellow investors, my life is surrounded by Google (NASDAQ:GOOG) and its applications. I check my Gmail account all day long, search on Google to find everything from the telephone number my wife is asking me to locate to the hours and the location/map to the local Home Depot store. I have stuck with my iPhone over the Google Droid phones but cannot get on the internet or get through my day somehow without using and relying on Google.
Recently I have watched Apple (NASDAQ:AAPL) surprise on earnings followed by a similar surprise by Amazon (NASDAQ:AMZN). I do not own shares of Google yet with the market having another lackluster day, I thought it might be a good time to visit this stock and see if it might be a good investment.
First some of the negatives: Google is embroiled in a controversy regarding its incredible "Street View" maps we are all way too familiar with. There are concerns about the amount of data Google has been collecting from WiFi sources as its cars traveled the streets of neighborhoods that likely include your own. You can read more about the FCC investigation here.
On the positive side, Google continues to look for new applications of its information 'bank' starting with the Jetson's-like idea for self-driving automobiles. When does science fiction become reality? (Some of the founder's of Google recently have invested in the "harvesting of asteroids" venture recently proposed by James Cameron and others.) I shouldn't really have been surprised because Google is already 'out there' mapping the sky for star-gazers and I suppose asteroid travelers.
But Google is about data. And they have now made their move on the "Cloud." Google is working and expanding its presence in the 'cloud' with its recent promotion of "Google Drive." Google it appears has a hand in everything having to do with computers and the data they generate. Or at least would like to.
With the stock trading north of $600 ($609.40 today-April 30, 2012-as I write), it is not surprising that the company announced a stock split. But like so many things Google does these days, this also created controversy as this was not a 'normal' stock distribution to shareholders but rather a distribution of non-voting shares apparently designed to maintain control in the hands of the company's founders Page and Brin.
But beyond the controversy, the question remains, is this a good time to buy shares in Google? It has recently been suggested that both Apple and Google should be considered for addition to the Dow Jones Industrial Average. It is well known that stocks can get a boost from being added to the S&P 500 Index, the so-called S&P Effect. With index funds like the AMEX Diamonds (NYSEARCA:DIA) tracking the DJIA, there would necessarily be some greater interest in ownership of GOOG if such inclusion did ensue.
But let's check some basic financial information. First of all the chart. Looking at the StockCharts.com "point & figure" chart on Google, we can see that the stock has traded fairly loosely with fairly wide swings in price even over the short-term. The stock appears to be in a trading range between $555 and $670 since October, 2011. While the price chart appears to have an upward bias, the stock really hasn't made much upward progress the past year.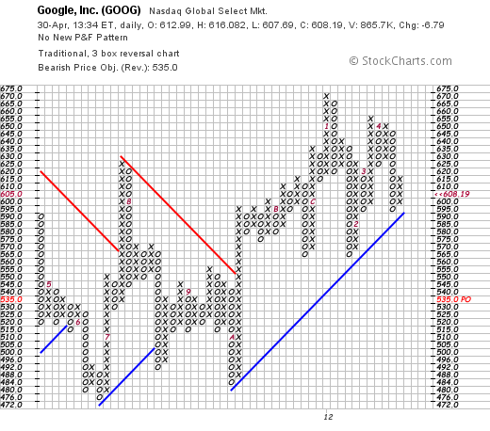 Click to enlarge
(Click to enlarge)
In terms of earnings, Google on April 12, 2012, posted 1st quarter results with earnings coming in at $2.89 billion or $8.75/share ahead of $1.8 billion or $5.51/share the year earlier. Revenue climbed to $10.65 billion ahead of last year's $8.58 billion. Adjusted income (which is what analysts utilize) came in at $10.08/share ahead of expectations of $9.64 billion. Revenue had been expected to be $8.1 billion so the company blew that figure out of the water as well.
Examining Morningstar.com for longer-term financials, we can see that revenue for Google came in at $16.6 billion in 2007 and climbed quickly to $38 billion in 2011 and $40 billion in the trailing twelve months (TTM). Diluted earnings/share during this same period increased from $13.29 in 2007 to $29.76/share in 2011 and dipped slightly to $27.55/share in the TTM. Outstanding shares have indeed increased from 316 million in 2007 to 327 million in 2011 and 393 million in the TTM.
In terms of the balance sheet, latest Morningstar numbers find Google with $52.8 billion in current assets, compared to $9 billion in total current liabilities for a current ratio exceeding 5. I don't think anyone can really question the financial strength of this behemoth!
For cash flow figures, we can see that Google generated $3.4 billion in free cash flow in 2007, and increased this to $11.1 billion in 2011 and $11.9 billion in the TTM. Again impressive numbers.
Examining the "Key Statistics" from Yahoo.com on Google , we see that this is really a large cap stock with a market capitalization of $197.92 billion. The trailing P/E is a moderate 18.42 and the forward P/E (fye Dec 31, 2013) is estimated at 12.00. The PEG ratio (5 yr expected) comes in at a very reasonable 0.80. This stock may be expensive but it does not appear over-valued!
Yahoo reports 325.3 million shares outstanding with 258.68 million that float. As of 4/13/12 there were 2.99 million shares out short with a resultant short interest ratio of only 1.10, well below my own arbitrary rule of 3 days for significance. No dividend is paid.
Since I was the one who asked whether it is time for Google to "shine", maybe I should venture an answer. From my perspective there is a lot of static noise surrounding this stock. The company is doing a stock dividend in a very peculiar fashion seemingly trying to preserve control of the company by the founders. Since the founders have done a pretty good job thus far, this may be less problematic than appearances seem.
Google has not been without controversy as its massive data collection engines challenge our very notions of privacy. But few of us could function without our Gmail accounts, our Google Maps, our Google Documents, our Google Calendars, or even the basic Google search engine function. I find myself looking at Google News more than once daily to find out what is happening in the world. I am Googlized.
I have resisted the Android approach to telephones, prefer the Mozilla search engine to Chrome, and haven't completely gone over to the Google-side, but it is a close call.
Meanwhile the company cranks out spectacular earnings growth, revenue growth, and an array of new software offerings. Valuation appears very reasonable with a PEG well under 1.0 and a forward P/E in the low teens. With its cash hoard it might do well to buy back instead of issue shares and offer shareholders some sort of dividend a la Apple. Then again, stock splits should be real stock that doubles not different classes of stock. That like Carly Simon would say "That's the way I always heard it should be."
Shine on Google. It's your turn now!
Disclosure: I have no positions in any stocks mentioned, but may initiate a long position in GOOG over the next 72 hours.