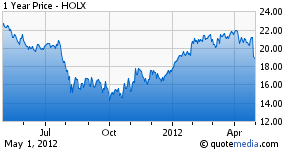 Big deals understandably make investors nervous, but when the buyer in question already has a record and reputation for overpaying in deals and failing to reap all of the promised benefits, it's so much the worse. That's the burden on Hologic (NASDAQ:HOLX) now that it has announced a very large, and almost certainly transformative, acquisition of diagnostics company Gen-Probe (NASDAQ:GPRO). But as Hologic's own second quarter earnings suggest, the company needed another avenue of growth and Gen-Probe just may fit the bill.
Q2 Results Just Okay
At the risk of burying the lede, Hologic's fiscal second quarter earnings do explain the interest in Gen-Probe. While every operating unit saw year-on-year growth, total company growth was just 7%, lead by nearly 10% growth in diagnostics and 8% growth in GYN Surgical. Though the company continues to make progress selling its new tomo mammography product, overall breast health revenue grew about 6%.
Profitability was a little better than the revenue growth story. Gross margin picked up a bit, and operating did grow 9% from the prior year (though down 3% sequentially).
Gen-Probe - A Big Step Into The Partly-Known
Hologic definitely surprised the Street with its $3.7 billion cash deal for Gen-Probe. While Gen-Probe had been on the block for a while, I believe most investors were thinking that it would be a larger company like Abbott (NYSE:ABT), Siemens (SI), or Johnson & Johnson (NYSE:JNJ) that would eventually bite.
In buying Gen-Probe, Hologic is looking to change its business mix to where diagnostics is roughly half the mix. Given the modest growth potential in addressable markets like ob/gyn surgery and skeletal health, it's not unreasonable that Hologic sees growth potential here.
Gen-Probe certainly brings a lot to the table. The company has sizable share in the global blood screening market (a business that throws off solid cash flow), and over 50% share of the U.S. market for chlamydia and gonorrhea testing. Gen-Probe is also in the early days of its Panther diagnostics platform - a platform that it hopes will make it a stronger player alongside Becton Dickinson (NYSE:BDX), Abbott, Roche (OTCQX:RHHBY), and Cepheid (NASDAQ:CPHD) in the years to come.
This Is A Huge Swing At The Ball For Hologic
It probably goes without saying that a company with $5 billion in market cap spending $3.7 billion on a deal is taking on a lot of execution risk. That's even more so in the case of Hologic, where past large, high-premium deals for Cytyc and Third Wave really never delivered on the bill of goods that management sold to the Street.
That would seem to be especially relevant in the case of Third Wave. At the time of the acquisition, Third Wave had some legitimately interesting diagnostics technology, but it is my opinion that Hologic largely squandered it by going no further with it than its applications in women's health (Pap and HPV testing).
There is no doubt that diagnostics can be a major growth opportunity for the combined Hologic-Gen-Probe, but that's not going to come easy. Companies like Roche, Novartis (NYSE:NVS), and Becton Dickinson have already identified this as a key growth market (particularly molecular diagnostics), and small rivals like Cepheid are not only already established threats, but are targeting the core women's health market that is so important to Hologic.
It also does not help matters that Hologic is paying a big premium for this deal. I suppose a little less than 6x forward revenue is a relative bargain compared to the current price of Cepheid, but at this price the shareholders really cannot afford for failure to be an option.
The Bottom Line
One way or another, this is going to be a transformative acquisition for Hologic. If it works out, Hologic will pair a company with excellent technology and growth potential in diagnostics with its own superior mammography technology [technology that is ahead of General Electric (NYSE:GE), Siemens, and Philips (NYSE:PHG)] into a powerful multi-year growth story with a strong emerging market kicker (as these emerging markets begin devoting more resources to women's health).
Failure, though, will transform Hologic into something perhaps like Boston Scientific (NYSE:BSX) - a debt-ridden laggard unable to translate good technology or R&D into market-leading products. Compare the pre- and post-Guidant chart of BSX and you'll see what I mean.
Prior to this deal, I liked Hologic as an often-underrated and occasionally under-priced women's health specialist. I wasn't nearly so fond of Gen-Probe, though, and thought it was overpriced.
Putting the two together, and adding in the considerable incremental debt, I actually see this as a value-destroying deal for Hologic. I fully acknowledge, though, that I may be too hard on Gen-Probe and that if the combined company can leverage the potential of Panther and become a #2/#3 player in molecular diagnostics, the deal and the stock will look a lot better down the road.
Disclosure: I am long OTCQX:RHHBY.