Many Americans and Europeans know China for its manufacturing of cheap products, thanks largely to the country's vast supply of low-cost workers. However, China is changing. The glut of cheap labor that has made everyday low prices possible is drying up as the Chinese people are looking not to make iPhones, but to buy them.
Shaun Rein is founder of the China Market Research Group, a leading strategic market intelligence firm that advises Fortune 500 companies, private equity firms, and hedge funds about profiting in China. I just read his book titled The End Of Cheap China, in which he takes an engaging and informative approach to examining the changes taking place across all levels of Chinese society.
The book The End of Cheap China shows:
How rising labor and real estate costs are forcing manufacturers of cheap Chinese products to close, relocate, or move up the value stream.
How a restructuring economy that is moving away from exports toward domestic consumption and rising incomes will create opportunities for foreign brands to sell products in China, rather than just producing there.
How Chinese consumption will increase pressure on the global commodities markets, causing both inflation and friction with other nations.
How China's economic transformation spells the end of cheap consumption for Americans.
Rising Costs
China is the world's largest manufacturing power. Its output of televisions, smartphones, steel pipes, and other items surpassed the U.S. in 2010. China now accounts for one-fifth of global manufacturing. Its factories have made so much so cheaply that they have curbed inflation in many of its trading partners. But the era of "cheap China" may be drawing to a close.
Costs are soaring, starting in the coastal provinces where factories have historically clustered (see map below). Increases in land prices, environmental and safety regulations, and taxes all play a part. The biggest factor, though, is labor.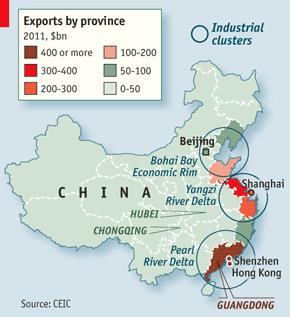 On March 5, investment bank Standard Chartered released a survey of over 200 Hong Kong-based manufacturers operating in the Pearl River Delta. It found that wages have already risen by 10% this year. Foxconn, Apple's (AAPL) contract manufacturer that makes iPads in Shenzhen, raised salaries by 16%-25% in February this year.
America's economic growth for the past three decades has been largely attributed to the willingness of Chinese laborers to slave away in factories. The younger generation of Chinese is optimistic about its future and career prospects. Filled with this optimism, they see opportunities to get rich everywhere and are no longer willing to debase themselves in humiliating work, slave in factories thousands of miles away from their homes and families, or toil in jobs that do not empower them to achieve their white-collar dreams.
Final Note
Salaries for blue-collar workers are soaring by double-digit percentages due to government pressure regarding better employment protections, meeting of worker demands, and a shrinking labor pool. To offset rocketing labor costs, companies need to rethink manufacturing and sourcing strategies. They need to view China as a market to sell into, not just to produce in.
A great example is Apple. Its sales in China during the first three months of this year were triple what they were during the same period in 2011. Apple took in $12.4 billion in China in the first half of the current fiscal year, putting the company easily on course to eclipse the $13.3 billion in Chinese sales it accrued in the prior 12-month period.
To own an iPhone is a status symbol in China. Status value could account for iPhone popularity in China, despite starting prices of about $800 without service contract subsidies. Chinese shoppers may take consolation from the fact that Apple gadgets are made in China, where the company has made a number of efforts to improve working conditions.
China has an enormous number of people moving into the middle class, which is creating demand for goods. China has become the second-largest luxury market. There is tremendous opportunity for companies that understand China. U.S. companies such as Yum Brands (YUM), Apple, Starbucks (SBUX), and Procter & Gamble (PG) are the ones that have learned their lessons through trial and error.