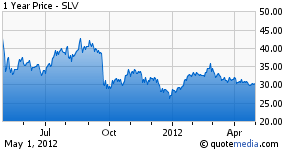 In this article, I would like to suggest a trade that I expect will make approximately a 15% return in two months, in a relatively safe manner. The trade I suggest is shorting silver through the iShares Silver ETF (SLV). Below, I will try to explain the reason behind the trade and how it can be modified or leveraged to make it more suitable for investors with different risk/return expectations.
SLV has hit its high in April 2011, as back then it formed an exponential bubble followed by a strong bursting of that bubble. Since then, with the liquidity operations of the ECB, it has tried to make attempts at other highs. However, SLV has failed to take its previous high, unlike the equity markets. What is remarkable about the price of silver is, it has been in a very clear downward trend since its high in April 2011. In March 2012 silver tried to break above its downward trend, as a result of the excess liquidity brought on by the ECB, but has failed. Since then it has been on a gradual declining path with no extreme moves. My prediction is that SLV will move towards its Dec 2011 low of $25,65 before it can make an attempt at another significant rally. I also anticipate that with the worsening of the European crisis, there will be a market swoon between May 2012 and July 2012. This will be a result of the lag with which ECB will be able to intervene to the worsening conditions with another LTRO. The market swoon before the ECB liquidity reaches the market will take down SLV with it.
Given my predictions, the trade should give a profit of roughly 15% SLV is shorted at the $30 level. There is also the opportunity to get an additional few percent if you can catch SLV at higher levels to short.
I would suggest that a short position in SLV should indeed be initiated at the $30 level, where it trades at, as of this writing. More patient investors can wait a little to get short at a higher levels but I doubt SLV will trade above $32 in the near term. Trying to catch that difference in between may be costly, if there are some sudden bad news out of Europe and the SLV crashes as a result.
Risks of the Trade
Obviously, the biggest risk of this short SLV trade is an unexpected and early intervention to the capital markets by Mr. Draghi or Mr. Bernanke. In such a case, SLV would soar along with the equity markets. Investors can, however, protect against this risk by buying June 15th 12 or July 20th 12 calls along with their short SLV position. Those two options will cost 3,8% and 5% of the possible return, respectively. The remaining predicted return is still 11% in two months which should be satisfactory.
Modification to the Trade
It is also possible to lever-up this trade for more speculative investors. However, if investors choose to lever-up on this trade they should probably choose to buy the call options as explained above. This would protect against forced liquidations if SLV temporarily rallies. If SLV declines to $26 as predicted, investors can profit in excess of 35%, including the cost of the options, by levering themselves up.
There are also very good short-term trading opportunities in SLV, as it is a very good proxy for the change in liquidity conditions in the financial markets. However, for investors that need a medium term and safe trade with a good payoff this is one of the best opportunities, as of this writing. As with most of my trade suggestions, I would also note that there is no such thing as a riskless return in the financial markets. My suggestion is simply based on the fact that this trade has a good return potential compared to the risk associated with it.