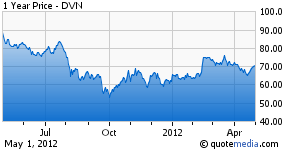 Because of the high margins in natural gas liquids (NGL) when compared to natural gas, many energy companies are switching focus to NGL. One of the leading independent energy companies leading the way in the exploration and development of is Devon Energy Corporation (NYSE:DVN). Devon's growth in NGL for 2012 is expected to be from 11% to 13%. With natural gas prices at all-time lows, this company is making smart moves by focusing on liquids now. In addition to NGL, Devon's expected growth for oil this year is from 22% to 24%. The company is not sitting still, but stretching in other areas in order to keep a balanced portfolio of energy resources. In this type of market, this is what I like to see an oil and gas company doing and is just one reason why I really like Devon.
Devon is a top-five producer of natural gas with a balanced portfolio that also includes light and heavy oil. The company's competitors include Cabot Oil & Gas (NYSE:COG), Comstock Resources (NYSE:CRK), and Encana (NYSE:ECA), but its largest includes Apache (NYSE:APA) and Anadarko Petroleum (NYSE:APC). One of the other reasons I like this company is because it is constantly moving and looking for ways to diversify its portfolio. Whether bringing a company into the fold or taking part in a joint venture, Devon makes the exploration and production happen. One example is a deal made with China Petroleum & Chemical (NYSE:SNP), also known as Sinopec. Under this agreement, Sinopec has agreed to pay Devon $900 million for a 33% stake in five fields. Additionally, Sinopec will also pay $1.6 billion to drill wells in Devon the operated fields of Ohio, Oklahoma, Louisiana, Michigan and the mid-continent, over the next three years.
Devon does not rest on its laurels, but continues to reach for not only new avenues of production, but more production as well. The company is currently not drilling any dry-gas wells, and that is okay. When prices do improve, the company could easily crank up the volume once again. Right now it is concentrating on oil and NGL. In fact, earlier this month, the company was already producing almost 700,000 barrels per day and by the end of this year expects to be producing about 710,000 barrels a day. Last year, the company's production averaged 658,000 barrels equivalent per day.
In addition to the oil-rich Permian Basin, where Devon has been increasing oil production, the company recently purchased land in the extremely productive sub-basin Cline Shale-close to 500,000 acres, which will help in the expansion of its liquids productive to approximately 70 million barrels of oil-equivalent a day by 2015.
Contributing to the production of oil is Devon's oil sand projects and particularly the Jackfish and Jackfish Two projects in Canada. Jackfish, which began in 2007, produced an average of 31,000 barrels of oil per day in the fourth quarter of 2011, and Jackfish Two in the summer of last year and was producing 14,000 barrels of oil per day at the end of 2011. There is a Jackfish Three which is set to begin production in 2014, and a fourth Jackfish project, Jackfish East, planned to start production in 2018 and have a peak gross production rate between 20,000 and 25,000 barrels of oil per day.
While the company has taken on debt to buy up other companies, it does not like to hang onto debt like it is part of the family. Both founder John Nichols and son, co-founder J. Larry Nichols both preferred to keep cash on hand and buy using the green stuff as opposed to borrowing. The son Nichols had even bragged that when plans were announced for Devon to build a billion-dollar skyscraper that the building was already paid for out of cash on hand. The philosophy of "hold onto cash for when needed" has been the same for years and Devon continues to build up reserves. The company has roughly $7.1 billion cash and expects to spend between $6.1 billion and $6.5 billion this year on production and exploration projects that have potential to yield oil. In a statement earlier this month, CEO John Richels said, "People think we need to do an acquisition to grow. We don't. We have no interest in acquiring assets." By year 2016, the company expects to spend $7.8 billion in exploration and production.
The company is doing well sticking with a strategy of not leveraging into dangerous territories using debt wisely. Other experts like Devon too. Analysts predict earnings of $6 in 2012, up from $5.50 in 2011 and $7.90 in 2013. Year on year the company grew revenues 15.23% from $9.94 billion to $11.45 billion while net income improved 3.38% from $4.55 billion to $4.70 billion. Dividends are up as well. Year on year, growth in dividends per share increased 4.69% while earnings per share excluding extraordinary items fell by 3.63%.
Last year, the company increased its cash reserves by 68.84%, or $2.27 billion. Devon earned $6.22 billion from its operations for a Cash Flow Margin of 54.34%, and it has a Debt to Total Capital ratio of 31.34%, a higher figure than the previous year's 19.84%.
Additionally, the company generated $1.69 billion cash from financing while $5.65 billion was spent on investing, and the company got rid of some offshore assets, raising enough money to spend $3.5 billion to repurchase 11% of its shares outstanding.
With its large cash position, the company has great flexibility to acquire or use cash to its advantage in turbulent markets, whether that is buying a company or buying more production opportunities, or both. Either way, the good news is that Devon is poised to produce energy products for many years to come, providing great returns for investors.
Disclosure: I have no positions in any stocks mentioned, and no plans to initiate any positions within the next 72 hours.