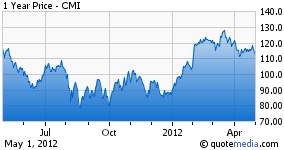 The peculiar illogic of Wall Street sometimes means that you're better off buying companies with plenty of room for improvement, as opposed to those that run themselves with laudable efficiency. In the case of Cummins (NYSE:CMI), it's fair to ask whether the company really has enough dry powder left to significantly surpass Wall Street expectations and drive a higher valuation. Although the emerging market growth story has ample room left to run, it's worth wondering if Cummins' core engine business in North America and Europe has already seen the best of times.
A Solid Start To 2012
Companies like Caterpillar (NYSE:CAT) and Eaton (NYSE:ETN) already had the Street a bit on edge when it came to Cummins' earnings, but the company delivered on its expectations.
Revenue rose 16% from a year ago (and fell 9% sequentially) as weakness in Brazilian trucks, Chinese construction, and European construction and power weighed on its end markets. Engine revenue rose nearly 20%, while components revenue growth was just behind at 19%. Revenue from distribution rose 21%, while power dropped 2% (and 15% from the prior quarter).
Solid margins are a familiar story at Cummins, and this quarter was no particular exception. Gross margin improved both annually and sequentially, and operating income rose nearly 24%. Margins expanded in both engines and components, and fell in power and distribution (the former being little surprise, but the latter being a negative development).
Good Share Today, But What About Tomorrow?
My biggest worry on Cummins today isn't the slowdowns in China, Brazil, or Europe, though I suspect that is what the Street is most concerned about right now. Instead, I worry about the company's engine market share trajectory.
Cummins ended 2011 with about 39% share in Class 8 trucks, and that ticked up to about 45% as of the February industry numbers. Cummins holds more than one-third share of Daimler trucks, 12% share of Volvo (OTCPK:VOLVY), 24% share of Navistar (NYSE:NAV), and 82% share of Paccar (NASDAQ:PCAR).
That sounds great, but Navistar has shifted to its own internally-developed and built engines, and Paccar is doing the same. In fact, while Cummins' share at Paccar was over 80%, the order book there shows more than one-third penetration for the company's own (new) MX engines. Optimists can point to the fact that Cummins has continued to grow despite losing exclusivity at Daimler and Navistar, as well as the company's strong (and growing) share in the emerging markets.
I do also worry about market shifts, though. In North America especially, there seems to be growing interest in 13-liter engines - a market segment where Cummins has no North American offering.
It seems clear to me that Cummins has to become a more well-rounded company to offset these ongoing share pressures. Luckily, there's plenty of growth potential in components, especially as emissions control standards aren't about to get easier anytime soon. Competition from Honeywell (NYSE:HON), Donaldson (NYSE:DCI), and BorgWarner (NYSE:BWA) is not trivial, but Cummins is in a good position.
The Bottom Line
Given how Cummins performed this quarter, I suspect the weak reaction to earnings has a lot to do with management confirming the weakness in emerging markets and the fact that they did not raise guidance for the year. With strong growth in North America, I believe there's enough momentum in the markets for Cummins to make its numbers this year unless Europe or China really deteriorate further (in which case investors will likely have more worries than just what's happening at Cummins).
Even though Cummins has already enjoyed a strong run of prosperity, I do believe high single-digit free cash flow growth is in the cards over the long haul. That all points to a price target in the $140's, which makes buying the shares today a little tricky. Though I'm a big fan of Cummins and have been waiting for a pullback, I still need to see a little more margin of safety before I step up with my own money.
Disclosure: I have no positions in any stocks mentioned, and no plans to initiate any positions within the next 72 hours.