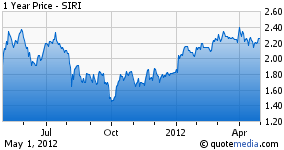 Those who are long and/or optimistic about the promise of Sirius XM (NASDAQ:SIRI) were delivered a rather nice surprise today in the form of Sirius XM's first quarter earnings.
Some highlights include:
Subscribers grew by 405,000 to a record 22.3 million
Record quarterly revenue of $805 million, up 11%
First quarter 2012 net income of $108 million, up 38%
Adjusted EBITDA reaches $208 million, up 15%
Company raises subscriber guidance to 1.5 million from 1.3 million
... and my personal favorite, churn decreased from 2.0% in the year ago period to 1.9% for the first quarter of 2012.
Out of any and all of the metrics, this, in my opinion, was the number to watch. Churn gives an excellent picture of how well (or not so well) the price increase is being received by the subscriber base, and given that churn decreased from the year ago period, I would say that the effect of the price increase has been less than modest. The effect has been negligible. On top of this, subscriber increases were over 299,000 net additions as well as over 404,000 total. With guided additions of 325,000 for the quarter which had been guided as conservative, this was soundly beat and guidance was then increased to 1,500,000 for the full year.
I expect that even this guidance remains "conservative," and I would not be surprised to see guidance raised again this year either after the second quarter conference call or third. Low churn and high auto sales should push this number higher, possibly beating last year's subscriber additions of 1.7 million once 2012 is complete.
The question that sits in my mind now, is simple:
Where do the bears go from here, and does their rhetoric continue?
Over the past few months the bears have been relentless in repeating day after day after day the same tired old arguments. Sirius XM longs have been repeatedly bombarded with a steady daily dose of bearish roar that, quite frankly, has had me rolling my eyes to the point it gave me a headache. I think for all the constant claims of "SIRI emotional long" that has been thrown around, it seems that the emotional end is actually coming from the bears.
It may be difficult for those who sold their stake before February earnings to accept, but such a move just may have been the wrong longer term choice. Do we continue to hear the following bearish suggestions? Which ones will now be abandoned, and what will be the new spin? Some of these are now quite humorous to revisit.
That Sirius XM might actually post a subscriber decrease for the first quarter.
That the roughly $1.50 per month increase will result in a mass exodus of paying subscribers and increase churn.
That insiders sold their shares because they "knew something" and were selling out in advance of some sort of catastrophic implosion.
That Sirius XM will have difficulty competing or even surviving with the onslaught of IP based radio in the "broad based new media space pioneered by the bright and shining star called Pandora."
That for some reason higher gas prices will push people to cancel their Sirius XM subscriptions.
And on and on and on and on. At this point, which bearish arguments give you a chuckle?
The fact of the matter is that what has actually come through the pipes is not the sludge the bears were expecting, but nice clean water (or perhaps a bit of wine, beer, or my favorite, Diet Dr. Pepper). As a Sirius XM long my expectations were met (roughly) or beaten. Churn being the metric I was looking toward the most, actually came in the best at 1.9%. This bodes extremely well for the coming full year 2012, and I am happy with my investment moving forward.
I will be keeping a close eye on the churn number going forward into the second and third quarter conference calls to be sure that it remains at or near 1.9%. I believe this will be a critical number to watch as the price increase rolls out through the rest of the subscriber base.
Next stop? April auto sales data, SoundExchange's response to Sirius XM's lawsuit, and Howard Stern's appearance on America's Got Talent. May is shaping up in promising ways. Sell in May and go away? For my stake in Sirius XM? I don't think so.
Disclosure: I am long SIRI.
Additional disclosure: I am long SIRI May and June $2 calls.