by Kersasp Shekhdar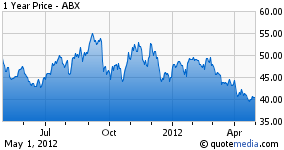 Barrick Gold (ABX) is one of the four major Canadian miners with a strong and exclusive focus on gold. The other three are Goldcorp (GG), El Dorado (EGO), Kinross Gold (KGC) and Agnico-Eagle (AEM). Barrick also produces copper, owning or leasing several gold-and-copper mines. In size, as a gold-focussed miner, Barrick's peer competitor is AngloGold Ashanti (AU).
This relatively young corporation, established in 1983, has intelligently cherry-picked its mining assets in all of the planet's most metals-rich regions: Africa, Australia, and South America, besides its native North America.
The pressing news story of the day for Barrick is its stock's one-year roller-coaster ride culminating in an epic swoon. From the giddy heights of May and September last year when it was trading at about $55, Barrick's shares are now valued at about $40 and trending lower.
This is a 'contrarian performance', so to speak, from a company that exhibits strong fundamentals. Its price-per-earnings, trailing twelve months, is 8.99 with forward price-per-earnings slightly lower at 6.65. Does the outlook - a little bleaker on Barrick as an investment vehicle- a little rosier as a value proposition being the flip side - justify dumping this stock? Let's see.
Barrick's (forward) price/earnings to growth (PEG) ratio is 0.24 indicating growth, low capital expenditures, or both. The company was heavily in the black with operating and profit margins of 48% and 31% respectively. Its debt-to-equity ratio of 52 is comparable to giant AngloGold's 48. But competitor Goldcorp's is a mere 3.43. Goldcorp is admittedly a very healthy company and tightly run ship but even weak competitor Agnico-Eagle debt-to-equity ratio is 30, considerably less than that of Barrick. Even in-the-red Kinross Gold's debt-to-equity ratio is only 13. So this is one clue. Barrick is carrying too much debt and could be faced with steep interest payments. Indeed, its debt is a cause for concern: with a total market capitalization of $40 billion and cash on-hand of $2.74 billion, Barrick is carrying a debt of $13.37 billion. In 2010, on total assets of $33 billion, liabilites of $14 billion were marked by $6.7 billion of debt. We've zeroed in on Barrick's problem and drawn a distinction between Barrick and other gold miners.
Though the combination identified does not indicate bad health, it is a red flag. If, with such a combination of factors, a company misses growth or revenue expectations in a quarter, that can be bad news. And on quarterly earnings growth, Barrick is in the red at an eye-opening -20%. Bang! Its share price got shot down.
Compounding these figures is the fact that on American bourses it's no longer about long-term growth and gain; it's about a quick hit; a quarterly profit; and any earnings or growth-numbers failure on Barrick's part would inflict misery on its share price. And in February, the company announced, "profit slipped in the fourth quarter as the company booked US$153-million in various after-tax charges tied to redundant power assets and its investment portfolio," with mining.com adding, "On a per share basis, these results are equivalent to $1.17 per share, well short of analyst predictions of $1.27 per share." Again, Bang! Its share price got shot down.
However, as we saw, the vital signs are good. Barrick is probably suffering from the opposite of "irrational exuberance." As long as Barrick does not get caught in a debt trap or with tightening cash flow, its shares should come out of the woods by the end of the year. I explain why below. Also, what Barrick needs to do is justify the debt it has taken on, pare down that debt-to-equity ratio, and post a few good growth figures quarter-on-quarter. Is it well set to do that?
North American operations compared with those in Africa and East Asia have higher operating costs but are not as prone to strikes, disruptions, violence and therefore are more predictable and reliable. Barrick sits pretty on this score. In September Barrick struck gold, big time. Excavating on its Cortez property in Nevada, it made two strikes and established two new mines, Red Hills and Goldrush which will probably begin to yield substantial quantities of high-grade gold starting this very year. Its Goldstrike mine on the same property is already a winner. In South America, "Pueblo Viejo and Pascua Lama come online in the coming years. At $926 gold, both deposits were expected to yield $1.1 billion in cash flow." And its 75% owned Chilean mine El Cerro has proven gold reserves of 4.85 million ounces and a probable 18.39 million ounces, and should be coming on line within twelve months.
Barrick is expanding into Saudi Arabia. One of Arabia and mining's best kept secrets is that this country's Hijaz region is rich - filthy rich - with gold deposits. Barrick has gained entree to this country, and owns the Jabal Sayid copper mine due to come online in the second half of this year. Barrick expects it to yield 100 to 130 million pounds per year, upping its year-on-year copper production by 24%.
In February, MineWeb rounded up Barrick's growth plans, mentioning Jabal Sayid, Pueblo Viejo and Pascua Lama and says that Barrick plans to increase gold production to 9 million ounces by 2016.
Barrick is also in exploration stages in Australia (Barrick JV), Tanzania (Geita), Reqo Diq (Pakistan), and other regions. From these facts, I can draw an additional inference about Barrick. This company and its competitors are, among other things,exploration, mining, and extraction companies, with some kind of balance between these functions. Forward-looking Barrick has a distinctly stronger emphasis on exploration than a few of its smaller competitors and this bodes well for the company as well as its stock price.
If Barrick's stock dips any further then, even with increased debt, with the kinds of assets it has it could be a tasty takeover target a for a cash-rich company - which may, within the confines of their boardrooms, may already have talked about the possibility. And this possibility implies a guarded "Buy."
My overall opinion on Barrick depends on who you are. If you're a gambler, then toss a coin. If it comes up heads, buy; tails, sell. But if you're a rational investor, then hold. And if you're a careful, value-based investor, then track this company daily, and be ready to swoop in. Just as Barrick went cherry picking for its attractive mining concessions, investors who want to go cherry picking may be picking Barrick Gold, and pretty soon at that.
Disclosure: I have no positions in any stocks mentioned, and no plans to initiate any positions within the next 72 hours.