During the first half of the 20th century the International Olympic Committee ran on a small budget. As president of the IOC from 1952 to 1972, Avery Brundage rejected all attempts to link the Olympics with commercial interest, believing that lobby of corporate interests would unduly impact the IOC's decision-making.
When Brundage retired the IOC had US$2 million in assets; eight years later the IOC coffers had swelled to US$45 million. This was primarily due to a shift in ideology toward expansion of the Games through corporate sponsorship and the sale of television rights.
The 1984 Summer Olympics became a watershed moment in Olympic history. The Los Angeles-based organizing committee, led by Peter Ueberroth, was able to generate a surplus of US$225 million, by selling exclusive sponsorship rights to select companies.
The International Olympic Committee sought to gain control of these sponsorship rights by establishing The Olympic Program, known as TOP, in 1985, in order to create an Olympic brand. Membership in TOP was, and is, very exclusive and expensive. Fees cost US$50 million for a four-year membership, making this possibly the most expensive club membership fee in the world.
Members of TOP received exclusive global advertising rights for their product category, and use of the Olympic symbol, the interlocking rings, in their publications and advertisements.
Let's look at six of the TOP contenders hoping to medal at the London 2012 Olympic and Paralympic Games.
(click to enlarge)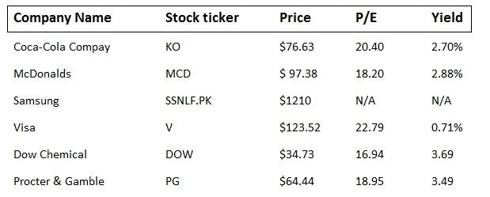 The Coca-Cola Company (KO) has supported the Olympic Games since 1928, making it the longest continuous supporter of the Olympic Movement.
As a vendor of caffeinated sugary drinks and other manufactured snacks, the company can certainly benefit from being linked with the wholesome ambiance of The Olympic Games.
In 1988 Coca-Cola's Olympic advertising featured athletes coming together to share a post-competition glass of Coca-Cola Classic. In an increasingly cynical world, the brand's approach has changed in recent times, to the approach taken for London's 2012 games, embedding the product in popular music culture and the general fun surrounding the Games.
As a sponsor of the Beijing Olympics, McDonald's (MCD) built its global marketing campaign around the idea of people from all over the world coming together in a festival of sport cheerleading with Olympics with McDonald's. But the craft hamburger merchant used a different slogan inside China departing from the themes of unity and friendship to focus on Chinese success. The slogan adopted to 'I'm loving it when China wins," though this generosity presumably did not extend to the local cuisine.
McDonald's has been aggressive in fighting back against efforts by activists to limit or ban Happy Meals on the grounds that they provide children with too many calories and too much fat, salt and sugar. As the official restaurant to the Olympic Games, it will have four restaurants on campus, and, yes it will be serving Happy Meals.
Samsung (GM:SSNLF) has recently mounted the podium as the world's top seller of cell phones, pushing Nokia and Apple (AAPL) into the minor medal positions.
Samsung and fellow TOP member Visa (V), have announced that they are partnering to launch the official mobile payments application for the London 2012 Olympic and Paralympic Games. The system uses Visa's payWave system and will work with NFC (Near Field Communication) capable smartphones.
Near field communication is a set of standards for smartphones and similar devices to establish radio communication with each other by touching them together or bringing them into close proximity, usually no more than a few centimeters.
Visa claims that there will be more than 3,000 NFC contactless payment-point-of-sale terminals installed across the venues for the two events. This seems like a biggie for Samsung, as it appears to be getting the jump on Apple, which has phones that are not yet NFC enabled. Apple is conspicuously absent from the London 2012 Olympic and Paralympic Games.
Multi-gold medalist swimmer Mark Spitz, diver Greg Louganis and heptathlete Jackie Joyner-Kersee are among 18 athletes suing Samsung, over use of their images in a Facebook app, however Samsung hired soccer star David Beckham , celebrity chef Jamie Oliver and equestrian Zara Phillips on its team. Beckham will bend it, Oliver will bake off, and Phillips hopes to qualify for the Olympics and capture a medal for team Samsung and for her grandmother, a local resident and sports fan who is also the reigning Queen of England.
Dow Chemical (DOW) exemplifies the observation that the kinds of companies attracted to Olympic sponsorship are often precisely those most desperately in need of a purchased association with health, vigor and the finest human endeavor. In the case of Dow, the problem is that the company bought out Union Carbide, the company associated with the world's worst environmental disaster when thousands died from a poisonous gas leak at Bhopal, India, in December 1984.
Dow have stated that Union Carbide's £288 million ($470 million) settlement for those affected by the leak - which was paid in 1989, 10 years before Dow bought Union Carbide - is fair and final.
While it does seem a little unfair to damn a company for the sins of its forebears, this shows that it definitely pays to do due diligence prior to an acquisition, and environmental activists in India have demanded that Dow be removed as an Olympic TOP member.
However the International Olympic Committee and British politicians have gone on record to say that Dow, the second-largest chemical manufacturer in the world, will not be dumped as sponsors of the London 2012 Olympic and Paralympic Games, for which it will provide a (nontoxic) fabric wrap for the stadium, which will be 1000 yards long, 67feet high and cost $10 million.
Procter & Gamble's (PG) Olympic Games 2012 commercial honors mothers for everything they do--a mother's job, says P&G, is the hardest in the world, but it is also the best in the world. The two-minute ad follows the story of four children and their mothers who stand by them every step of the way in becoming Olympic champions.
Since everyone has or had a mother, this is an excellent play on the lowest common denominator and even Olympic swimming champions had to learn to crawl somewhere, usually in Pampers brand diapers.
See this excellent Seeking Alpha article on Procter and Gamble for more ideas on how to trade the company's stock.
The official motto of the Olympic Games is Citius, Altius, Fortius , which is Latin for Faster, Higher, Stronger. Most owners of the stocks of these companies will probably be focusing on the Higher component and cheering these companies on. The Opening Ceremony of the London 2012 Olympic Games is not until Friday, July 27, 2012, but now would be the time to get into a long position and go for the gold.