World Acceptance Corp. (NASDAQ:WRLD) has drawn my attention because of its stability, growth and strong cash flows. I consider it still to be undervalued, even though it has recently hit this year lows at $57 and rebounded up to $66 after the last earnings report. However, after the report I see it beyond 52 week highs (at $75) in the near future.
World Acceptance Corporation engages in small-loan consumer finance business. It offers short-term small loans, medium-term larger loans, related credit insurance, and ancillary products and services, as well as loans standardized by amount and maturity. [Description from Yahoo Finance]
Reasons to buy:
Company has just released its 2012 fiscal year results (ended on 31st of March), reporting record fourth quarter and fiscal 2012 year results, beating analyst estimates of EPS by 2%.
Fiscal 2012 EPS diluted earnings per share rose 17.1% to 6.59$. It has a very stable net profit margin throughout the last 10 years of operations with an average of 16.4%. It has grown up steadily to 18.6% in 2012.
Capital expenditure ratio is low at 7% in 2011 and 2010. This indicates that WLRD may require minimal investment to stay competitive.
Strong and steady ROE with an average of 21.12% for last 10 years, and 20.62% in 2011. Recent 2012 report shows 23.6% ROE, which is a positive sign.
Cash return on invested capital averages to 28.2% for the last 10 years. 2011 goes in-line with 29.03%.
Forward PE is 8.5, which I still consider cheap given such stable results throughout the years.
On 27th of April, just after the earnings report, WRLD was upgraded by analysts at FBR Capital from a "market perform" rating to an "outperform" rating (Zolmax).
Only 4 analysts are covering this stock with an average target price of $78.
EPS growth is expected to be robust over the next few years, and predictions are for an average of 13% to 14% earnings growth annually through FY2014.
Company has run expanded shares repurchase program returning value to the shareholders.
After the last earnings report, it has broke through technical levels to start an uptrend (downward channel trend, 50 and 200 day moving averages). MACD crossover signals to buy (see chart):
Click to enlarge.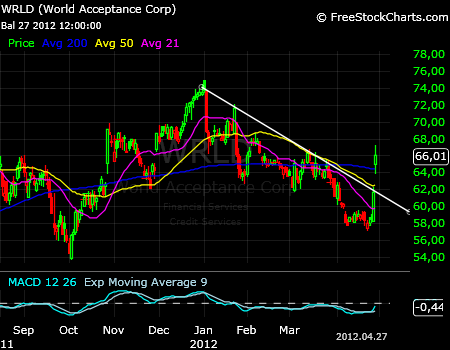 Looking technically, it may test 200 day moving average from the top to find a support, so I suggest putting long orders at $64.50.
Potential risks:
Poor earnings quality. 75.9% of loans were refinanced in 2011. By refinancing loans WRLD may be overstating operating free cash flows.
Poor balance sheet quality. Uncollateralized loans to consumers with poor credit rating represent 89% of the assets. Default rates may be materially higher if WRLD were not following aggressive rollover policy.
Slowing growth in profitable U.S. markets.
WRLD operates on a verge of legitimacy and recently formed CFPB may pose threat to long term profitability. WRLD should closely watch their steps.
It appears that stock repurchase program is financed by short term debt. You can find a great insight on this by Daniel Epstein here.
Disclosure: I am long WRLD.