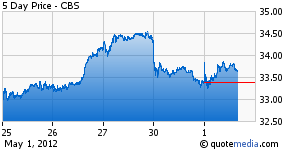 CBS is expected to report Q1 earnings after the market close on Tuesday, May 1 with a conference call scheduled for 4:30pm ET.
Guidance
Analysts are looking for EPS of 44c on revenue of $3.78B. The consensus range is 38c-48c for EPS, and $3.69B-$3.89B for revenue, according to First Call. Positives for the media company's quarter may be seen coming from political ad spending. At an industry conference in late February, CEO Les Moonves said Q1 advertising trends are "good," substantially better than Q4. Revenue boosts may be also seen coming from from digital streaming and retransmission. A possible negative for the quarter may be seen from a slowdown in economic growth and any impact that has on corporate advertising spending.
Analyst Views
On April 9, Citigroup downgraded CBS to Neutral from Buy citing valuation and kept a $35 price target for the stock. On April 18, JPMorgan raised its estimates for CBS, citing steady ad trends and contributions from non-advertising streams. The firm expects the company to report solid Q1 results and raised its price target for shares to $38 from $35.