Buffalo Wild Wings (NASDAQ:BWLD) is a $1.58 billion small-cap turn key operation that has a compelling business-model with the potential to grow into a much larger company. The restaurants are great gathering places for food, beverages, and for watching sporting events. It's a place where everyone from college students, couples, and families can enjoy a tasty meal, soak up some suds, and enjoy watching a game.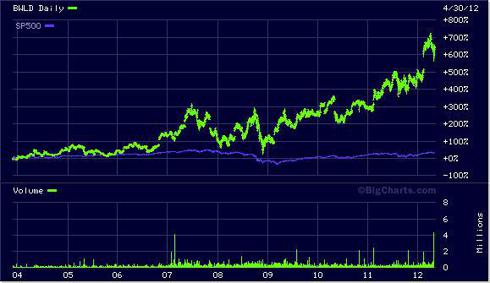 With 18 signature sauces and seasonings, the restaurants have plenty of tasty offerings to choose from. The restaurants are strategically laid-out with big-screen televisions at all angles so that everyone can view the events and enjoy the 'tablegating' experience.
The company has 833 restaurants in 48 states and 2 countries. That total is broken down into 506 franchised restaurants and 327 company-owned restaurants. BWLD had $784 million in revenue and $50 million in net earnings in 2011. The company has achieved a CAGR of 14% for restaurant growth since 2007. It also achieved a CAGR of 23% in revenue growth and 25% in net earnings growth for the past five years.
Buffalo Wild Wings has plans to continue growing in the U.S. and Canada. It plans to have 1,000 restaurants by 2013 and a total of 1,500 in five to seven years. The company also plans on growing internationally throughout the world in the future.
The company is fairly valued with a foward PE ratio of 21.37, a PEG of 1.25, and a price to book ratio of 4.71. The stock price has grown approximately in line with earnings over the last ten years.
Buffalo Wild Wings has grown earnings at a nice pace of 21.31% annually in the past five years and it is expected to grow earnings annually at 20.68% for the next five years. This growth should take the current stock price of $83 to over $200 in five years.
BWLD should easily be a market outperforming stock in the next decade and beyond. The company has proven itself with its business model in its current restaurants. This business model will continue to be duplicated in many countries throughout the world. This aggressive restaurant growth will be the catalyst that will allow the company to thrive in the years to come.
Disclosure: I have no positions in any stocks mentioned, and no plans to initiate any positions within the next 72 hours.