Back in January I provided a list of stocks that I believed were the best positioned for growth in 2012. It has been a tough year to date for many of the oil and natural gas producers in the US, as the price of natural gas dropped by over 50% at one point this year. I think the price of natural gas has bottomed, so some of the liquids plays that also produce natural gas like Wattenberg Field in the DJ Basin and the condensate window of the Eagle Ford could have producers in the area at a value now. Tom Ward CEO of Sandridge (NYSE:SD) believes we will see $4 natural gas in the next 12 months, but it is possible we may have to wait later into 2013. Bakken crude pricing should also continue to improve as take away capacity begins to improve. Right now differentials are high and in the $12 to $15/barrel range. I think this number will pull back below $10 by the second half of this year, and stabilizing around $7 next year. Differential improvements will help many of the Bakken players (more for the smaller names) over the next couple of years.
In Bakken Update: What To Buy In 2012, I wrote a series of four articles covering the best Bakken stocks to invest in 2012. GeoResources (NASDAQ:GEOI) was recommended to me by Bill Costello, and on that recommendation, I decided to look a little closer. This was the third stock on my buy list, and it can be found in part 2 of this series. This turned out to be a good call, as it was recently purchased by Halcon Resources (NYSE:HK). It began the year at $30.15 and closed at $37.71 on 4/30/12, which is not a bad return in four months.
GeoResources had already been on a run prior to January of 2012. On October 3rd of 2011, it closed at a low of $16.02 and almost doubled by the end of the year. When I recommended this stock, I had received several emails questioning the validity of the call. Readers were much more excited about Kodiak's (NYSE:KOG) future, and thought it should have made the list. GeoResources' value had to do with several factors, such as good management. GeoResources has either met or beat earnings estimates, for four straight quarters. It consistently increased reserves, production and revenue. GeoResources was also able to increase liquids production as a percentage of total production.
GeoResources was overlooked by the investment community for several reasons. The first and most important reason is its IP (Initial Production) rates. Companies like Kodiak in the Bakken, and EOG Resources (NYSE:EOG) in the Eagle Ford post eye catching numbers, which seem to get the most attention. There is much more to the value of a well than just IP rates. Well costs, size of choke, lateral length, number of stages, and depth can all effect the value of acreage and EURs (Estimated Ultimate Recovery) of wells. I will try to show that even without the large initial production numbers, its acreage is still economic.
GeoResources has 55000 net Bakken acres, and 37200 of those are operated. Its operated acreage is in northwest Williams County (27800 net acres) in North Dakota, and Eastern Roosevelt and Richland counties in Montana (12900 net acres with 9400 operated). It has 9700 net non-operated acres in Mountrail County and 4300 net non-operated acres in north McKenzie County. The image below shows middle Bakken shale thickness.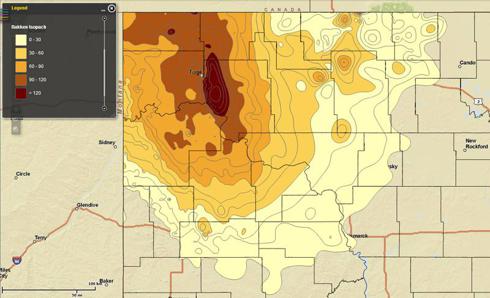 Click to enlarge
The map shows much of its operated acreage is out of the thickest areas of the middle Bakken, but still has shale thickness in northwest Williams, of 60 to 90 feet. GeoResources operates as G3 Operating in its Williams program. Well results to date have been (IP rate/total barrels of oil produced/number of stages/choke size):
Poeckes 1-32-29H: 439 Bopd/15155 Bbls in 67 days/34 stages/(40/64)
Peterson Trust 1-5-8H: 698 Bopd/27602 Bbls in 106 days/38 stages/(32/64)
Rasmussen 1-21-16H: 816 Bopd/45133 Bbls in 193 days/38 stages/(34/64)
Anderson 1-24-13H: 561 Bopd/56437 Bbls in 312 days/29 stages/(24/64)
Siirtola 1-28-33H: 840 Bopd/62904 Bbls in 356 days/30 stages/(26/64)
Pasternak 1-1-12H: 363 Bopd/4788 Bbls in 26 days/26 stages/(32/64)
Carlson 1-11H: 685 Bopd/36834 Bbls in 350 days/18 stages/(26/64)
Rasmussen 1-25-36H: 506 Bopd/38888 Bbls in 185 days/38 stages/(24/64)
Doris 1-28-33H: 413 Bopd/10786 Bbls in 56 days/30 stages/(32/64)
Muller 1-21-16H: 682 Bopd/36801 Bbls in 224 days/38 stages/(40/64)
State 1-36-25H: 250 Bopd/3409 Bbls in 44 days/32 stages/(40/64)
The Carlson 1-11H is the first completion (12/9/10) of G3 Operating in the Bakken and started with just 18 stages. This had a 350-day IP rate of 105 Bopd. To compare the number of stages used and how that effect long term IP rates, Siirtola 1-28-33H was completed on 3/12/11 and used 30 stages. This well had a 356 day IP rate of 177 Bopd. This was a big difference in production given the time frame. If we compare the Carlson well's 90 day IP rate to other wells completed later in the play, here are the results:
Carlson 1-11H: 196 Bopd
Peterson Trust 1-5-8H: 256 Bopd
Rasmussen 1-21-16H: 286 Bopd
Recent well improvements including increasing to 38 stages has improved overall well performance. In northwest Williams County, it has had an average 30 day IP rate of 265 Bopd. Here are other producers in the area, and its 30 day IP rate:
Marathon (NYSE:MRO): 7 wells with an average of 287 Bopd
Oasis (NYSE:OAS): 24 wells with an average of 389 Bopd
Newfield (NYSE:NFX): 3 wells with an average of 345 Bopd
These well results are low compared to southwest Mountrail or northeast McKenzie County, but well costs are also much lower. Northwest Williams and eastern Montana well costs for GeoResources average between $7 and $8 million versus $10 to $11 million in other areas. Pad drilling, simultaneous fracs, and the drilling of salt water disposal wells will all continue to improve costs. This area has EURs between 350 and 450 MBoe, which should produce annualized internal rate of return of 40% to 50%.
Its non-operated acreage in Mountrail County is operated mostly by Slawson, and should produce EURs in the 800 MBoe range. 45 to 60 wells will be drilled with an average working interest of 8%. Its McKenzie County acreage is not in the best area, but this area should produce EURs in the 600 to 650 MBoe range. 6 to 8 wells will be drilled with a working interest of 11%.
GeoResources is also in the Eagle Ford. This area is also interesting from a geological standpoint. I recently covered it in my article Eagle Ford Shale Play In Gonzales County. In the image below, it shows the Eagle Ford shale has had some very good completions in this area.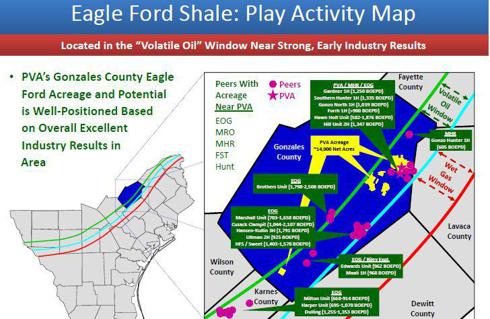 Click to enlarge
Notable IP rates in this area are by three separate producers. EOG Resources wells are:
King Fehner Unit: 1.4 to 1.7 MBoepd
Kerner Carson Unit: 1.8 to 2.6 MBoepd
Hill Unit: 1.6 to 2.0 MBoepd
Meyer Unit: 1.9 to 3.4 MBoepd
Mitchell Unit: 3.3 to 3.6 MBoepd
Magnum Hunter's (MHR) well results are:
Oryx Hunter 1H: 2044 Boepd
Kudu Hunter 1H: 1590 Boepd
Southern Hunter 1H: 1321 Boepd
Furrh 2H: 1275 Boepd
Snipe Hunter 1H: 2033 Boepd
Loepard Hunter 1H: 1333 Boepd
Penn Virginia's (PVA) well results are:
Gardner 1H: 1247 Boepd
Hawn Holt 9H: 1877 Boepd
Hawn Holt 10H: 1188 Boepd
Hawn Holt 11H: 1190 Boepd
Hawn Holt 12H: 1495 Boepd
Hawn Holt 13H: 1399 Boepd
Hawn Holt 15H: 1298 Boepd
Munson Ranch 1H: 1921 Boepd
Munson Ranch 3H: 1538 Boepd
Munson Ranch 4H: 1468 Boepd
Munson Ranch 6H: 1808 Boepd
Rock Creek Ranch 1H: 1257 Boepd
Schaefer 3H: 1129 Boepd
Munson Ranch 5H: 1164 Boepd
D. Foreman 1H: 1202 Boepd
GeoResources results have not been as good, but still show early promise. 30 day IP rates are:
Peebles 1H: 436 Boepd
Black Jack Springs 1H: 369 Boepd
Flatonia East 1H and 2H: 428 Boepd
Newtonville 1H: 566 Boepd
It should be noted GeoResources' acreage is right next to Magnum Hunter's. This acreage also has oily Chaulk upside. EURs run between 400 and 500 MBoe in this area, but could very well be higher given the production by the other three operators mentioned earlier. My estimates have an annualized internal rate of return at 60% to 70% at current results. GeoResources also has 30000 net acres in Giddings and 170000 net acres in Brookeland.
Given its portfolio of acreage, it is easy to see why Halcon Resources found value in this name. It has good management and will be a good addition to this company.
Disclosure: I am long (KOG), (OAS), (SD)
Disclaimer: This is not a buy recommendation