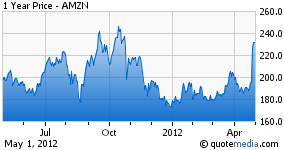 Amazon.com (NASDAQ:AMZN), the stock trading at 180 times 2012 earnings even while those same earnings have been declining for 2 years now, has seen a new threat emerge today. As if it hadn't enough problems already.
Microsoft (NASDAQ:MSFT) decided to enter the e-book fray by buying into Barnes & Noble's (NYSE:BKS) Nook business. Microsoft did this by investing $300 million to get a 17.6% equity stake in the soon to be spun-off Nook division. Obviously, the Nook business will probably see deep integration into Windows 8. The Nook will thus become part of this operating system's content shop, and further the paradigm change in the selling of digital goods, of which I had already talked about in the past. This carries with it the chance that Amazon.com might be the next Netscape, with an alternative to its business being integrated into every operating system out there, from Apple's (NASDAQ:AAPL) iOS, to Google's (NASDAQ:GOOG) Android, to Microsoft's Windows 8. This is similar to what happened to Netscape, when it saw Microsoft integrating a browser (Internet Explorer) into its Windows operating system, instantly dealing a deathly blow to Netscape's browser.
This is significant for Amazon.com. The e-book business was the last of Amazon.com's digital strongholds, after having seen digital video go for Netflix (NASDAQ:NFLX), Hulu and others; digital music being eaten by Apple's iTunes as well as internet radio startups like Spotify or Pandora (NYSE:P); and software, also going to the likes of Apple's App Store and Google's Play - which show downloads in the billions, versus millions for Amazon.com.
It's still early to say whether over time Amazon will get completely destroyed in e-books. At one time Amazon held 90% of that market, but between competitors like the Nook and Apple's integration of iTunes into iOS and its overwhelming success, that share is now more like 60%. There's also reason to believe that the Kindle eReader is going through a massive implosion, part of it being due to Kindle fire's cannibalization, but also due to the cannibalization by other tablets and smartphones. Also, pretty soon Google will be launching its own superior tablet at breakeven, just to combat Amazon's Kindle fire and the forking of Android it represents.
So what is left for Amazon.com?
Physical goods sales. Where it faces the known threat of having to collect sales taxes. Amazon is due to start collecting in Texas by July already. Here, Amazon.com competes mostly on price, but the thing is, Amazon.com's operating costs ex-cost of sales/revenues come to 22.5% of sales (Q1 2012), whereas WMT's are 19.2% (2012 FY), and Costco's (NASDAQ:COST) are 9.5% (Q1 2012). So Amazon.com competes on price while not being a cost leader. That's not a recipe for success over the long term.
Amazon.com also has AWS. AWS is a hosting business, a typical do or outsource sector. Companies only outsource when it's advantageous for them, so it's always a low margin business. This business also faces enough competitors from Microsoft to Google to Equinix (NASDAQ:EQIX). And worse still, we have reason to believe that AWS is being taken advantage of by some of its customers, for instance Zynga (NASDAQ:ZNGA), which previously used AWS for most of its needs, but now handles the stable load in-house while outsourcing only the peaking needs to AWS. If AWS is to serve peaking needs at the same price as it has to serve stable loads, its economics will quickly turn ugly.
For now, the market seems oblivious to all these threats. But of all companies, Amazon.com seems one of the last to warrant trading at a premium, much less at a premium that represents a relative valuation of 12-13 times the market's valuation. The downside, in spite of Amazon.com having recently beaten deeply lowered estimates using an accounting gimmick, is staggering.
A small aside
Now that Microsoft will be on Nook's side, it will have added motivation to pursue Amazon.com for patents related to Android, as it was doing to Barnes & Noble. This will create an added cost for Amazon.com -- if not on royalties, then, on lawyers. We should be hearing about this soon.
Disclosure: I am short AMZN.