We began analyzing Student Transportation's (NASDAQ:STB) common stock back in August when we were alerted to the fact that it received approval to register its shares on the NASDAQ Global Select Market and that it was paying a nearly 8.9% dividend yield. Though we are currently rating STB as an underperforming 'Avoid' and we have expressed our opinion about STB's dividend policy in relation to its capital expenditures and acquisition program, we are intrigued by the fact that STB and its two largest competitors Firstgroup PLC (OTC:FGROF) and National Express (OTC:NXPGY) offer above average dividend yields to shareholders.
Student Transportation is the third largest provider of school business transportation services in North America. The company operates in two segments, school bus transportation (98.5% of revenues) and an oil & gas portfolio (1.5% of revenues). The company operates buses in Ontario Canada and 13 states in the U.S., mostly in the northeast (Maine, New Hampshire, Vermont, New York, Connecticut, New Jersey, Pennsylvania, Illinois, Wisconsin, Minnesota, South Carolina, Florida & California).
Student Transportation also offers three convertible bonds that can be converted into Student Transportation's common stock and a dividend reinvestment plan through Computershare.
Click to enlarge
Source: Bloomberg LP
Firstgroup (US Pink Sheet ticker, FGP on the London Exchange) is a leading international passenger transportation services group operating mass transit busing and rail services in the United Kingdom and North America. Its First Student school bus business was formed when FirstGroup acquired the student transportation division of Ryder System (NYSE:R) in 1999. Its 2007 acquisition of Laidlaw solidified its position as the leading North American school bus operator. First Student is headquartered in Cincinnati, OH and operates in 42 states, including in Boston, MA. With over 60,000 school buses in service, First Student has more than twice the buses of STB and National Express.
National Express (US Pink Sheet ticker, NEX on the London Exchange) is a leading global mass transit services provider operating in the United Kingdom, Spain, Continental Europe, Morocco and North America. NEX's North American school busing businesses include Durham School Services in the US and Stock Transportation in Canada. NEX operates over 17408 buses, twice as many as STB and less than 1/3 of First Student.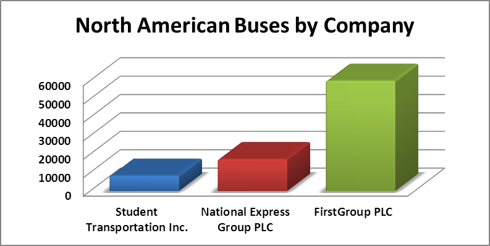 Source: Company press releases
All three of these companies offer dividend yields well in excess of the S&P 500. We believe that the dividends on the common shares of National Express and Firstgroup are more sustainable than STB's dividend due to the fact that NXPGY.PK and FGROF.PK pay dividends out of free cash flows, while STB pays out a very high percentage of operating cash flows then borrows debt, issues shares and enters into off-balance sheet operating lease agreements in order to fund its growth initiatives.
With 4000 school bus companies competing for the 30% of the school bus contracts that aren't handled by the state and local governments, we can see that this is a mature industry in need of consolidation. In such industries, we tend to put a special emphasis if the companies can still generate operating cash flows, have prudent capital investment programs, and return cash to shareholders and bond holders.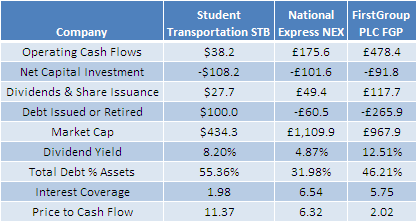 Source: Capital IQ (Amounts in Millions of Local Functional Currency except ratios)
For dividend-seeking investors interested in this space, the two most intriguing investment opportunities in this space are Firstgroup PLC's common shares and Student Transportation's most recently issued convertible bond, which carries a 6.25% coupon and matures in 2018.
For equity investments in this sector, we believe that Firstgroup's equity offers the best risk-adjusted returns because it offers the highest yield of all the investment opportunities, the best cash flow coverage for its dividend, the lowest price to cash and has been steadily deleveraging since 2008.
We also think it is a good low-risk situation because we think that it was oversold after it announced that margins in its UK bus business will decline from 13% to 8% for next year. FGP was trading at £2.89/share on March 28th, the day before it warned about UK bus margins. Since then it is trading at £2.009/share. FGP announced restructuring of the First Student division last year to restore division operating margins to double-digits, as well as accelerate an asset disposal program aimed at raising Arizona £100M.
We believe that the Student Transportation convertible bond issued last year carrying a 6.25% coupon, convertible into STB stock at C$9.50/share and maturing in 2018 offers a comparable risk/return scenario relative to Firstgroup's equity offering and a better risk/return versus the rest of the other investment opportunities referenced in this article. It combines the downside protections and relatively high coupon yield of a bond with the potential for capital appreciation associated and the potential increase in the price of STB's common stock. We look favorably on this convertible bond versus the stock because the company recently raised C$80M through the sale of stock to pay down debt. The yield to maturity of this bond is within 200bp of the stock's dividend yield and $75M of STB's convertible debt is either ready to be converted to stock or within 7% of STB's stock price to be converted.
We did not dwell much on the STB convertible bond maturing in 2014 because it is convertible into STB common stock at C$5.15/share, which was achieved in March 2010 and has been maintained since. We view this bond as a surrogate stock issue because it can be converted into over 194 shares per C$1000 face value of bonds held, which explains why it is trading at an ask price 138% of par value. The intrinsic value of the bond is ~132% of par and the time value of the option is about 6% of par. Already more than half of this bond issue has been converted into stock and we expect more to be converted before its 2014 maturity.
We did not dwell much on the STB convertible bond maturing in 2015 because although STB's Canadian shares are trading at C$6.80, below the C$7.25 conversion price, the market price is close to the conversion price and due to the additional six months associated with this bond, as well as the strong potential for the bond to be converted into stock, the bond is trading at an ask price of 109.95%.
We also prefer the 6.25% 2018 bond versus the older bonds because in addition to a higher yield to maturity for this bond (6.497% versus 3.401% for the 2015 bond and negative -6.322% for the 2014 bond), it also had a narrow bid ask spread of C$.25 per bond, whereas the other bonds had spreads between C$5.66 and C$6.95 per bond. Finally, the last feature that we like is the longer maturity of this bond, which gives us more hope that it can be converted into STB common stock.
Disclosure: I have no positions in any stocks mentioned, and no plans to initiate any positions within the next 72 hours.
Additional disclosure: Saibus Research has not received compensation directly or indirectly for expressing the recommendation in this report. Under no circumstances must this report be considered an offer to buy, sell, subscribe for or trade securities or other instruments.