Short selling is a highly lucrative and challenging endeavor. If performed correctly, it could be highly lucrative. If not, it is just challenging.
Short selling is the act of borrowing a security from one person and selling it to another. If the price of the underlying security drops, the short seller buys it in the open market (referred to as "buy to cover"), closes the position and pockets the difference in the price.
The main point of this article is to emphasize and illustrate the two most crucial components in every successful short selling.
The first rule is to never short a stock based on valuation alone. You always need that extra something. A catalyst which will push the price down once it is recognized by the overall investing public. This 'extra something' can be in the form of an accounting gimmick, deteriorating business margins or a suspicion of corruption among management. Put differently, even if the stock valuations are stretched to the extreme, that is not a sufficient reason to open a short position. It could only serve as an additional basis. If you ignore this rule, you are likely to endure some painful losses.
Let's take Amazon (NASDAQ:AMZN) as an example:
| | | | | | |
| --- | --- | --- | --- | --- | --- |
| | P/E | PEG | Price/Book | Price/Sales | Dividends |
| AMZN | 150 | 6 | 12 | 2 | Non |
Amazon, for most of 2011 has been trading around the valuation metrics above. As you probably realize, Amazon is more expensive than expensive especially considering that it is not a $1BL young company but a $100BL one. It cannot grow forever although its PE certainly implies so.
Now, if you decided to short AMZN solely on the basis of valuation, you are in for a surprise. On April 27th, AMZN reported strong earnings, and its stock price leaped by 15%. As of now, Amazon still trades at insane earnings multiple of over 190. Tempting for a short, but no thanks.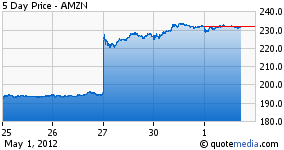 The second rule is to never short a stock all the way to the ground. This is a very common (and expensive) mistake among amateur short sellers. They believe that if a stock is a good candidate to sell short, then they should maintain this short all the way to $0. Yes, the company could eventually file for bankruptcy but the chances of this happening are extremely slim. What is more likely to happen is that at some point in time, the depressed price will eventually become attractive in the eyes of a potential acquirer.
We'll use a few examples to illustrate this rule:
Netflix (NASDAQ:NFLX): Back at the end of 2011, Netflix was trading at the low $60s after plunging from a high of $300 area. Anyone who paid attention noticed that the business model of Netflix was falling apart. Add to that a PE of 40 and a Price/Book of above 7 and you have a recipe for a successful short. Many traders that i know believed that the company is worth $0, not anything greater than that. Of course, that is rarely the ca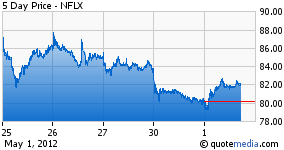 se. Traders who opened a short position at $60 were forced to climb with the stock all the way back to the $100. Only recently, after an earnings miss, the price declined back to the $80 area.
Barnes & Noble (NYSE:BKS): I issued a sell short recommendation on the stock back in December 2011. I based it on cash flow issues in their annual report and an obsolete brick and mortar book business. We rode the stock down and we made 33% in a few months. Then, I received angry emails from other traders who insisted not to buy to cover. Why buy at $11 when you can ride it down to $1 or even less? Well, those traders received an an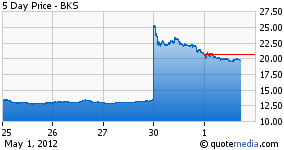 swer a few days ago. On April 30th, Microsoft (NASDAQ:MSFT) announced that it was investing $300ML in the Nook business, the e-reader of B&N. The stock skyrocketed by over 50% to close the day above $22.
Groupon (NASDAQ:GRPN):The famous coupon social site was not only incredibly expensive by the numbers (Price/book of over 20 and a Price/Sales of over 7) but also was suspected of misleading investors by having to revise its annual reports. I first recommended to sell the shares short on April 3rd when the shares were trading at $15. They are now at $11.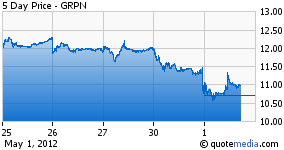 Despite this imminent plunge in the price, I was amazed at the number of emails I received from fellow traders who insisted that they would remain short on the stock all the way to $0, simply because its business model is no longer sustainable. Those traders tend to forget that almost any merchandise is ripe for a takeover, at the right price. And once a takeover is announced, it is already too late for the short seller.
If you follow and implement these 2 simple rules: never to short based solely on valuation and not to attempt to short a stock all the way to the ground, you are already ahead of 90% of all other short sellers out there. Guaranteed.
Disclosure: I am short GRPN.
Additional disclosure: I am long MSFT