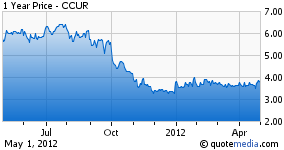 Concurrent Computer Corporation (NASDAQ:CCUR) will report Q3 earnings on Tuesday, May 1, 2012. Analysts are expecting revenue of $17.3 million (up from $16.4 million in Q2, but down from $18.3 million in Q3 a year ago).
On the last earnings call, CEO Dan Mondor stated that the company's video product lines would likely see the same strength in Q3 as they did in Q2. This line represented $10.2 million in revenue in Q2. His confidence stems from a return-to-buying on the part of its two major North American Multi-System Operators (MSO) customers (a slowdown at those accounts was the primary cause of CCUR's Q1 earnings disappointment).
If CCUR follows through on matching that total, investors will be hoping for another $7.1 million from its Real-Time offerings to hit analyst estimates. That may prove challenging, since Real-Time hasn't shown much momentum of late. It contributed just $6.2 million in Q2, down from $6.4 million in Q1 and flat with the second quarter of last year. However, management reminded us that they are working with Rolls-Royce (OTCPK:RYCEY) on a jet engine stimulation environment and with Lockheed Martin (NYSE:LMT) on a land-based missile detection program.
Overall, the company seemed upbeat on its outlook for the future. As most investors know from personal experience, the video on demand (VOD) trend continues to accelerate. This is especially true of viewership on mobile devices, which has grown by over 40% for the past two years. Further, as cable customers migrate to content delivery network (CDN) architectures, CCUR's work with CDN operators is setting them up to exploit opportunities with cable companies around the world. This was demonstrated with its win at Cox to enable the first TV VOD CDN, as well as its win at Internap for that customer's mobile video strategy.
Its momentum is readily apparent. In recent quarters, the company has reported strong progress in Canada, Portugal, Poland and Japan, to go along with its work at five of North America's top six cable operators. It also replaced a competitor in a German account and is ramping up sales there. Finally, as operators look to deploy network-based DVR technologies, CCUR may have a leg up. It was recently awarded a patent that enables ads to be shown while customers fast-forward and rewind.
During last quarter's Q&A, management declined to provide any formal guidance and even went out of its way to avoid any indications of upward direction. Further, CCUR's accounts receivable increased by $3.1 million sequentially; potentially signaling that most of its sequential revenue growth may have come at the end of the quarter. This is generally not a positive sign for the quarter to come.
There are many reasons to feel good about CCUR's future prospects and valuation, but Pipeline Data's expectations are tempered going into Tuesday's report.
Disclosure: I am long CCUR.
Additional disclosure: I may alter my position in the next 72 hours.