Conclusion: Increased card member spending resulted in record American Express first quarter revenues and earnings. At 13.5 times earnings, we believe that AMEX is the best investment amongst credit card issuers. With the Finance Group strong these three credit card companies have bullish Chaikin Power Gauge Ratings (see my rating methodology). American Express is making new highs and leading a strong group.
Buy AMEX on pullbacks of 5-8%.
Introduction: Credit card issuers have exhibited high Chaikin Power Gauge ratings for the past month. In addition, Discover is amongst the top three companies with the most positive analyst earnings revisions over the four weeks prior to April 19th. Companies with positive earnings revisions tend to outperform those with negative revisions in subsequent months. With these thoughts in mind, this article will examine customer credit quality, sources of funds, and valuation metrics for American Express (AXP), Capital One (COF), and Discover (DFS). For valuation purposes, tangible price to book value is evaluated. Since the fair value of the principal for credit card assets is typically close to their book value, tangible book is a rough estimate of total liquidation value of company assets net of debt. We estimate tangible book value as shareholders equity less goodwill and intangible assets. The ratio of tangible book value to market capitalization represents the proportion of firm value captured directly on the balance sheet. However, tangible book misses many other assets of these companies such as brand name and value of current customers. Therefore, an analysis of earnings is also appropriate.
American Express (AXP)
Summary: While the valuation for AMEX seems high, it does not take into account discount revenues charged to merchants, which represent over half of gross revenues. AMEX is able to charge such high transaction fees through the power of its brand and strength of relationships with customers. Combined with a global footprint and orientation towards business use, AMEX is still the golden standard of the credit card industry.
Pros: American Express 2011 purchase volume was $822 billion. This represents more than 6 and 7.4 times the volume of Capital One and Discover. While there were only 34 million AMEX cardholders in the US in 2009, US volume was $424.3 billion. As a result, average cardholder spending of $14,124 dwarfs its competitors. According to JD Power and Associates, American Express has the best brand image. This helps lead to high customer credit card utilization rates. In addition, AMEX cultivates a high quality customer base. This is exemplified by a low average yield on balances of 10.4% and 3.2% write-off rate
Cons: American Express has relatively high average financing costs of 2.3% for interest bearing liabilities. Customer deposits and securitization only account for 28.2% and 15.5% of liabilities; whereas, long-term debt is 28.8%. In addition, the company trades at a premium to its peers. Shareholders equity of $18.8 billion less $3.2 billion in goodwill yields $15.6 of tangible book value. Since market capitalization is $66.99 billion, tangible price to book is 4.29.
Chaikin Power Gauge: American Express has a very bullish Chaikin Power Gauge Rating with a high return on equity and business value. From a technical perspective, it ranks well on Price Strength vs. Market, Chaikin Money Flow, and Chaikin Price Trend. It also does well on the following expert opinion metrics: Earnings Estimate Revisions, Short Interest, Analyst Opinions, and Price Strength vs. Industry.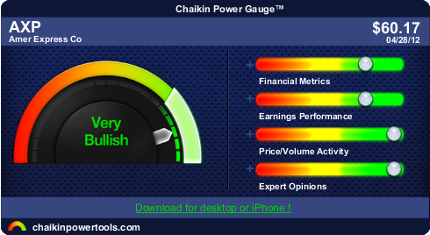 Capital One Financial (COF)
Summary: While Capital One customers purchase more on average with their cards than Discover, Capital One extends credit to lower quality borrowers and does not process payments. Its low valuation appears to be a reflection of that borrower base.
Pros: Capital One has evolved from a credit card issuer to a full service bank. Credit cards only account for 64% and 70% of 2011 revenue and net income. Its ability to obtain inexpensive sources of funding is one of the main benefits of the company. For example, customer deposits account for 72.7% of 2011 liabilities and total interest bearing liabilities had an average interest rate of 1.52%. In addition, the company has a relatively low valuation. Total stockholder equity of $29.7 billion less $13.6 billion in goodwill results in $16.1 of tangible book value. Given the $24.5 billion market capitalization, tangible price to book is 1.52. Unlike AMEX and Discover, Capital One does not process its own transactions, which partially explains the lower valuation.
Cons: Capital One appears to have the lowest quality assets of the group. Both average interest and charge-offs rates were higher than competitors at 14.36% and 4.92%. The Capital One website states that the company has 45 million customer accounts. Assuming that 65% of these accounts hold credit cards and based on purchasing volume of $135.1 billion, the average amount spent per cardholder was $4,619. Assuming all of these accounts held credit cards results in $3,000 in average annual cardholder purchases.
Chaikin Power Gauge: Capital One also has a very bullish Power Gauge Rating, with low Price-to-Book, Price-to-Free Cash Flow, and projected Earnings Yield. It ranks well on the Relative Strength and Chaikin Price Trend technical indicators. In addition, COF low Short Interest and insider buying combined with high analyst opinions suggest experts view the company favorably.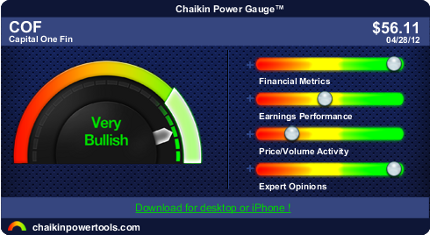 Discover Financial Services (DFS)
Summary: Despite a reasonable valuation, Discover remains a second-tier credit provider whose customers do not spend much and have credit problems. Unless the economy expands significantly, credit constrained borrowers are unlikely to recover their previous spending habits.
Pros: According to the 2012 DFS Investor Day presentation, Discover obtains 45% of its funding through Consumer Deposits, 28% through asset-backed securities, and 23% from Brokered Deposits. The focus of the company on the expansion of deposits should help lead to a decrease of the high 2.71% average rate currently paid for interest bearing liabilities. Shareholders equity of $8.24 billion less $255 and $188 million of Goodwill and Intangibles results in a tangible book value of $7.8. Given a market capitalization of $17.46 billion, tangible price to book is 2.24
Cons: In its 2011 Annual Report, Discover mentions that $111 billion in sales volume occurred over its network and $29 billion on Diners Club International. Additionally, the US Census Bureau estimates that there were approximately 40 million Discover cardholders in 2009. Assuming a constant number of cardholders from 2009 to 2011, the average Discover cardholder spent approximately $2,775 in 2011. This low figure indicates one or more of the following: Discover customers do not use their cards frequently; cardholders do not spend much. A high charge off rate of 4.50% and average interest rate of 12.51% suggest that a portion of Discover customers may have difficulty obtaining credit. Similarly, 19% of Discover card customers have FICO scores less than 660.
Chaikin Power Gauge: The Chaikin Power Gauge Rating is Bullish for Discover. The four components which make up the model are bullish across the board with high return on equity, free cash flow yield, earnings growth, percentage increase in earnings over the past twelve months, price strength vs. the market. Also, the company has a history of positive earnings surprises and good rankings on Chaikin Money Flow, Chaikin Price Trend, Volume Trend, Earnings Estimate Revisions, Short Interest, Analyst Opinions, and Price Strength vs. Industry.