By Jane Sanders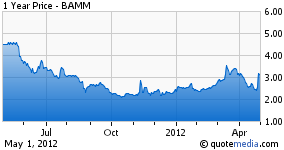 Books-A-Million (NASDAQ:BAMM) may be bought by its chairman and board members in a transaction valuing the bookseller at $49 million.
The Anderson family, lead by Clyde B. Anderson, may purchase the Birmingham, Ala.-based company following a non-binding acquisition proposal announced yesterday morning. Anderson and his family control 53% of Books-A-Million stock. Shareholders who are not part of the Anderson family would receive $3.05 per share, 20% more than Friday's closing price but below the 52-week high of $4.78.
The company's management would be unchanged and there are no plans for reducing employees, according to a press release issued this morning. The acquisition would take the form of a merger with an acquisition vehicle owned by the Anderson family.
Anderson encouraged the Board of Directors to establish a committee to review the proposal for the company's public shareholders.
Last summer, Books-A-Million acquired the leases for 14 Borders stores in Maine, Ohio, New Hampshire and New Jersey for $934,209 as the company was going through bankruptcy. The company earlier tried to acquire 30 locations.
Books-A-Million reported a net loss of $2.5 million, or 16 cents per share, for fiscal year 2011 compared to a net income of $8.9 million or 57 cents per share a year earlier, the company in a press release issued in March. Books-A-Million spent $5.4 million closing 21 locations and opening 41 new locations in October and November.
Books-A-Million will have to compete with bookseller Barnes and Noble (NYSE:BKS) which received a $300 million infusion of cash from Microsoft (NASDAQ:MSFT) to grow its digital book and college text book business, the companies announced this morning. The nook application will be included in Windows 8 computers, which are scheduled to preview in June.
Disclosure: I have no positions in any stocks mentioned, and no plans to initiate any positions within the next 72 hours.
Disclaimer: Neither Benzinga nor its staff recommend that you buy, sell, or hold any security. We do not offer investment advice, personalized or otherwise. Benzinga recommends that you conduct your own due diligence and consult a certified financial professional for personalized advice about your financial situation.