Last week, my wife and kids returned from a lunch after Sunday school. My twelve-year old son, who, until this past summer, was a devout "carbohydratarian", has been making up for having taken a decade off from meat, so they decided to give Red Robin Gourmet Burgers (NASDAQ:RRGB) (40, $670mm market cap) a try. As they described the meal, I salivated, but not because of the way they described the food. I was excited, instead, because it sounded like I might have found another public company that will struggle to please investors over the next year.
I expect that this is going to be one of the toughest environments for casual restaurants ever and would suggest that the restaurants that will best be able to navigate the challenges of rising costs and shrinking customers in aggregate are the value-priced chains. Restaurants that grow primarily through openings rather than same-store growth, especially ones that borrow to do so rather than funding out of free cash generation are particularly at risk. RRGB falls into that category.
In reviewing the company's history, background, financials and growth strategy, I reviewed several public filings and visited the company website. The chart below is a great place to start (click all charts to enlarge):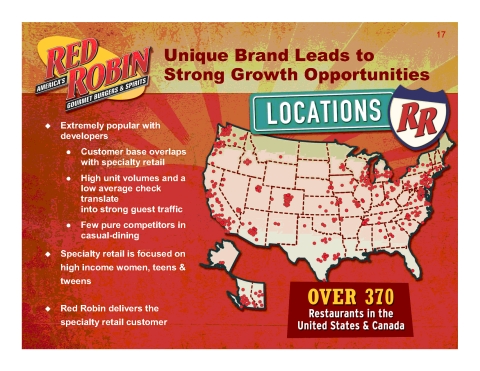 Source: Company website – Investor Presentation 10/07
Getting back to my family's experience, I might dispute the "low average check" description. The company claims to have just a 10.96 per person check. Their burgers look really good – don't get me wrong, but $8.79 for a bacon cheeseburger isn't exactly a bargain. I am no expert in this area, but I do know that our favorite local burger joint (1/2 lb too) sells what looks like the same thing for $1 less. Of course, you have to order in line and pick it up at the counter, but that gets to the crux of my argument. In tight times, this is an easy trade-down. The slightly more upscale restaurants sell the same food in a more comfortable manner, but the consumer pays for it. From a unit economics approach, that added convenience requires more labor. Input costs are rising, from food ingredients to labor (California minimum wage, for example). So, I guess I have no problem with the idea of a expecting a family to pay a bit more to avoid the inconvenience of ordering in line except for now, when I believe that the middle class will be having to make all sorts of choices in order to spend more economically. I would think that the same need for a family might be achieved by ordering at Sonic (NASDAQ:SONC) as well. Not as fancy, but a lot of fun for the kids. The company mentions Fuddrucker's as its closest peer, and I like what the parent company is doing in California with their KooKooRoo chain. Additionally, the restaurant isn't truly unique, despite their trying to identify themselves as such. Ruby Tuesday (NYSE:RT) sells a bacon cheeseburger for $8.49. So, while I certainly can't find particular fault with what the company is doing, I would say that the headwinds that they will be facing will be tough: Pressure on up-to-his-eyes-in-debt customer and higher input costs like ingredients, energy and labor.
The next thing that jumps out at me from the slide above is that the restaurant has historically appealed to developers and is in close proximity to specialty retailers. That sounds like a great thing before the credit crunch started, but I am not so sure of that strategy now. If the ladies aren't shopping (look at those stocks), they probably aren't grabbing a lunch either. Additionally, the company has a franchising program. In a tighter credit environment and one in which potential franchisees must be viewing as somewhat riskier than the past five years, that avenue may be blocked. Finally, if I were going to be investing in a restaurant business, I think that I would be cautious about having a high concentration in those markets with the worst real estate issues. If you look in the map above, you will see the very heavy East Coast and West Coast exposures.
So far, I have discussed the company. It is now time to look at the stock. In my opinion, the stock doesn't nearly reflect the pessimism that it should. I find this to be the case very often in retail names. Most investors, whether they are individuals or institutional, tend to really like the retail names they invest in. I have found that to be the case with Starbucks (NASDAQ:SBUX), Whole Foods (WFMI) and many others. In the case of RRGB, the stock has been sideways for a few years as earnings growth has tapered somewhat. Investors can't be too upset – the stock debuted in 2002 and was a 5-bagger after a rough start. I think that their patience will wear soon should the stock continue to decline: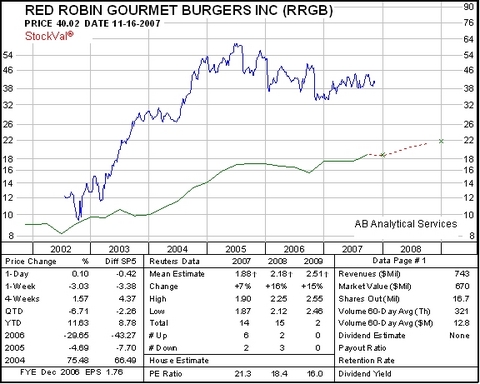 The valuation is lower than it used to be, but so is the growth (if one strips out a recent acquisition of 15 of its 17 franchised restaurants in CA). The EBITDA margin peaked at 14.67 in 2004 and has been under pressure. Same-store growth has slowed to 2-3%, though still an impressive level compared to the industry. The company trades at 18.4X 2008 estimates, ahead of the EPS growth rate that analysts expect over the next couple of years.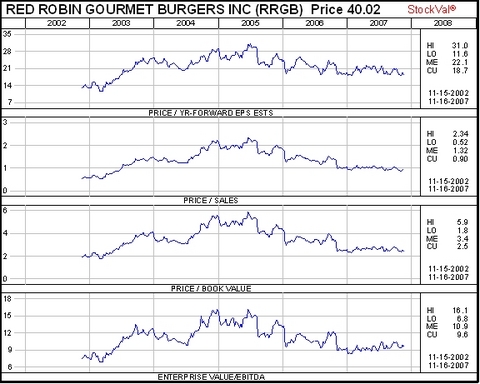 I mentioned earlier that the company's growth comes primarily from unit expansion, which is in excess of free cash generation. In the most recent quarter, Equity stood at $272mm. Netting out Goodwill and Intangibles, the tangible equity is about $175mm. Total debt is about $156mm. In the table below, you can see how the company has degraded its balance sheet in order to enjoy such rapid sales growth over the past couple of years:

So, we have high sales growth (27% in the most recent quarter), but lower EBIT margins (6.3% YTD, down 120 bps) and a lot more debt relative to equity or tangible equity.
While constructing a peer universe is never as simple as one might think, I want to compare RRGB to a few broadly similar companies. Included in the table below are 8other chains that offer sit-down service and cater to families (Fast Casual). The stocks are ranked by YTD return – no wonder I am excited about the prospects of RRGB going down. Why does it stand out despite having a higher valuation (PE, EV/EBITDA, EV/Sales), a lower margin (EBIT and Net), a negative FCF yield, and a below average ROIC? Perhaps the last column, the change in next year's earnings estimate over the past 12 weeks explains it. My question is this: Is it realistic to expect the company to continue to be able to borrow money, repurchase franchises and at the same time overcome the headwinds of the economy that will hurt demand and increase costs? By the way, the company announced very recently that it will be increasing its television advertising spending. Is this a good time to be doing that? I would prefer to see operational efforts that reduce costs rather than increase them.

The stock, despite being up on the year, is not showing strong technicals. In the chart below, you can see that the stock has been making lower highs and lower lows since the all-time high since the margin peaked two years ago. There is heavy resistance at 44 and limited support at 38. By my read, a break of 38 sets up the stock for a test of the 30 area that served as resistance in late 2003 and early 2004 and then support a year ago. Clearly, if one buys off on the "lower lows", then 30 would fill the bill.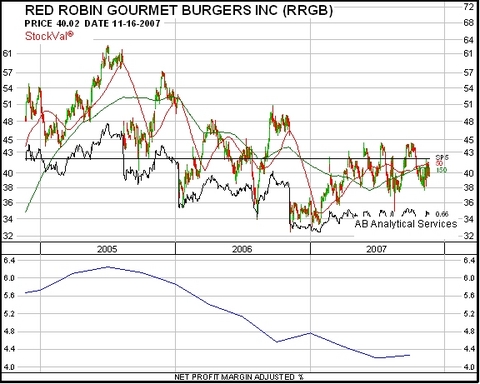 One caveat- the short-interest is absolutely massive – 27% of the float and 14 days of volume. I waited to establish a short position myself until after they reported in order to mitigate the potential of a near-term squeeze. While I think that this stock could easily trade below 30 (24 would be 12X the $2 I expect them to earn next year), I will keep in mind that I have a lot of company on this one. Bottom-line: Tough environment, high valuation, bad chart, and troubling balance sheet.
Disclosure: Short RRGB, TXRH and WFMI