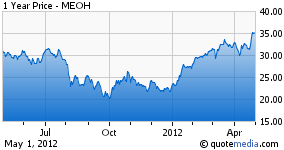 Methanex (NASDAQ:MEOH) is the world's largest producer and marketer of methanol. Methanol is a liquid which can be produced from natural gas and has a variety of industrial applications and can also be blended with gasoline to be used as a vehicular fuel. The enormous price gap between natural gas and petroleum has created a very strong market for methanol and creates an opportunity for methanol producers to reap a large margin. One of my "big ideas" is that this unprecedented price gap will create opportunities for natural gas to displace petroleum especially in the transportation market. I have recommended Clean Energy Fuels (NASDAQ:CLNE) and I have written about MEOH in the past.
MEOH reported first quarter earnings which were strong although they were negatively impacted by share based compensation costs due to the fact that MEOH stock appreciated by nearly 40 per cent in the first quarter (it closed at $35.16 on Monday). MEOH has increased its dividend to an annual rate of 74 cents (1.9%). Using my sequential balance sheet method of evaluating the generation of cash flow available to owners, it appears that MEOH is generating roughly $250 million a year or roughly $2.70 per share. MEOH is difficult to track from an income or cash flow perspective because accounts payable, accounts receivable and inventory tend to jump around quite a bit from quarter to quarter. It is also true that quarterly earnings can be very heavily impacted by whether or not methanol actually produced by MEOH has been delivered or is still in inventory at the end of the month.
MEOH markets methanol it produces as well as methanol it acquires from others. It makes much more money on the methanol it produces itself and so quarterly earnings are affected by whether or not its facilities are operating at capacity. MEOH has been negatively impacted due to the fact that its facilities in Chile have been underutilized due to a lack of gas availability. It also has facilities in Canada, Trinidad, New Zealand, and Egypt and is considering relocating one of its Chile plants to the United States. It should be heading into a period of time in which more and more production from existing plants will be available and a very strong market for methanol due to the increased efforts of China to use methanol blended with gasoline guarantee that MEOH can make a lot of money on whatever it produces.
I have recommended this stock in the past at lower prices but I still believe it is a buy at this price. If anything, the "big picture" is looking better and better with a very strong world market for methanol and limited supply coming on line. Of the supply which is coming on line in the next 3 to 5 years, it appears that at least of half will be MEOH production. MEOH is careful with capex and tries to squeeze additional capacity out of existing plants and to relocate underutilized equipment rather than plunging into the construction of entirely new plants. I remember an era in which a notorious consulting firm advised everyone in sight to maximize market share and the result was often that capacity was expanded and prices fell. It appears that there is virtually no danger of that happening in the methanol market in the near future.
It remains to be seen whether methanol will play a major role in the vehicular fuel market in the United States. There is some support for a neutral fuel standard that would permit marketers more flexibility in mixing ethanol or methanol in with gasoline depending upon market conditions but gridlock as well as the general lack of understanding of this issue in Washington suggest that nothing is about to happen soon. Americans may not appreciate the role methanol is beginning to play in other parts of the world and that may lead MEOH to be underappreciated. It is a strong buy as part of the general thesis that the most important trend in energy over the next 5 to 10 years will be the displacement of oil by natural gas in the transportation market.