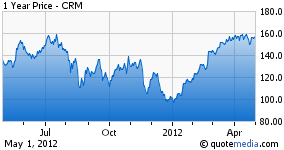 IBM (NYSE:IBM) decided to retire its old CRM (Customer Relationship Management) system. This system was on premises and provided by Siebel, a subsidiary of Oracle (NASDAQ:ORCL). This system was the largest Siebel implementation in the world, so we are not talking peanuts here. This was a major event in the CRM world.
To substitute this system, IBM is certain to have looked at proposals from Oracle, Salesforce.com (NYSE:CRM), SAP and others. This was a major win for whoever took the business, and certainly no efforts were spared to try and get it. Now, we get the news that IBM has chosen its candidate. And which did IBM choose? Was it the so-called cloud CRM leader, Salesforce.com? No, it wasn't.
IBM went with SugarCRM. IBM justified its decision with SugarCRM's open source nature and the ease of interfacing with many other IBM systems. But this is a true earthquake in the cloud CRM sector. What does one think will happen now, competitively, when SugarCRM is on the table as a competitor with Salesforce.com? Previously, you had this huge well-known cloud leader in one corner, Salesforce.com. In the other corner, the contender was this frail, unknown, open-source cheapo, SugarCRM. Not so any more. Now SugarCRM will present itself as the CRM that runs IBM, and the credibility gap is gone.
The articles out there are painting this as the emergence of competition for Oracle, but the true rival here is Salesforce.com. The same Salesforce.com, whose margins were already under fire from cloud alternatives cropping from everywhere, including Microsoft (NASDAQ:MSFT), now has to contend with a credible open-source competitor. This can't be good, especially when we remember that Salesforce already has a reputation for being expensive (something that's constantly being exploited by Microsoft, which is always proposing a cheaper cost per seat). This is no market for low margin high multiple companies. Like Salesforce, with a forward 2012 P/E of 96.
Conclusion
Each day that passes, it gets harder for Salesforce.com to grow its cloud CRM business or its margins given the emergence of new powerful competitors like SugarCRM. This is not what you want to see in a company trading at a forward P/E of 96, and thus makes Salesforce.com a sell. In the short term, Salesforce's drive into longer contracts might well paint a picture of accelerated growth, but such is misleading.
Finally, even the 96 P/E is based on non-GAAP earnings that exclude costs like compensation paid in stock - something that clearly ought not to be excluded, as its absence would lead to Salesforce not having workers to carry out its business. So Salesforce's valuation is even higher than it seems.
Disclosure: I am short CRM.