Just last month, Google's (NASDAQ:GOOG) stock nearly hit $750/share, or $225B in market cap. Today the stock is down over $100/share. No, that's not a typo. Yes, a lot of it is due to profit taking as well as the uncertainty surrounding the credit markets, though an analysis of the situation would definitely suggest that Google in particular and online advertising would win over offline advertising as the economy cools.
Either way, what makes this $100+ drop more interesting is that Google's market share in the red hot search market now stands at nearly 65%. That's right, almost 2 out of every 3 searches are powered by Google. Look at the search advertising growth in years to come and tell me if Google at $625 is a buy opportunity or not. I don't know.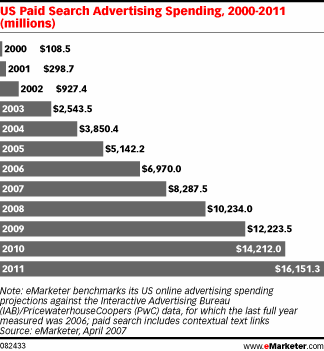 To me Google is expensive but indeed, every other correction in share price has turned out to be a buying opportunity. Invariably stock prices don't continue to climb, but Google - as search king - does not seem to have run out of gas.