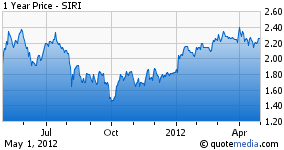 I have covered Sirius XM Satellite Radio (SIRI) for years now and it never ceases to amaze me that investors in this equity tend to expect more from the stock price than what solid fundamental analysis would dictate. The latest quarter for Sirius XM presents yet another example of what has happened quarter after quarter for this company.
The best way to describe what is happening to the stock price of Sirius XM is that it is reflecting stability. That stability comes from the company meeting expectations of the Street. Q1 of 2012 was not a "blow-out quarter" nor was it "amazing." Instead, it was a quarter that represents that the company is continuing to grow and execute as expected.
This morning, upon the release of the numbers, my email box was littered with communications from investors in awe over the numbers and exclaiming that this should propel the stock price up to 52 week highs and establish a new base for the stock. I got so many of these types of emails that I can only arrive at the conclusion that many investors simply have unrealistic expectations of where this equity can go and the time-frame in which it will happen.
I am not being bearish here. I am simply being realistic. There was nothing announced in this quarter that would be reason enough for the price of this stock to appreciate 10% in one trading day. There was no huge subscriber announcement, there was no massive jump in revenue, and there was no leap in EPS. Simply stated the report was a good report that demonstrates that the company can continue paced growth throughout the balance of the year. This type of report does not send a stock skyrocketing. It builds a new and stronger foundation at current levels and allows continued growth one brick at a time.
As with anything, the devil is in the details. By now we have all seen the numbers and perhaps even listened to the conference call. Now it is time to boil down the metrics, compare and contrast, and get into the nitty-gritty.
Reactions, Checks and Balances
Subscriber Numbers - The company reported net subscriber additions of 405,000. This was slightly less than the 416,000 I projected, but well in line. Last year at this time the company reported 373,000 net additions. This implies year over year growth of 8.5% in subscribers on auto sales that were up about 12%. One surprise here is that gross additions only grew about 110,000. With auto sales delivering 400,000 more units vs. the same quarter last year combined with a new supply bucket in the used car channel, I was expecting gross additions to be higher. The good news is that the self-paying category of subscribers is up nicely to nearly 300,000 vs. about 121,000 last year. The bad news is that despite substantially higher sales and new channels to supply subscribers, that the gross additions line is not growing as rapidly as one might expect.
The paid promotional subscriber line also presents some interesting data points. This quarter the company added 105,000 subscribers in paid promotional periods. Last year that number was 252,000. Considering everything, this presents a distinct shift in the OEM channel. Paid promotional subscribers supply the largest pool from which the company derives converted self pay subscribers. Seeing this pool at just over 105,000 means we will be in store for a bit of a roller coaster at some point later this year. Overall however, the paid promotional category is up by some 300,000 over last year at this time, so there is plenty of supply in the pipeline which eases concern.
The company raised subscriber guidance from 1.3 million in 2012 to 1.5 million. This was a positive and was expected by many. While still less that the 1.7 million delivered last year, the ability to match last year's pace is within striking distance. The new guidance implies that Sirius XM only needs to deliver an average of 366,000 per quarter for the remainder of the year. At first blush this seems like an easy target especially considering the company comments about the contribution of the used car channel.
Revenue - The Street was expecting $803 million and the company delivered $805. My expectations were at $809 million. The revenue delivered by the company is impressive but nothing that was unexpected. What comes off as a bit of a surprise is that revenue was at $805 million with 35% of the subscriber base already being impacted by the price increase. This would imply that the company is offering substantial pricing discounts at a decent clip, and that these retention efforts, while a net positive for the company, place a lower ceiling on Average Revenue Per User (ARPU) than many investors are seeking. I have had several investors indicate that once fully implemented the price increase will help drive ARPU to $12.50. Given what we saw this quarter, with 35% now impacted, it would appear that $12.50 is a long shot, and a number between $12.10 and $12.25 is more realistic. Again, we as investors need to manage our expectations.
The ARPU delivered was $11.77, higher than my anticipated $11.69 and just above the target I categorized as "good" at $11.75. What took me by surprise was the percentage of the base that has been impacted by the price increase at 35%. My outlook was for a more modest percentage at this point in the game of 15% to 20%. This would partially account for ARPU beating out my expectations on an absolute basis. The other factor is that the paid promotional number was a lot lower than I would have anticipated. That being said, the company is moving in the right direction. The wild card going forward is how much more appreciation we can anticipate from the price increase.
Subscriber Acquisition Costs (SAC) - The company reported a rise in SAC from $57 last year to $60 this year. I was anticipating SAC to be in line at $57. This metric is derived from the gross additions number. I was anticipating gross additions to be higher, which would have delivered a lower SAC per gross addition figure. The rise in SAC cost was reported to be a higher subsidy cost. This would seem to indicate that the company does not have a lot of room to improve this metric in a material sense unless they are able to boost the gross addition line from programs such as the used car efforts they are now making.
Churn - One pleasant surprise delivered in the quarter was that the churn rate was reported at 1.9%, an improvement from the same period last year which delivered 2.0%. At first blush, seeing churn at 1.9% offers confidence that the company is seeing little resistance from consumers due to the price increase. However, if you look a bit deeper you will see that this number is being impacted by substantial retention efforts. again, and I stress this, it is not bad to retain subscribers at a lower monthly rate as long as your expectations on ARPU are not overly optimistic.
Thinking about this more deeply and you will quickly see that had churn come in at 2.0%, the company would have reported subscriber additions that were less than last years 373,000. In fact, that tenth of a point was the difference between the company reporting 340,000 net additions and the 405,000 they actually had. Considering much higher auto sales and the growth in the used car market these numbers can be quite sobering.
What we learn from digging just a bit deeper is that this company NEEDS to be at a churn rate of 1.9% or better to show continued growth. This means that the company MUST continue strong retention efforts with its associated discounts to demonstrate and show subscriber growth. Again, I am not trying to rain on any parade, but rather insert some grounded thoughts into the equation. This very issue will have a direct impact on ARPU and how much revenue the company will bring in.
Adjusted EBITDA - The company reported Adjusted EBITDA of $208 million vs. $181 million for the same period last year. I was anticipating the metric to come in at $215 million. There are no real surprises here and the company appears to be poised to meet 2012 guidance of $875 million. Year over year growth in this metric was about 16%, slightly less than the 20% to 25% offered up as a guide, but well with reason for the first quarter of the year.
Missing In Action - Missing from the call was any real flavor on the situation with Liberty Media (LMCA), any detail on the music royalty suit (not really expected), flavor on the Stern appeal (again, not expected), and what the company intends to do with their growing pile of cash. These issues will play out over the course of the year and investors simply need to keep a watchful eye on them.
Overall the company delivered a solid quarter. Not an "amazing" quarter, and not a "blow-out" quarter. The met or slightly exceeded Street expectations across most metrics and missed a couple of metrics. Sirius XM is on solid footing to deliver great results in 2012 so long as the keep certain metrics in check. The company continues growth, but is not necessarily a growth story, at least not to the level of "amazing." What this boils down to is a company that has the ability to execute as promised and deliver what is expected. That means healthy steps forward in share price but not movement by leaps and bounds. It will take a real surprise in earnings to deliver the 10% to 20% pops (and hold them) that many investors want to see.
Additional disclosure: I have no position in LMCA