With the reporting of its earnings results in the quarter ending March 2012, the management of Fortinet (NASDAQ:FTNT) tooted its collective horn a bit over the apparent capture of market share for high performance network security solutions. In the recent conference call, Fortinet's founder and current chief executive officer, Ken Xie, bragged about beating out industry leaders Cisco Systems (NASDAQ:CSCO), Juniper Networks (NYSE:JNPR) and others for a large "seven-figure" contract with an unnamed "retail food chain." This sort of success has translated into top-line growth. Revenue in the March 2012 quarter reached $117.2 million, representing an impressive increase of 26% year over year.
I am something of a "show me the money" kind of investor. Thus, when hearing tales of such strong revenue growth, my first thought is about cash generation. How much of Fortinet's revenue is converted to cash and what does that mean for valuation? The logic is simple: If the market is shortchanging Fortinet's abilities as a golden goose, there is a trade to be made.
First of all, let's make certain Fortinet is a golden goose. In the first quarter, Fortinet's net cash flow from operations was $48.5 million. This means Fortinet converted 41.4% of sales recorded in the quarter to cash -- a rate that was significantly higher than in recent quarters. It appears to be a step up from the cash conversion rate in full-year 2011, when Fortinet turned each sales dollar into $0.31 in cash (a 30.6% cash conversion rate determined by dividing cash from operations by total revenue).
It would be especially impressive if Fortinet kept up that pace all the time. Unfortunately, the uptick in cash conversion in the March 2012 quarter is just business as usual. Fortinet's enterprise customers have a habit of buying toward the final months of the year, and then business slacks off in the next quarter. This leaves Fortinet flush with accounts receivable at year-end that get paid in the first quarter when sales are low. The result is a spike in cash flow in the first quarter each year and the appearance of a strengthening cash conversion rate. The "spikey" first quarters are highlighted in red in the graph below.
Click to enlarge all images.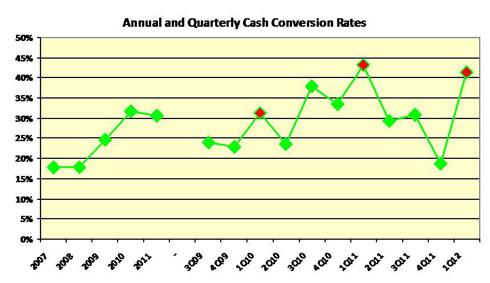 Even if the strong cash conversion in the first quarter of 2012 is not an indication of a new trend, it doesn't mean there is no trend. The following chart, titled "Sales Turned to Cash," illustrates the somewhat circuitous route from customer orders to cash at Fortinet. (There is more on billings, deferred revenue and sales at the end of this article for those who want the detail.) Notice that in the past couple of years, sales have ramped faster than cash flow from operations and, despite the impressive cash generation in the first quarter of 2012, the disparity got wider in the 12 months ending March 2012.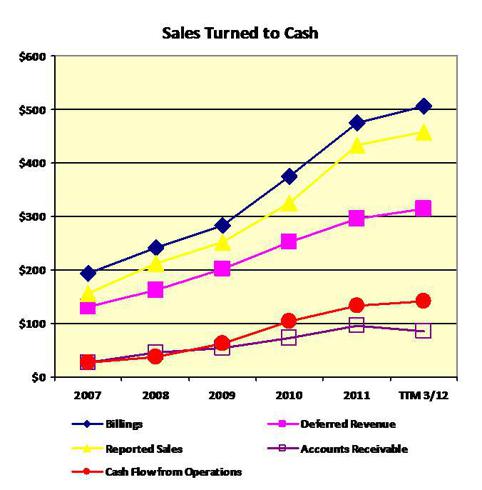 Inquiring investors probably want to know why. The answer is in the same graph: Collections on accounts receivable have fueled cash flow growth in the last three years. Notice how accounts receivable are not growing as fast as sales -- i.e., the slope of the purple line depicting accounts receivable is flatter in recent years than the yellow line for sales. If this graphic is not clear enough, take a look at the next one, which compares year-over-year growth rates in billings, deferred revenue and sales and then cash flows and accounts receivable. Comparing the trailing 12 months in each quarter helps eliminate quarterly variations. Operating cash flow growth rates have tracked accounts receivable declines.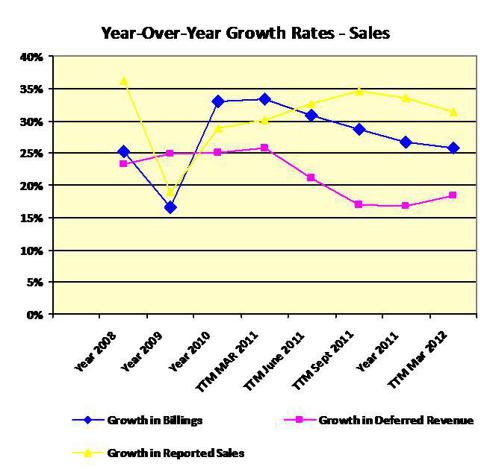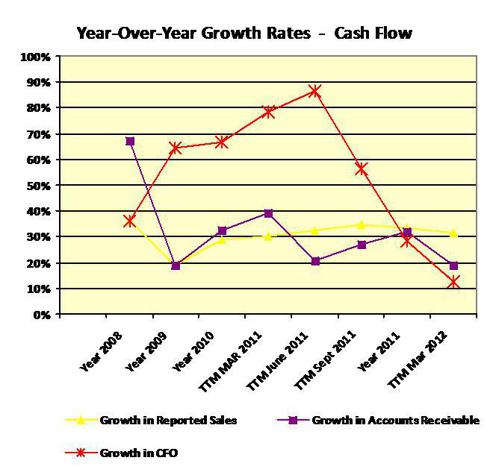 The same story can be told in the language of days sales outstanding (DSOs), or the amount of sales that have not been collected expressed in terms of the average sales each day. Yes, that can be shown in a graph as well. Assertive collections strategies can winnow that number down, bringing in cash. This is a good thing for cash flow generation, and it is exactly what has been happening at Fortinet. The chart titled "Days Sales Outstanding" illustrates the seasonal nature of collections, but we can still see that each year the peak fourth-quarter DSOs are lower -- likewise the second- and third-quarter sets. The only aberration in this downward trend is in first quarter 2011, when DSOs increased from the same period in the prior year. Yet Fortinet set a record low DSO measure in this most recent first quarter of 2012, firming up the three-year trend in shrinking accounts receivable.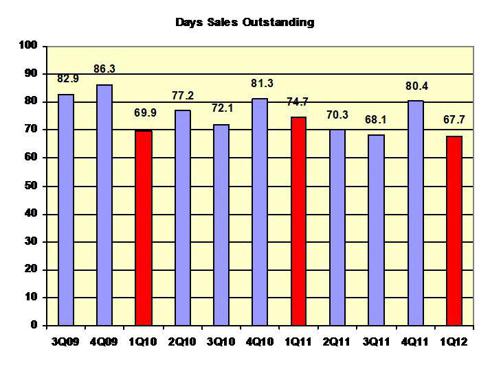 The point is that with a whiff of slowing sales and very little left to squeeze out of accounts receivable, Fortinet's heady generation of operating cash flow may be coming to an end. Thus, as impressive as the first quarter of 2012 might have been, it seems like a good idea to approach this company with caution on how much high a premium is paid for a long position.
Circuitous Route of Fortinet Sales to Cash, or When a Sale Is Not Revenue
The turn of a sale into cash by Fortinet is not as simple as it is for many companies. Customers often have long-term service contracts in addition to their purchases of equipment. Indeed, this service work represents the major source of Fortinet's revenue. Fortinet may send a bill for the entire contract, but it will not recognize the revenue until later when the service work is completed. To help investors understand this nuance in the business, Fortinet provides a figure for "billings," which is simply the amount of revenue that could be recognized under GAAP accounting rules and the value of sales that is in the hopper but has been "deferred" in future periods. These deferred sales are added to the balance sheet as current and long-term liabilities. Increasing deferred sales suggests there will be more revenue in future periods.
A look at growth rates in billings, sales and Fortinet's reported revenue tracks billings fairly closely, but the amount of sales that get deferred swings widely. This is due in part to shifts in the sales mix in terms of near-term equipment sales vs. long-term service contracts. Additionally, lengthening in service contracts might increase the amount of deferred revenue. It appears that after several years of dwindling deferrals that the deferred revenue figure is becoming a less important harbinger of Fortinet's future than it has been in the past.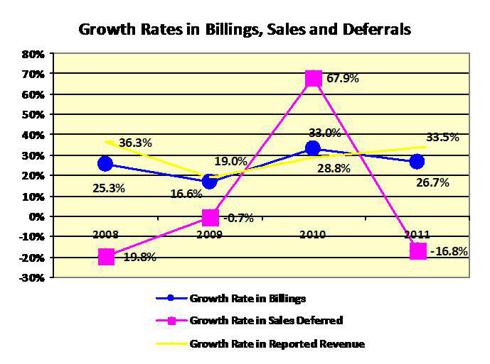 Disclosure: I have no positions in any stocks mentioned, and no plans to initiate any positions within the next 72 hours.
Disclaimer: Neither the author of the Small Cap Strategist web log, Crystal Equity Research nor its affiliates have a beneficial interest in the companies mentioned herein.