I am always on the look out for companies that pay an out-sized dividend, then do some research and see where the cash comes from. Terra Nitrogen Co. LP (TNH) caught my attention with its 8.4% yield. I was further intrigued when I saw the stock started the year at $32 and now trades north of $100.
TNCLP manufactures nitrogen fertilizer products used by corn and wheat farmers. Over the last year the company has rode the ethanol/corn/agriculture/fertilizer wagon to some very nice profits. Its LP structure requires it to pay all of the free cash flow out as distributions and distributions are $6.67 for the first 3 quarters of this year vs. @ 2.89 for all of last year.
TNCLP is 75% owned by Terra Industries (TRA). Terra is the real fertilizer/nitrogen selling company. They manufacture and sell nitrogen fertilizer products primarily in the U.S. and Great Britain. TNCLP is basically a manufacturing facility in Oklahoma that is managed and controlled by Terra. The general partner of the limited partnership is a wholly owned subsidiary of Terra Industries.
Besides the TNCLP plant, Terra owns 6 other facilities in North America and Great Britain, which are just assets of Terra without the LP structure. I did not dig deep enough to figure out why the finances of this one facility was structured differently. Back to TNCLP and the intriguing share price and dividend history. I think this chart of the annual dividends helps give some understanding: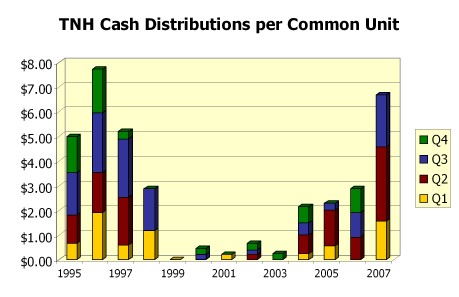 This appears to be a very cyclical business! The question is whether the cycle is still swinging upwards or ready to turn downwards. The market seems to believe the future dividends will continue to grow, or the current yield would be a lot higher. I tend to believe the distributions will be strong for the next couple of quarters. My evidence is anecdotal:
Last month I spent a week visiting family in Minnesota and Iowa, prime corn country. The farmers were getting great corn yields and prices were high. So this spring they will have extra cash to put to work. Farmers often borrow money in the spring (government programs help out with this) and pay it back after harvest. An uncle who facilitates these loans said many will not need the loans in the spring. By using their own cash instead of borrowing, farmers can double down on the 2008 crop. They will definitely make sure their fields are well fertilized.
The biggest expense towards the production of nitrogen fertilizer is natural gas. Terra does some moderate hedging of gas prices against orders received, but a spike in gas prices would definitely hurt profitability. Mating up TNH with 20 Stock Portfolio component Penn West Energy (PWE) would give a quasi self-hedging income stream.
At some point in time the cycle will turn on TNCLP and distributions will fade and the stock will be in the $20's. Agriculture is a fickle business: bad weather can ruin a whole season. I would like to see a stock like this yielding 12-14% but I am going to add it to my hypothetical 20 Stock Portfolio to see what happens.
Disclosure: I currently do not have a position in TNH.