It's hard to write about stocks these days. That's not due to a shortage of interesting ideas out there, but rather to an abundance of volatility. Even if your thesis eventually turns out as predicted, it's awfully easily to look foolish in the short term. But what the heck...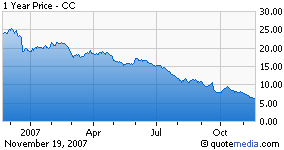 Circuit City (NYSE:CC) is a stock that keeps getting cheaper and cheaper and cheaper. It closed down another 5.5% Monday. After breaking $30 in 2006, shares have been sliding steadily downhill to the current price of $5.81. Keeping in mind that this stock seems to have no floor, here are a few thoughts on the electronics retailer.
CC is now trading at 63% of book value and 9% of sales. In contrast, Best Buy (NYSE:BBY) is priced at 579% of book value and 51% of sales. That's a huge difference, and it's driven by BBY's ability to make money versus CC's spotty history of profitability.
With weak consumer spending trends and heady competition from other big box as well as web retailers, Circuit City operates in a tough industry. It's not so hard to imagine profits remaining elusive and the stock turning out to be a value trap. But if CC can make progress in its turnaround and find even a crumb of profit in $12 billion of sales, the stock can turn out to be a homerun.
I don't think it's fair to expect CC to replicate BBY's profitability, but suppose it can get 1/3 of the way there. Net profit margins of 1.2% for Circuit City on $12.1 billion in trailing sales at a 14x multiple would yield a market cap over 2x today's price. That compares to trailing net margins of 3.6% for BBY, and would also be within range of what CC has earned in its profitable years.
If sales grow and net margins do any better than a razor thin 1.2%, you can do much better than a double. When things were looking up for the company as they were in 2006, the stock traded at 5 times today's price. Whether such days will return is the big question.
Another interesting piece to the story is CC's balance sheet: $425 million in cash and investments plus $305 million in accounts receivable (not to mention other assets) compared to a market cap of $980 million and long term debt of $59 million. There seems to be plenty of room for management or private equity to unleash value.
The company has gotten bites before: $8 a share from Carlos Slim Helu in 2003 and $17 a share from Highfields Capital in 2005. (That's right, a couple of years ago a very smart hedge fund bid $3.25 billion for what's now trading at under $1 billion). There are many cheap retailers out there these days and some will turn out to be winners, others not. And even those eventual winners might see further downside volatility in the near term; (that means be careful, not stay away).
While I see the bull case for Circuit City, I'm also aware of the steep challenges of turning around the company, the weak history of profitability, and the lack of competitive advantage.
Disclosure: One account I manage has a small long position in CC, but other than that, so far I've held off from taking the plunge.