Valeant (NYSE:VRX) has been a long-time favorite of investors and most agree it should be a part of any well-developed portfolio. The company stands out because it continues to grow, not just through a strong pipeline, but by acquiring other companies and products. Its latest venture is Atlantis Pharma. This is a Mexican drug manufacturer responsible for generic drugs focused on gastro-intestinal, anti-inflammatory, and analgesic medications. Some experts predict the sales of the Atlantis drugs could double in the coming year from around $26 million.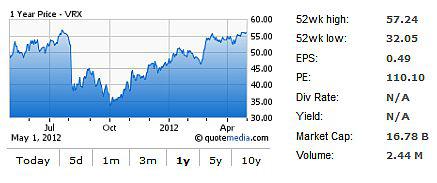 Valeant is an expert at finding promising acquisitions. It has been focusing on Latin America lately, but has just recently begun making serious moves. Prices began dropping and Valeant began capitalizing on opportunities it saw out there. In addition to the Mexican company, it also owns a manufacturing plant in Brazil, as well as companies in the United States, Australia, Russia, and Canada.
One of the reasons I have always like Valeant is because of its diversified portfolio. It offers a number of drug treatments from different labs, several generic versions of over-the-counter medications, pain relief treatments, several wellness drugs, vitamins, skincare, and the depression medication Wellbutrin XL, one of the most popular options for treating depression. Valeant is also responsible for Cesamet, which eases the nausea that occurs during chemotherapy. This means Valeant has its hands in the cancer market, as well as several other places.
Regardless of the existing portfolio, it is the company's movement into Latin America that has experts buzzing. The deal will likely not be finalized until later this year, but it will give Valeant a chance to develop an even larger selection of both prescription and OTC medications in the area. Overhead costs will be low because of the acquisition of the manufacturing plant. Not only does it open a new market to the company, it is one that is convenient and profitable. Some are even predicting the company will rise to the top in the Latin American medical market, which would be a boon for investors. Essentially, an entire continent would be depending on Valeant to supply its medical needs.
Valeant also sets itself apart from other biotech and pharmaceutical companies by focusing not only on illness, but on wellness and health. Many of its products promote healthy living and are not something consumers turn to only when sick. Some might view this as jeopardizing job security, but that is not the case. People will always get sick and there will always be new health concerns. However by helping people living better, healthier lives, Valeant is inserting itself into all phases of health, not just the critical ones.
When investors think of diversification, they are often focused on a selection of products. Diversified biotech companies are those with several products for treating a particular disease or several products in development that target a variety of diseases. Valeant does this, but it takes its diversification a step further. Its goal is to enter as many markets as possible and build brand loyalty around the world. This is just another way Valeant reduces risk for investors and positions itself as one of the strongest options in the often volatile biotech industry. There are rarely occasions when Valeant investors are sitting around waiting on a single FDA study. Approval issues come up, but they are never the only focus because of the vast diversification.
Valeant has had a few slip-ups, but I am quick to write them off as mild concerns. It has attempted to acquire companies and failed, as was the case when Bausch & Lomb won out and took ownership of Ista Pharmaceuticals (ISTA). Some investors are also concerned that Valeant will lose touch with its generic market. If the company stretches itself too thinly being focused on geographical diversification, it could be surpassed by companies that are using the generic market to expand. Most agree Valeant will have no problem remaining competitive in the generic market, but it is a factor some are keeping an eye on.
The one warning I would give concerning Valeant and companies that "buy up" smaller companies is to keep an eye on what is being bought. It is possible to turn junk into something, but you need a diamond in the rough. Buying junk for the sake of a press release will get you nowhere. I am not saying Valeant does this, but I am saying to not apply the positive aspects of what Valeant does across the board. Not all companies that make acquisitions are sure shots. One example of this is Spectrum's (NASDAQ:SPPI) acquisition of Allos Therapeutics. There are mixed feelings among the experts on this acquisition and it could take some time to work itself out.
A final note about Valeant, I do not see it as having a lot of direct competition. There are a few options out there in the same price range. Questcor (QCOR) and Vertex (NASDAQ:VRTX) are right around $40, but the focus of these companies is completely different than Valeant. You can use them as a touchstone in terms of evaluating value and comparing prices, but otherwise, consider Valeant a standout in the biotech field with little else that measures up.
Many investors consider Valeant a near-perfect investment. I am not there yet, but I can see it heading in that direction. Only time will tell how on target the company is with its acquisitions and how effective it will be in moving into untapped markets. However, there is no reason to think the strategy will be anything but successful. I recommend Valeant as a long-term investment that can make a solid addition to any investment portfolio.
Disclosure: I have no positions in any stocks mentioned, and no plans to initiate any positions within the next 72 hours.