Denny's Corporation (NASDAQ:DENN) beat analysts' expectations as net income rose to $5.9 million vs. $4.1 million during the same period a year ago, which equates to a 43.1% increase.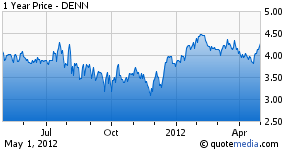 The street was expecting DENN to earn $0.05/share on $127.9 million when in fact they reported $0.06/share on $126.7 million, and even though revenue fell slightly short it was a great quarter for the company.
Analysis: In what their CEO called 'the biggest gain in sales in almost 5 years', Denny's has some very good investor upside. The stock is very cheap with a current P/E ratio of 3.85 and trading at about $4.35/share. Investors should know that in an effort to restructure its debt, Denny's secured a $250 million dollar credit facility during the first quarter, which includes $60 million dollars in revolving credit and a $190 million dollar term loan.
I'd acquire a small to moderate position in the company since its trades around the $4.35/share level, however I wouldn't put all my eggs in one basket until stronger guidance or enhanced growth in major US regions demonstrates credible numbers. It was a good quarter, however the real test for Denny's will be consistency. They'll need to continue to demonstrate positive numbers if investors want to see any realistic long term growth.
Harman International (NYSE:HAR), the global audio equipment company based in Stamford, CT reported positive earnings beating expectations by $0.01/share.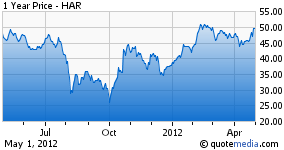 Net income rose substantially when compared to the same period last year, $2.38/share vs. $0.51/share, and revenue of $1.1 billion beat the average estimate of $1.04 billion.
Analysis: On the heels of a pretty good quarter, HAR also announced a $2 billion dollar sales contract with their largest customer. Even though Harman didn't disclose the actual name of the customer, it is heavily believed to be BMW AG (BMWG.DE). That being said HAR recently underwent a restructuring for the better, as third quarter numbers were better than expected. Currently trading at about $49.75/share, and a P/E ratio of 22.02, HAR is a very attractive long term play.
I'd proceed with some caution when investing in Harman International. Do the quarterly results translate into positive news for HAR? Yes they do. However, this is the first real quarterly report we've seen from Harman and I think I'd like to wait at least another quarter or two before making a move. The $2 billion dollar contract doesn't start paying dividends until 2015, and a dividend boost from its current levels may make it more attractive.
Disclosure: I have no positions in any stocks mentioned, and no plans to initiate any positions within the next 72 hours.