Sara Lee Corp. (SLE), one of the world's leaders in manufacturing and marketing of a range of branded packaged meat, bakery and beverage products, is scheduled to report its third quarter 2012 financial results on Thursday, May 3, 2012, before the market opens.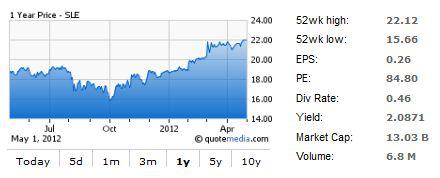 The current Zacks Consensus Estimate for the quarter is pegged at 25 cents a share. The Zacks Consensus Estimate projects revenues to be $1,944 million for the quarter.
Second Quarter 2012 Recap
Sara Lee, which faces stiff competition from Kraft Foods Inc. (KFT) and Tyson Foods Inc. (NYSE:TSN), posted earnings of 27 cents per share that climbed 28.6% from 21 cents in the year-ago period. Earnings also exceeded the Zacks Consensus Estimate of 25 cents by 8%.
Net sales for the quarter climbed 5.8% to $2,044 million compared with $1,932 million in the prior-year period. Revenues lagged the Zacks Consensus Estimate of $2,153 million.
(Read our full coverage on this earnings report: Mixed 2Q for Sara Lee).
Agreement of Estimate Revisions
Over the past 30 days, one of the ten analysts covering Sara Lee has revised estimate upwards for the current quarter. For fiscal 2012, two out of the ten analysts have revised their estimates, of which one increased and the other decreased.
Sara Lee is on track to split the company into two publicly traded firms: An international coffee and tea business and a North American retail, food service and specialty meats business. The spin-off, which is expected to be completed by June this year, is part of Sara Lee's plan to trim its portfolio in order to provide the best foundation for a strong and focused business.
Magnitude of Estimate Revisions
Over the past 30 days, the Zacks Consensus Estimate has increased from 24 cents to 25 cents per share for the current quarter. For fiscal 2012, the estimate increased by a penny to 93 cents over the same period.
The overall positive revisions by analysts indicate faith in the pending spin-off, which will allow the company to focus on its most profitable food and beverage businesses.
Earnings Surprise History
With respect to earnings surprises, Sara Lee has topped the Zacks Consensus Estimate in two of the preceding four quarters. Over the last four quarters, its earnings surprise ranged from a negative 4.00% to a positive 8.00%, with the average earnings surprise being a positive 3.29%.
Recommendation
We are encouraged by Sara Lee's focus on leveraging its consumer brands to generate sales growth. The company intends to bring in changes in the organizational structure and product portfolio, thereby improving operational efficiency. However, commodity-price inflation and stiff competition in the branded food industry leave us concerned.
We currently have a Neutral recommendation on Sara Lee Corporation. The stock carries a Zacks #3 Rank (short-term Hold rating).