Market Recap: The market started May on a strong note with the ISM Index coming in strongly above expectations and construction spending showing a tick up from negative territory in the last month. The big story was ISM beating estimates at 54+. Further, the closure of European markets allowed them to not negatively affect the U.S. markets. Earnings were so-so from Pfizer (PFE) and BP (BP), but the market was pressing the gas at full speed with the strong results from the ISM Index. The bull market looks like it is back for now.
The only reason we would continue to be somewhat cautious is that we have a crucial jobs report on Friday and the ADP report on Wednesday as well as jobless claims report and Challenger Job Cuts on Thursday. Those two reports will set up for Friday's report, so a lot of weakness in those numbers will not be good for the markets.

Two Trades
A long position we like right now is Wynn Resorts (WYNN) with a hedge position in SPDR Gold Shares (GLD). WYNN is looking good to break out and continue higher as the stock signaled a golden cross today as well as breaking a key resistance line at 135. Earnings are next week, and we think that earnings provide a solid catalyst for upside. Las Vegas Sands (LVS) had a very solid report, and we believe that WYNN's downside is limited for this reason. We believe placing some hedges on our longs right now is important, and we like doing this with gold. What reasons will the market dip: Europe's elections, jobs number, and possible earnings' misses. Europe's elections will create fear and help gold. Jobs number success dips dollar and helps gold. On the flipside, we believe a jobs number that is weak would signal more QE, helping gold as well. Further, a hedge is something we hope doesn't work. Yet, with gold, we can have some hope in both scenarios of it holds up.
Trade #1: Long WYNN with 125/120 May18 Bull Put Spread
Trade #2: GLD May18 157/156 Bull Put Spread
(Click to enlarge)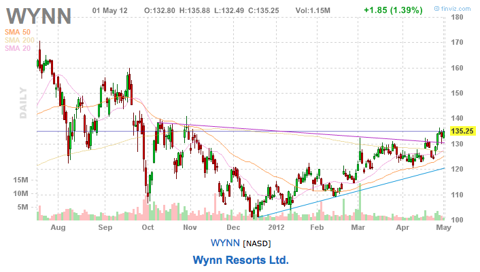 (Click to enlarge)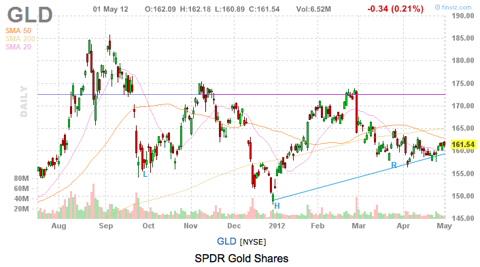 Tomorrow's Outlook
The market's outlook for tomorrow really depends on the ADP Employment Change report. A solid report will put Friday's report in a positive light and can definitely help give the market another catalyst to continue higher. Europe will be back in the spotlight again tomorrow as well. We will get the German jobs report tomorrow as well as key manufacturing data. China will be giving more manufacturing data as well that is important to the market. A lot of data to digest again tomorrow morning, but we see ADP as leading the pack. Earnings are lighter tonight and tomorrow morning.
Analyst Moves
The interesting moves for analysts were downgrades of LDK Solar (LDK) and First Solar (FSLR) from Auriga. LDK was slashed to a $2 PT and Sell rating from Auriga, which we have rated at Hold and $4 PT. We believe the company still has some value left in it despite recent disasters. FSLR is another company we like as well with $50+ rating. The near-term move is going to be rough for FSLR, but we believe they are setting up for a more successful, multi-prong approach to sales in different geographical regions that will be very helpful to the company.
Commodity Talk
Oil seems to be pretty range bound between $100 - $105 right now. That area is tough to break in either direction without major moving news. We believe a test of $105 into inventories will occur, but we would want to be short oil out of inventories as we do not foresee a breakout of oil occurring with the data we are seeing right now. Gold is discussed above.
Our Moves
We had a nice day today as we took some solid gains off the table in equity. We sold our Regal Entertainment (RGC) position from our Earnings Portfolio at 4.2%. We sold our Vornado (VNO) position for a 1.5% gain, and we sold half of our Morgan Stanley (MS) position for a 1.4% gain. We added longs in GLD, WYNN, Panera (PNRA) and Alexion Pharmaceuticals (ALXN).
We have the following positions. In our Short-Term Equity Portfolio we are long ALXN, F5 (FFIV), Teva Pharmaceuticals (TEVA), Morgan Stanley and have a pair trade in Francesca's (FRAN) and Smithfield Foods (SFD). In our Options Portfolio, we are long GLD, PNRA, Coca-Cola (KO), Walgreens (WAG), Dollar General (DG), Monster Beverage (MNST), Visa (V), Polaris Industries (PII). We are short United States Oil (USO). We have a reverse iron condor in Direxion Financial 3x (FAS). In our Earnings Portfolio, we are long WYNN, Western Digital (WDC), Ace Limited (ACE), and Coinstar (CSTR). We are short Amazon.com (AMZN). We have reverse iron condor in Las Vegas Sands.
Chart courtesy of finviz.com.