As we noted earlier, today marks the 5-year anniversary of Bespoke Investment Group's launch. A lot has gone on over the last five years, most notably the financial crisis that saw the S&P 500 lose more than half of its value, and the subsequent 100%+ bounce that we've seen since the March 2009 lows.
The S&P 500 is currently down 5.16% from where it was five years ago. As shown below, five sectors are down over this time period, while five are up. The Financial sector is down by far the most over the last five years at -57.79%, while the Technology sector is up the most at 31.43%. The spread between the 5-year performance of these two sectors -- which are the two largest sectors of the market -- is pretty astounding.
The two consumer sectors are up the second and third most over the last five years, while Energy is up 10.91% and Health Care is up 3.97%. Telecom is down the second most with a decline of 17.16%.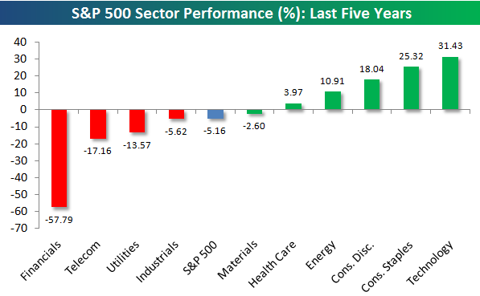 Below is a list of the 50 best performing stocks that are currently in the Russell 1,000 over the last five years. If you bought any of these stocks at the end of April 2007, you've got some nice gains.
As shown, priceline.com (NASDAQ:PCLN) is up the most with a gain of 1,257.24%, followed by Green Mountain (NASDAQ:GMCR) at 998.64% and Alexion Pharmaceuticals (NASDAQ:ALXN) at 776.54%. Apple (NASDAQ:AAPL) ranks 7th on the list with a 5-year gain of 483.3%.