Ford (F) produced above-estimated first quarter earnings in a challenging macro environment - what with Europe debt concerns, US growth dawdling, and issues in Asia - and after lingering atop their 200-day moving average for another month or so, a line the stock had hovered over for about a quarter prior, the stock plunged, those macro concerns and receding growth denting F's impressive stock price turnaround. It took the stock until January of the next year to re-cross the 200-day MA, and even the slightly lower levels it had been trading at before the drop have yet to be recovered.
Ford shareholders hope that past results will not accurately predict future performance. If the above paragraph describes 2011's first quarter earnings, the first half of it is also easily adapted to 2012. Europe continues to lag and recess; the US GDP number reported last week belies F's strong numbers in North America; and a China slowdown and possible hard landing replaces the Japan earthquake of March 2011 as an Asian shock. The stock crossed its 200-day MA in mid-January and has more or less bounced along that average since then, staying above in part because the average is still catching up to the stock's bad fall last autumn. After the 2% drop on earnings reaction Friday, F closed just above that average at 11.6.
Are we in for a replay? A sequel would be worse than the original, considering the stock is starting off 30% lower and already faces low expectations. A comparable drop could send the stock as low as 6 or 7. At the same time, Ford remains very cheap on a valuation basis.
Where might the stock go? A few factors to consider and to distinguish Ford now from a year ago:
(chart courtesy of Yahoo)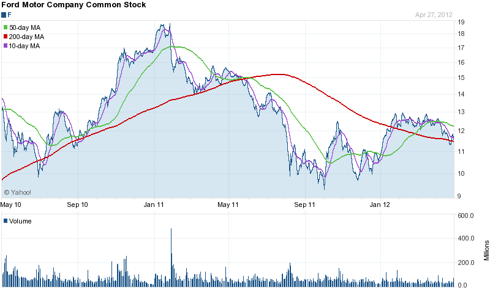 North American Growth
Like many U.S. companies during this earnings season, Ford did well at home. Their operating margins in the region were up to 11.5% (an improvement of 1.2% year over year), their revenue 3.9%, and their pre-tax profit up 15.67%. Considering last year's Q1 was a very strong one, this would appear to be a testament to the health of Ford's business.
The context is pockmarked, however. Ford lost market share, dropping from 16% to 15.2% of a rising U.S. auto market. In their conference call, CFO Robert Shanks reported that Ford's capacity forecasts were a quarter or two behind the return in U.S. demand, and that they should have the capacity to support the demand by year end. On the list of 99 possible problems, the need to grow capacity to meet demand is not a bad one.
It's also been said that Ford's over-reliance on the home market will hurt them once the recession-delayed demand exhausts itself. Those who look at Friday's initial GDP report of 2.2% as a bad one might agree that Ford is vulnerable, but then so are the hundreds of other companies relying on strong U.S. growth - Caterpillar (CAT), for example. The consumer spending number of 2.9% has widely been cited as the strongest aspect of the GDP report, and this report is better than the year-ago numbers of 1.9% (revised from an initial 1.8% estimate). The U.S. economic engine is struggling to shift up to second or third gear, but it's not stalling out, and Ford is positioned well for that forward progress.
Europe/South America Weakness
Europe was a loss for Ford this quarter, both compared to year-ago results and as a negative to the bottom line, to the tune of $149 million. No good. In the call, Shanks said Ford is planning on lower European demand for several years, and that the company will lose $500-$600M over the course of the year, with improvement in the second half. Also no good.
South America remained profitable, but only just. This despite increased revenues, as they faced increased costs and exchange headwinds. There are also questions about new trade restrictions regarding exports from Mexico to Brazil. Here again, the company forecast improvement in the second half of 2012, and asserted that the company would achieve solid profit in the area. Nevertheless, it's something to be concerned about.
One silver lining for each of these clouds comes from a read-through on Caterpillar's (CAT) earnings call. Caterpillar's construction business (and the company overall) offer a great look into the overall economic cycle. CAT management commended Brazil for actively cutting rates and easing money flow to overcome a slowdown, and said they were beginning to see an upswing in Brazil, a good sign for Ford as well.
As for Europe, the Caterpillar management line was:
"We don't think that Europe will be this depressed forever. While they certainly need to make structural reform, they can't cut their way out of the trouble that they're in; they have to grow. When that happens it should be good for us."
While no numbers were specifically attached to this statement, it sounds much more optimistic about when the turnaround will occur than Ford's prediction. If Sunday's French presidential election goes as expected, the assumption of office by Francois Hollande could play a big role in nudging Europe towards the growth side of the "growth/austerity" spectrum for dealing with budgets. Nothing to hang one's hat on, but Ford seems both prepared for what's going on now and in position to rebuild for growth when the time comes.
China
Asia/Pacific/Africa was also a loser for Ford in the 1st quarter. The company increased revenues but lost both market share and money, mainly due to high costs. Again, the company is increasing capacity here over the course of the year, and expects key launches and increased capacity to fuel profitability by the end of the year.
The big news on this front is Ford's $5 billion investment in China. The buildup of dealerships and factories is expected to be completed by 2015. Any move of that dollar magnitude and that long-term timeline is a big leap of faith, but concerns about China's slowdown notwithstanding, betting on China to continue their growth towards a developed, higher-income and greater consumer-spending seems fair. While Ford is late to the party, we are still on the early part of China's growth curve in consumer spending and income, so the company stands in position to benefit from the continued, if occasionally choppy, growth.
Sales Mixture
A more impressive nugget gleaned from the conference call is that Ford achieved its impressive North American profit on lower volume and a better mixture of cars to trucks (i.e. fewer trucks). The margins were up as well. The success of this adjustment to an increasingly environment and gasoline price-sensitive auto market is a testament to the company as a whole and offers a vital repositioning for the decades to come, especially with the increased fuel efficiency regulations.
Moving on from the earnings call, here are a couple other things to keep in mind when comparing Ford's stock prospects to a year ago:
Dividend
Ford pays a dividend that they did not pay a year ago, going ex-dividend on April 30th for their second quarterly dividend since reinstatement. The dividend is not huge at 1.72% yield, but offers a steady income and support level for anybody who thinks the stock will need time to rise to its potential. The company has stayed on target in their debt reduction plans and the dividend has a payout ratio of 15% compared to their Free Cash Flow from 2011, suggesting it can be maintained sufficiently and grown as the company grows. One would think Ford has learned their lesson about maintaining the dividends considering their struggles over the past five years.
Valuation
The valuation remains promising, more so than last year considering the stock was more expensive then. At Friday, April 27th's closing price of 11.6, the trailing P/E ratio is 7.65, the 2012 P/E is 7.95, and the P/E on 2013 forecasts is 6.74. The P/FCF for 2011 is 8.68. In a normal, fully running or fully rebounding economy, Ford could fetch a multiple of 10 or 12x earnings. Taking a 2013 estimate of 1.72 EPS, Ford could trade in a range of 17.2-20.64, at the low-end 48% upside on current share prices.
We're not in that fully running economy, and improvement is coming slower than anyone would like, but we're also free of some of the concerns we faced last year. The debt limit does not loom until after the election, when fewer political points can be scored and more work can be done. The economy is growing faster than a year ago, and concerns over a double-dip recession have faded. Europe remains difficult, but at least they have already drooped into recession, and many foresee a pickup in growth in the second half of the year.
Ford reports that they are hitting their targets for their ONE Ford Plan. CEO Alan Mullally is one of the most respected executives in business, and has earned trust when it comes to hitting targets. In the long-term, then, Ford seems well-positioned as a company, and the shares seem eminently affordable.
Investment Thesis
That doesn't make Ford a buy at these levels. After the initial reaction to the earnings, Ford's shares sit on that 200 MA precipice, and could easily reprise last year's tumble through the summer, whether on gas prices and oil shocks or additional macro concerns. Without directly saying it, the company also implied that the second quarter of 2012 will not be strong, and it might be weaker than this one. The share prices look like they might bounce around for quite some time between 10 and 13 until major news pushes the stock one way or the other.
I don't think it will be an out and out sequel of 2011, both because Ford is well prepared and because the stock price has lower to go. The expectations have also dropped, easing the pressure on the stock. A trader could trade the bounce between 10 and 13, while an investor considering Ford might get a good chance to enter the stock at 10 or below. If they're willing to wait for the longer-term (2-4 years), a 2% yield and 50+% upside at those levels are compelling aspects of Ford's shares. And for somebody who is already long, Ford is a good hold for the longer-term, with the turnaround in share price starting earlier this year than it did in 2011.
A change is gonna come, and the global economy is going to straighten out. Ford is already taking advantage of that at home. With their new investments and continued execution, they can do the same in their global markets. It just might take some time and a few renewed ups and downs for the stock price to reflect it.