I was back in New York two weeks ago to speak on consumer insights into Chinese youth and how MNCs can position their brands at the China Institute's Annual Summit. Other speakers included Hank Paulson, Secretary of the US Treasury and former Goldman Sachs CEO (NYSE:GS); Marcus W. Brauchli, Managing Editor of the Wall Street Journal (DJ); and Maurice Greenberg, Former CEO of AIG (NYSE:AIG).
Elaine Chao, Secretary of Labor, gave a witty speech and had a lot of charisma and panache. China Daily did a nice round-up of the event.
It was one of the better conferences on China I have been to because it had experts from both the US and China share insights, which is lacking in most conferences.
One of the questions a lot of people asked me during the Summit was whether or not there was a bubble in China's stock market. Many people said that the A-shares had gone up so quickly in value that we were in the bubble like during the tech days of the late 90s in the US and that there would be an inevitable and very painful correction.
However, the situation is in fact completely different. Many of these Chinese companies are going up because they are real companies with solid business plans and huge potential – many of these Chinese stocks are not figments of potential like that company with the sock puppet advertising during the Super Bowl or the plethora of other IT companies that I cannot even remember the names of which made many a friend millionaires overnight. How many of my classmates from Harvard took leaves of absences only to return to school after the party ended?
Let us not forget that some of these Chinese companies are absolutely 100% making money and have huge growth potential if they ride the wave of China's consumer boom.
Now, that being said, there is too much optimism is some stocks, driven by the lack of good companies to put money into. For instance, I was talking with some senior bank officials of the big Chinese banks who proudly said that their non-performing loans were dropping as a percentage of outstanding loans. That would obviously be the case because the banks have been lending a ton of money to state-run enterprises that promptly reinvest in the Chinese markets. These SREs can easily pay back their loans and keep taking money out, thus NPLs as a relative whole are going down even if processes and controls in the banks themselves seem worse than those running Citgroup's (NYSE:C) subprime desk. The SRE's balance sheets are then booming which cause the stock prices to boom, even though the bottom-lines are increasing because the companies are investing the money back into the stock market rather than building up their business lines.
In other words, many SREs have become their own publicly traded hedge funds of sorts that everyday Chinese investors keep putting money into. This is obviously a very dangerous cycle and is something that investors should be very wary of. Many of the banks also have artificially high numbers, though I am happy to see that ICBC bought a big stake in Standard Bank in South Africa and thus wisely moving into other markets and other areas where they can generate revenue.
However, there are a lot of real good Chinese companies whose share prices have been hit hard recently even though they continue to put up great numbers and have scalable business models. The numbers will continue to grow as long as the Chinese economy keeps humming which will keep happening for quite a while, regardless of stock market hiccups which largely does not affect most of China's consumers who do not have the money to invest. They are more concerned with skyrocketing pork and cooking oil prices than the stock market.
The Chinese market is just too important for MNCs to stop investing in to target Chinese emerging 250 million strong middle class s we see companies like Yum (NYSE:YUM) making a ton of money in China. I have mentioned in Seeking Alpha before some of my favorite companies. These three companies have real business plans, are making real money, and are a great place to think about allocating some money.
New Oriental (NYSE:EDU): one of the best-run companies in China that does training for test preparation like the GRE and language learning. Their only problem is that not all Chinese need training and there are only so many training classes that one person can take – i.e. the potential to keep up-selling to the same client is more difficult than for travel site Ctrip (NASDAQ:CTRP) which will keep up-selling to consumers as they get richer and want to stay in nicer hotels. But overall, New Oriental has several more years of real good growth as they have effectively taken over the training market.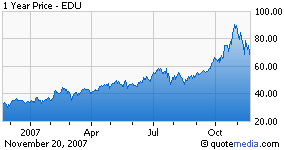 Focus Media (NASDAQ:FMCN): I have always been wary of the effectiveness of Focus' LCD screens for many sectors, but they have been expanding well into mobile and internet advertising through acquisitions which should provide additional revenue streams. Ialso like their elevator posters a lot. Focus Media in many ways is a very different company that it was 1 year ago.
With the Olympics coming up, MNCs are increasing their ad budgets for China, along with normal ad spending in China in general because many MNCs are cushioning a potential slow down in China with the massive growth from China.
Focus Media and companies like Sina (NASDAQ:SINA), QQ, and Baidu (NASDAQ:BIDU) stand to gain from this increased ad expenditures.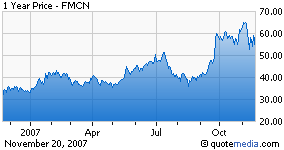 China Mobile (NYSE:CHL): although its stock prices has been hit recently, their new customer acquisitions this quarter topped 6 million. They keep growing strong and there is huge potential to up-sell to current customers new services as they get wealthier. The average China Mobile subscriber only spends $10 USD a month. As they get wealthier, because of the importance so many Chinese place on their mobile phone, look for them to spend more per month for a long time.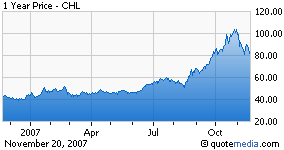 This is another winner.
Netease (NASDAQ:NTES): in surveys we conducted with executives in the game business, people said that Netease's management team was "the best" in the game sector in China and "most innovative". Even if some of their homegrown games did not take off too well this year, good management in my mind will always help a company figure out how to grow in the long-run.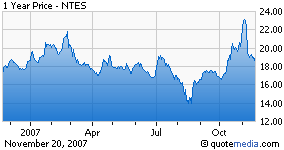 Am I worried about the frothiness of some Chinese stocks? Absolutely. This is why I own iShares FTSE/Xinhua China 25 Index ETF (NYSEARCA:FXI) but am ready to get out of it quickly if the need arises. But I can sleep tight even with the volatility of other stocks I own like Focus Media and Ctrip.
Disclosure: Shaun Rein owns shares in Ctrip, Focus Media, China Mobile, FXI, Goldman Sachs