The Dividend Champions spreadsheet and PDF have been updated through 4/30/12 and are available at here. Note that all references to Champions mean companies that have paid higher dividends for at least 25 straight years; Contenders have streaks of 10-24 years; Challengers have streaks of 5-9 years. "CCC" refers to the universe of Champions, Contenders, and Challengers.
Graduation Time
The roster of Champions expanded in late April, from 103 to 105 companies, when, literally within 24 hours of each other, both Chevron (NYSE:CVX) and UGI Corp. (NYSE:UGI) announced dividend increases for the 25th straight year. Oil giant Chevron raised its quarterly payout by more than 11%, from 81¢ to 90¢ per share, boosting its yield to over 3.3%. Electric and gas utility UGI declared a 3.85% increase in the quarterly dividend, from 26¢ to 27¢ per share, resulting in a 3.7% yield. Since reaching a low of 97 companies in November 2009 and again in October 2010, the listing has expanded slowly, but steadily, as dividend growth tendencies have strengthened in the wake of the "great recession." But it's a good idea to keep in mind that the list will shrink in the near future, since Harleysville Group (NASDAQ:HGIC) has agreed to be acquired and other corporate actions could remove at least three other companies. (Pentair (NYSE:PNR) will merge with a spin-off of Tyco International (NYSE:TYC) and become a Swiss entity and both Abbott Laboratories (NYSE:ABT) and McGraw-Hill (MHP) plan spin-offs that may reduce their dividends on an adjusted basis.)
As I mentioned last month, a change in the Yahoo Finance portfolio system forced me to find another data source, which turned out to be FinViz.com (short for Financial Visualizations). While there are many similarities in the data available from the two sources, there are also some differences that required changes to the Dividend Champions spreadsheet and the method of retrieving the data. On the whole, I think the changes resulted in some improvements, but one area where the data from FinViz is sometimes different is the Trailing Twelve Months Earnings Per Share. In a few cases, I've noticed that FinViz shows a lower (even negative) amount and this may indicate the use of GAAP earnings, rather than Operating results. Some differences in forward earnings estimates may also exist. Whatever the case, I can't go back to using Yahoo for the primary data retrieval, so I suggest (as always) that investors should only use the spreadsheet as a starting point for more in-depth research.
Quick Summary
The Summary tab includes a table comparing the composite numbers from the latest update to those from the previous month and the end of the previous year. Below that is a summary of the latest month's activity, in terms of companies added, deleted, or promoted. That is reflected below:
Quick Summary:

4/30/12

Champs

Contdrs

Challgrs

Total

No. of Companies

105

165

191

461

Ave. No. of Years

38.7

14.6

7.2

17.0

Average Price

53.88

48.00

45.33

48.23

Average Yield

2.86

3.02

3.31

3.10

Ave. MR Increase

7.21

9.25

10.30

9.23

3/30/12

Champs

Contdrs

Challgrs

Total

No. of Companies

103

166

194

463

Ave. No. of Years

38.9

14.7

7.1

16.9

Average Price

53.35

48.31

44.68

47.91

Average Yield

2.83

3.10

3.27

3.11

Ave. MR Increase

6.89

8.80

12.15

9.75

12/30/11

Champs

Contdrs

Challgrs

Total

No. of Companies

102

146

200

448

Ave. No. of Years

38.7

15.1

7.2

17.0

Average Price

49.98

46.20

42.62

45.46

Average Yield

2.94

3.10

3.36

3.18

Ave. MR Increase

7.24

8.47

10.99

9.39

MR = Most Recent

Additions:

None

Deletions:

Inergy LP (NRGY) from Contenders

NSTAR (NYSE:NST) from Contenders

Promotions:

Chevron Corp. from Contender to Champion

Cracker Barrel Old Country (NASDAQ:CBRL) from Challenger to Contender

Donegal Group Inc. A (NASDAQ:DGICA) from Challenger to Contender

Donegal Group Inc. B (NASDAQ:DGICB) from Challenger to Contender

UGI Corp. from Contender to Champion
(Table from author; may include underlying data from FinViz.com)
Let's Go to the Chart
As a bonus, I'm inserting one of Chuck Carnevale's F.A.S.T. Graphs below, highlighting one of the companies listed above. When the stock's price line has moved into the green area, it indicates that the stock is undervalued in relation to its earnings.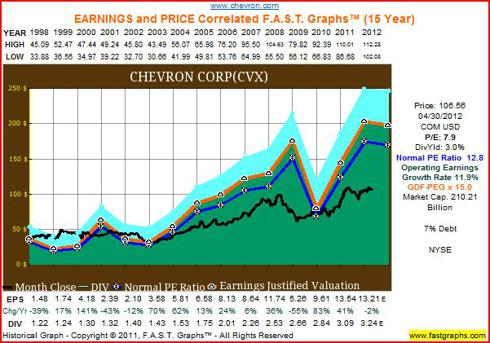 Click to enlarge
Disclosure: I am long ABT.