Apple (AAPL) has been making money at a startling clip. Profit growth is accelerating. Over the last 6 months, Apple earned 104% more than in the analogous period a year ago. Here's the crazy part: Analysts forecast 2013 profits rising only 15.5%. Huh?
Take a gander at Apple's Y-O-Y growth: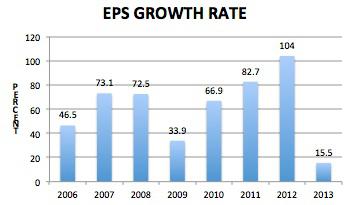 (2006-2011 EPS Y-O-Y, 2012 EPS Half-Year On Half-Year, 2013 analyst growth forecast per yahoo.com.)
What are the analysts thinking?
2013 estimates don't make any sense. Why wouldn't Apple's supercharged growth carry over past September 30th, the final day of its Q4? Hard to imagine a company growing earnings at an 80%+ clip stalling come October 1.
Don't fret. This is a yearly phenomenon. For analysts, the Apple Cinderella hot ride turns into a pumpkin on October 1. Happens every year. Before October 1, analysts see wild crazy growth. After October 1, ho-hum.
If you believed 2013 forecasts, you'd sell Apple in a heart beat. All this year, analysts have been predicting piddling growth in 2013. As recently as 2 months ago, the pros forecast 2013 earnings would be only 11% higher.
Now, there is a new under-the-radar trend:
2013 earnings are being revised upward, a dollar here, a dollar there as analysts realize Apple's growth isn't calendar-bound.
(click to enlarge)

(Courtesy of Yahoo.com)
Over the last 90 days, analysts are getting serious about Apple's growth for 2013. Upward revisions for 2013 outpace 2012. Next year, consensus forecasts 15.5% growth, baby steps from 11% but progress nonetheless.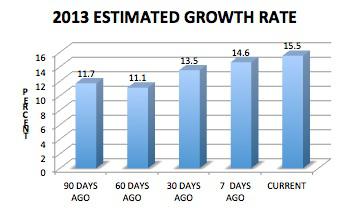 (Data from yahoo.com)
The analysts have more work to do: 15.5% is way too low. After all, Apple just delivered 92% growth last quarter. October is not far off, bringing with it another year of increasing numbers, as analysts frantically try to keep up with the Apple juggernaut.
2013 should be a beaut: iPhone and iPad upgrades, strong Asian growth, more carriers, expansion in China, and the potential for a meaningful iTV. Look at it this way: Analysts need to raise their growth estimates by 4000 basis points, maybe more. All the more reason to own the stock. Apple remains a buy.