Annaly Capital (NYSE:NLY) is scheduled to announce this quarter's earnings after markets close on Wednesday, 5/2/2012. I rarely write articles about stocks during earnings period unless there is a special interest in them, as was the case with my recent article on Apple (NASDAQ:AAPL) in which I laid out my trade strategy, and luckily I was absolutely correct.
This time it is not about a risk trade at all, but about one of my favorite stocks to write about, and my opinion on what the earnings report could show. It is interesting to note that with each article I have written has come with it both the "cheerleader" crowd (of which I suppose I am) as well as the vociferous naysayers whose only objective it seems is to let everyone on the planet know how dumb the Annaly shareholders are.
Truth be told, perhaps all Annaly shareholders are just dumber than stumps. I mean with all the risks associated with this stock as well as this sector, how can anyone with some semblance of a brain, even THINK about owning shares of such a company. Of course I am joking here folks.
Some have gone as far as calling it a "cult stock" as I mentioned in a previous article I wrote on Annaly, in which I detailed every reason why this was inaccurate.
This Quarter's Earnings
The estimates for this quarter range from $.38-$.56/share with a consensus of $.48/share. Top line revenues are estimated to be $550.6 million for the quarter (as a consensus), vs last year, same quarter, $522.44 million in revenues.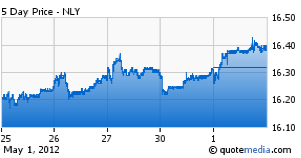 Some recent activity gives me some hope for a surprise:
At least 3 insiders exercised options to take shares, not just cash out
The Fed has reaffirmed its commitment to ZIRP (zero interest rate policy) through at least 2014 (review this article for details)
The spread between the 2 year Treasury and the 10 year has not just stabilized since "Operation Twist", but has widened since it was announced late last year
Annaly announced a dividend of $.55/share last quarter, which was better than expected
The share price of Annaly has steadily risen over the last few weeks, actually recouping the entire ex-dividend amount and then some
Of course, none of this means anything other than a basis for me to formulate an opinion. Past performance does not foretell future performance, and the risks associated with all REITs in this sector remain the same as they have been.
That being said, and well stressed, I do have an opinion.
My Opinion
Given the positive signs that I have noted, as well as a virtual "all clear" from the Federal Reserve and short term interest rates, I think we are in for an upwards earnings surprise. It might even be significant, in terms of earnings, and I also believe we could see an upwards surprise in revenues.
Most importantly however, I think we might see a nice pop to the dividends paid out by virtue of the IRS tax code for REIT status.
I won't put a number on anything, nor am I saying everyone should buy any shares of Annaly based on my speculations. All I am saying is that it is my personal opinion that Annaly shareholders could be pleasantly surprised in the coming days and weeks ahead.

Disclosure: I am long NLY.