As the financial service companies struggle to cope with the credit turmoil, employment and hiring plans have taken a hit. Most firms prefer not to add human resources to overhead expenses during times of uncertainty, and the finance industry is no exception. As major firms continue to write down billions, and the U.S. indices slip closer to negative territory, Dice Holdings (NYSE:DHX) may find the professional employment industry to be increasingly challenging.
Dice built its reputation on its flagship employment website dice.com. The site focuses on technology and engineering employment offering a place for job seekers to post their resumes, and search for jobs while charging employers a fee for listing available positions. The site also pulls in revenue by offering access to its database of resumes as well as a small amount of advertising revenue. The service is free to job seekers who are able to market themselves to a motivated employer.
While the technology and engineering theme does not have much to do with the woes in the financial market, DHX is set to gain much of its future growth from a new acquisition in this struggling sector. The company recently acquired eFinancial Careers, and while the new division only accounts for 22% of Q3 revenue, it has a much stronger historical growth rate. eFinancial Careers' strength in the past quarter was attributed to its performance in its core markets in the U.K. and France. Revenues in its newer markets (Hong Kong, Singapore, and the Middle East) also showed promise. Any currency issues tend to work in favor of the company as revenues in foreign currencies typically translate to higher U.S. revenue based on a weakening dollar.
Here in the U.S., the company has been able to raise the price of its base recruitment package from $795 to $895 per month. During the quarter sales teams laded an additional 200 recruitment package customers for a current total of 9,000. So, while some analysts were concerned about pricing issues, it appears that, at least, DHX has some pricing power and is able to continue to grow even with the increased rates. Management stated that they are seeing some industry promotional pricing especially in the U.S., but this is not outside of normal trends.
Its guidance for the next quarter appeared robust, and even had some analysts increasing their target prices. Even wit the weaker holiday hiring season, its revenues should eclipse Q3, and its margins should also hold up well as the company does not expect to increase spending on any major marketing campaigns until January. CSFB expects the company to earn $0.24 for the year which would put the stock at a relatively high multiple of 40 plus. While that may be reasonable given the company's growth trajectory, there is uncertainty in the future business that could make expectations hard to attain.
The balance sheet is a bit leveraged as the company has acquired a significant amount of debt. Management used some of the IPO proceeds to pay down liabilities, but long-term debt still stands at $124.7m, and even when discounting cash levels, the net debt is $81.2m. This creates a good bit of interest expense which could exasperate any difficult market environment which may be faced in 2008.
On the technical front, there has been some concern that the stock has not been able to hold above the $13 offering price from the IPO. While the stock briefly managed to trade above that level directly after the most recent earnings, announcement, but was quickly turned back down on strong volume. A recent bounce off the low may offer a chance to short the name, but investors should be wary of the dangers of shorting such a thin stock. Any mutual fund manager who decides to take a position in the name could push it 10-20% higher within just a day or two as the low float lends itself to increased volatility. Still this is a name that has some concerns overhanging, and I would avoid taking long positions at this time.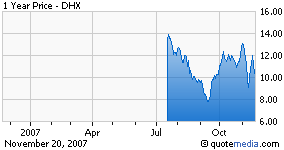 Full Disclosure: The author does not have a position in DHX.