On April 26, United Continental (NYSE:UAL) reported an 87 cents per share loss on an adjusted basis for Q1, which beat analyst estimates for a loss of $1.04 per share. However, this was significantly worse than the loss in Q1 of 2011 of 41 cents per share on an adjusted basis.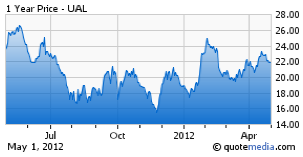 The relatively weak earnings were a result of headwinds on two fronts. First, the company merged a variety of computer systems in early March, most notably the reservations systems. In order to ease that process (including airport wait times), the company targeted lower load factors in late February and early March, which hurt United's revenue in those months.
Moreover, while United ran several dress rehearsals in advance of the cutover, the transition resulted in glitches that caused substantial aggravation among customers. Most of these issues have now been resolved, but some have continued to cause minor headaches. Other airlines, particularly American (AAMRQ.PK) are trying to take advantage of customer frustration by poaching frequent fliers from United.
The second drag on earnings came from rising fuel prices. The cost of fuel by more than 20%, or $557 million, year over year (after the impact of fuel hedging), even though capacity was essentially flat. This one item more than accounts for the company's loss. The consolidated cost per gallon increased by 20% year over year from $2.783 in Q1 of 2011 to $3.339 last quarter. While demand has been fairly strong, it is fairly difficult to fully offset price increases of that magnitude.
Fortunately, after spiking to over $125/barrel in March, Brent crude futures have moderated in recent weeks and fallen below $120. The imminent reversal of the Seaway pipeline will provide additional supply over the summer and should prevent a repeat of the 2008 oil spike. Also, Delta's (NYSE:DAL) recent purchase of the ConocoPhillips (NYSE:COP) refinery in Trainer, PA will increase the supply of jet fuel on the market going forward. In all likelihood, this will lower the crack spread (the amount kept by the refinery) for jet fuel across the industry, leading to lower jet fuel prices.
Lastly, United's consolidated fuel cost per gallon after hedging was $3.094 in Q2 2011, and $3.162 in Q3 2011. This means that even if United's fuel costs during the peak travel season are slightly higher than in Q1, the year over year increases will moderate significantly. Obviously, if oil prices were to fall, the company would be in even better shape for the summer.
The bigger question is how revenue will shape up for the peak summer travel season. While United's recent revenue numbers have lagged the industry, I believe a substantial portion of the underperformance can be attributed to one-time factors such as the computer conversion described above. The company's management seems comfortable with advance booking levels and projected revenue trends. There are some pockets of weakness that may persist. Comments on last week's earnings call suggested that China has been one of the biggest drags on United's revenue due to increased competition, but that the country is still very profitable and obviously a tremendously important growth market. As United Continental's integration continues, revenue synergies will almost certainly outweigh regional weakness in China and Europe.
As a result, analysts are expecting United's profit for the full year to exceed last year's on an adjusted basis, as am I. Recently announced capacity cuts will further bolster United's pricing power, and the company will start receiving Boeing's (NYSE:BA) Dreamliner in September. This will allow United to open new routes and significantly cut fuel burn on existing ones.
The airline industry is a cut-throat business as always, but United is well positioned for success and has an enormous cash cushion to weather any bumps in the road. I think $30 is a very reasonable 12-month price target, providing more than 35% upside from recent levels.
Disclosure: I am long UAL.