3M (MMM) is a strong and steady conglomerate that looks like it will continue to move up sometime this year. But presently it looks like it is consolidating as it trades within a predefined zone of ($84.50-$90.00). While it trades within this zone, we find an opportunity for short-term income. Eventually, we believe it will break out to the upside and there are some good reasons for this.
Strong Growth in its Largest Division will continue
The "Industrial & Transportation" division accounts for 30.8% of sales. It manufactures and sells such things as: Abrasive Systems; Industrial Adhesives; Specialty Materials; Aerospace; Packaging; and Automotive. Last quarter sales increased in every region of the world, with the United States leading the way at 13% growth. These double digit sales were especially seen by Industrial Abrasives and Automotive OEM. As record auto sales continue, we are going to see strong growth in this area. Aerospace is another strong growth area and recently it was elevated to become 3M's newest division. The aerospace sector will continue to grow even faster.
The Struggling Electronics should turn around
In this division, operating profit slumped 29% at the display and graphics business, which serves the manufacturers of liquid crystal display televisions with optical films. This is understandable considering the whole LED flat screen TV market has been slumping but it is poised to turn around toward the second half of the year. This is true for emerging markets as well. It expects China to grow quicker the second half of the year. And Western Europe should flatten out without getting any worse.
Keeping this in mind, some analysts are bullish on the company as Jefferies increases its price target from $102 to $108 on its buy rating. Not all analysts have the same opinion though as Deutsche Bank AG reiterated its Hold rating and $95.00 price target. Its reasoning stems from not seeing much of an upside in Europe and moderate growth in the emerging markets.
Despite this outlook, we believe the company will continue up. However, while it consolidates we are looking for a short-term income opportunity as the stock moves sideways in a peak and valley formation. Since it looks like it has just reached its upper level and now may be on the move back down, we are looking at a bear put spread play here.
(Click to enlarge)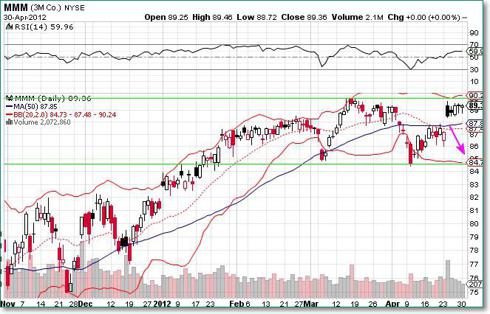 The Options Play
Buy a July 2012 put with an '87.50' strike (priced at $2.23)

Sell a July 2012 put with an '85' strike (priced at $1.47)

Net Debit to Start: $0.76

Maximum Profit: $1.74
Reasoning behind the Trade
3M is moving in a trade zone and presently is at the top of the zone. We expect it to move back down.

With lagging European economies and slower emerging markets, we think the stock will continue to move sideways for an extended period this year before it continues up.
Disclosure: I have no positions in any stocks mentioned, and no plans to initiate any positions within the next 72 hours.