Baidu Inc (BIDU) dropped in this last half of April from 154 to about 133. While it is true that the company recently reported inline with quarterly expectations, the forecast second quarter revenues of $847.2 million to $867 million-- the midpoint of which is below the analyst consensus of $862.8 million-- has helped send the stock lower. While rumors persist of more Chinese regulatory control over the Variable Interest Entities like Baidu, we are not sure how much will take place, but we believe the stock will continue to move up on marketing plans. If, as an investor, you are uncomfortable investing long term in the company-- options offer a nice short term income opportunity.
Variable Interest Entity Regulating: Will it hurt the Company?
If you are unfamiliar with the above term (we will call them VIEs), it is when a company in China like Baidu contracts with another company set up outside of China to generate capital on a foreign exchange like the NYSE. Baidu is one of these companies. The Chinese government does not allow direct control by foreigners, in key strategic industries like the internet. But they have never said a VIE is not permissible either. However, Chinese regulators have said they may start to regulate them in a statement made last fall. Few lawyers expect that China will force investors to dismantle their existing VIEs, as they are bringing in much needed capital and there has been no threat at all. Interrupting the inflow of that capital could severely hurt the Chinese economy right now, so we do not believe that any near term problems will come to the company.
Growth Plans
Already the largest internet search engine in China with a strong growing population, the company will continue to grow revenue through three methods:
Population Usage- the Chinese market still has hundreds of millions of citizens who have yet to hook up to the internet. With a population like China's, pure growth by numbers will continue to improve revenue.
Enhanced Personalized Searches- it is developing a personalized home page feature to drive clicks and boost usage metrics. Also in development are things like 'box computing' to improve semantic search results, and Baidu's own personal cloud storage service called Wangpan. These are meant to create longer usage and more click-throughs for the average user.
Mobile Search Growth- With initiatives like its own Baidu Yi OS, as well as search apps for iOS and Android, Baidu is aiming to leverage the rapid increase in smartphone penetration rates to drive search volumes as well as CPM for mobile ads.
(click to enlarge)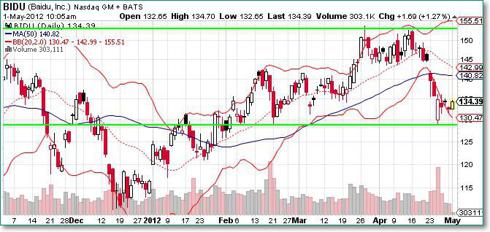 Short term Income Opportunity
Presently trading at 134.43, we believe this dip provides a good opportunity because we expect the stock to rebound and move up to the top of its trading zone. Look at a Bull Call Spread:
Buy a June 2012 call with a '40' strike (priced at $4.15)
Sell a June 2012 call with a "45' strike (priced at $2.54)
Net Debit to Start: $1.61
Maximum Profit: $3.39
Reasoning behind the Trade
This dip was a short term reactionary dip to news.
The company will continue to grow and increase revenue.
The business structure (as a VIE) shall have no adverse affect upon the company at all.