"They just don't get it". This thought of mine becomes more prevalent the more I read of those analyzing and articulating their opinions over renewable oil maker Solazyme (SZYM). Having just read Motley Fool writer Brian Stoffel's latest work, I cringe as he concludes that: "The key for this company is not necessarily out-innovating traditional oil companies, but simply scaling up production so that its oils become cheaper." While the statement may be somewhat true if taken solely from the view of fuels, it fails to capture the essence of the technology itself.
The same could be said about Piper Jaffray's latest report which builds a bearish case around a low multiple reflective of today's biofuel industry and applying it to a future value. Rather than accounting for a multiple that adequately reflects the triple digit growth the analyst himself eventually expects, the company is slapped with a low target price due to its peer comparisons in the present day. While I don't mean to paint either in a negative light, I find their conclusions to be unfit for a company that has thus far excelled in ways that fail to be adequately brought to the attention of the public.
Solazyme's process changes the way we obtain oils. Drilling takes what is provided. Agriculture guides to a desired output. Solazyme's process controls and creates into existence. Through the use of biotechnology and standard fermentation equipment, Solazyme is able to mimic existing oil profiles and create those never seen before. Big agricultural seed companies like Monsanto (NYSE:MON) and Syngenta (NYSE:SYT) are sure to envy the flexibility of oil output made possible through Solazyme's technology.
As it stands such companies must invest tens of millions of dollars and years of research and development just to come up with new trait variations in existing oil types. Yet due to the speed of plant growth and environmental control, Solazyme can actively develop new profiles in mere fractions of the time the competition can. Now partnered with Unilever (NYSE:UN), Solazyme is currently pursuing such developments in tailored oils as noted in their fourth agreement with the company.
When it comes to sourcing such oil, Solazyme's unique advantage also rests in its ability to control the environment. It's output has also been tested to be more consistent in terms of quality and yield than the farm-grown processes of its agricultural company rivals. Unlike current agricultural oil sources, Solazyme's output is not affected in terms of quality and yield by variables such as rain, sun exposure, pest control, nutrient inputs, etc. Indeed, the company's closed fermentation system allows for a level of enhanced consistency in terms of output.
The same can be said when compared against petroleum sources. Here, barrels of crude oil differ in quality, and each barrel provides different levels of cuts and amounts of those cuts which can be used for multiple end products. Solazyme's closed fermentation process allows for the company to make whole barrels of a specific cut. In the case for petroleum replacement, this is why Solazyme is able to sell barrels of oil replacements that could be valued at $200-600/barrel. The company simply has to create batches of algae that manufacture only the highest value cuts seen in the typical barrel of oil.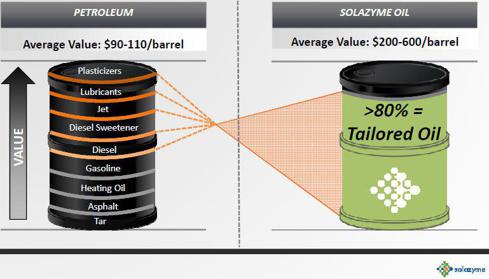 Solazyme produces value-added oil replacements. There is a point that is becoming ever less focused on in light of the steered conversation towards low-margin fuel alternatives. This lies in the fact that in every industry Solazyme affects, it has been able to produce product with an enhanced value proposition over what it is replacing. This in itself ought to be considered as truly disruptive innovation. Even more so, the company is doing this at the basic material level allowing for follow-up innovation by the companies that specialize in harnessing a particular oil.
For example, let us consider the food industry. Without sacrificing taste (I can attest to this personally) or sensational familiarity, the company's algal "flour" will be able to be used in everything varying from ice cream, to beverages, to baked goods, and even to meat products if so desired. As a drop-in egg and butter replacement, the flour also has the edge of reduced calories, reduced cholesterol, and reduced fat.
Let us not forget to mention the enhanced ability of longer shelf life and being able to play to the trending movements of being organic, non-allergenic, and gluten-free. Above all, let us be reminded that this innovative food material can be used at a price that is below the pure replacement cost of using eggs and butter themselves.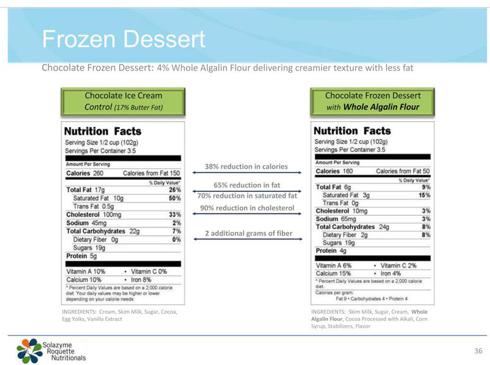 Consider also the chemical industry that Solazyme is dedicating their focus towards. The company is pursuing oils that have higher oxidative stability than what can be currently achieved. Undoubtedly this is why Dow Chemical (NYSE:DOW) formed an alliance with Solazyme in the pursuit of a more useful dielectric insulating fluid. With a letter of intent to buy up to 80 million gallons of the company's product, the partnership should raise an eyebrow when one considers that Dow Chemical should technically be a rival to the company when it comes to tailored oils. Yet beyond oxidative stability, the following graph shows some of the other added value propositions the company's oil alternatives offer in this particular field.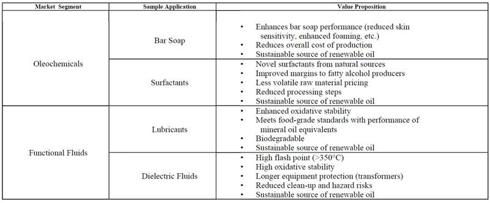 While it's very easy to speak highly of the company's technological results, it's also easy to voice anxieties. Undoubtedly, the company is still early in its development and there are bound to be some troubles along the way. The largest technology risk remaining is likely to be in the ability of the company to scale up from the 128,000-liter level to the 750,000-liter level it will eventually want to be at. Though already topping the "commercial scale" needed to likely succeed in some markets, and while scale-up is much less risky here than in prior accomplishments, success is never guaranteed in the pursuit of science.
It's also easy to critique the food-to-energy concept that is laced with negative connotation from first generation biofuels. Sugar after all is a necessary food staple, isn't it? Yet when placed under the context of Solazyme's current focuses, does using sugar to create an enhanced food product sound just as bad? For that matter, how about using sugar to create a much-needed, high-value chemical? If price is what dictates the difference between supply and demand, conversion technology should be the last thing to get ridiculed.
Even beyond this though, investors in this company should over time begin to see sugar less as a food and more as an output of biomass. With advancing technology from the likes of companies like Codexis (NASDAQ:CDXS) and Novozymes (OTCPK:NVZMF), sugar extraction from cellulosic material could allow for a seemingly endless supply of renewable sugar feedstock from non-food resources.
Why are investors focused on biofuels? When we look at what Solazyme is really doing, it's a wonder why analysts continue to peg this $648 million company solely to biofuels. Is it right to associate a company to a biofuel peer group when it is currently focusing on commercializing cosmetics, food, and chemicals while it simultaneously seeks to claim new intellectual property in an underdeveloped space?
Clearly, the company is far from having a primary fuel focus. Yet perhaps a better question should be whether a company that is producing drop-in value enhancement should even have the bar merely set to the level of the companies that create the products it's replacing?
When you control the highest-yielding technology to create an added-value base material replacement for a market space currently valued at over $3.1 trillion, is it wise to have the standards set so low? I won't be the first to tell you this company is undervalued or that it's overvalued in the present - it doesn't matter now. But for investors with a long-term focus, keep an eye Solazyme's progress.
Truly, Solazyme has the ability to change industry in a very disruptive way, and I for one want to be among those of another generation that look back to say: "I saw that one coming."
Disclosure: I am long SZYM.