As has been widely reported by the Amazon bears, Amazon (AMZN) now trades at a Price-to-Forward-Earnings ratio of around 205x (I'm using CapIQ's 2012 GAAP EPS estimate of $1.12). That's obviously high as the broader market trades around 14x. So why does the market seem to ignore this steep valuation, particularly given that the firm's underlying cash flow generation has been declining lately? Here's my theory:
Why Amazon's Valuation Has Not Mattered
The firm pays lip service to what really matters to long-term fundamental investors, like myself (i.e. maximizing cash flows in the long-term). In fact, they state that right on their very first slide in their quarterly conference call deck.
(click to enlarge)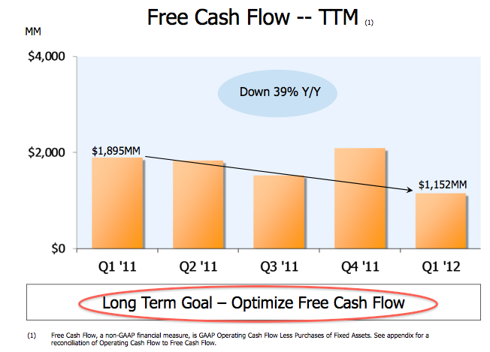 That's exactly what I want a CEO to be focused on. Furthermore, the firm has been exceptionally consistent about its message of what it intends to do, i.e. invest now to spur top-line growth. Management appears to believe these near-term investments will ultimately produce the highest cash flows down the road. And to date, they've done a great job delivering top-line growth as I've shown below:
(click to enlarge)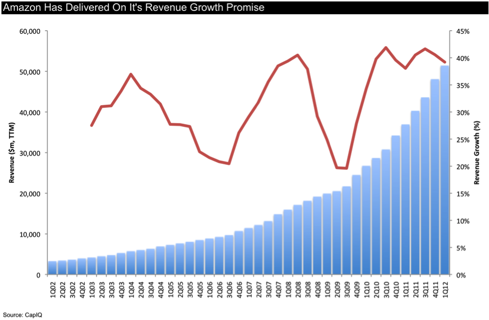 My theory is that given Bezos's success of delivering top line growth, investors believe, in fact have religious-like faith, that he will also eventually be able to deliver bottom line growth as well. Essentially, "He said he was going to grow, and he grew. He says he's going to maximize cash flows long-term, so I think he will." I also believe that as long as top line growth stays strong, investors will continue to give Bezos the benefit of the doubt regardless of profitability levels. The thought being, "he's still doing exactly what he said he was going to do, so I still believe he'll eventually deliver those cash flows, even if he's not making money today." I don't disagree at all that the firm has delivered unparalleled top-line growth, but I am skeptical that they'll be able to translate that growth into bottom-line results.
Why Valuation Could Start To Matter Now
Given my view, that AMZN will continue to receive a pass on valuation so long as they continue to deliver strong revenue growth, then why do I think valuation could start to matter? Well simply enough, I think revenue growth could slow near-term for a couple of reasons:
Sales Tax Changes Limit Amazon's Pricing Advantage - I'm far from the first analyst to mention this potential issue, but as Amazon's pricing advantage disappears in each state, it's only natural to expect increased competition to have some impact on Amazon's ability to take share from other players. Justin Post of BofA asked this question specifically on the call (see below). Management opted to not really answer the question, essentially saying that yes, while it had an impact, they grew anyway. I understand management's desire to not give away competitive information, but dodging this question without giving any numerical support raises my suspicions, and I'm inclined to believe the impact is greater than they are comfortable disclosing. Additionally, given that the firm does not collect sales tax on 50% of its revenue, the impact on growth could be sizeable.
A. Justin Post, BofA Merrill Lynch

And did you see any slowdown in states where they've enacted sales taxes in your sales levels?

Thomas J. Szkutak, CFO & SVP

Yes. I can't comment on any specific geography or state. But again, you can see by the growth that we've experienced over the past few years, which includes during those past few years, certainly adding some geographies, if you will, to our collection efforts. And so those are all represented in the results that you've seen over the past few years and several years. So that's all I can add to that.
Competition Is Increasing In The Digital Marketplace, A Market Amazon Has Staked Part Of Its Future Growth On - The Kindle Fire has been a success in terms of driving revenue growth (there's an ongoing debate on whether it makes money), but competition in the digital market place is posed to increase in the near-term. First, Microsoft (MSFT) recently injected $600mm into the Nook meaning B&N can continue to be an aggressive competitor in this market. Second, Apple (AAPL) may soon offer an iPad device at a lower price point, which would compete directly with the Kindle and I believe dramatically cut into Kindle sales. If Kindle sales slow, you'd expect digital content orders to slow as well, as most new owners stuff their Kindles with content upon first getting the device and then add content more slowly from that point forward. Incidentally, this likely partially explains the jump in media segment revenue in 1Q of 19% YoY vs 15% in 4Q. A slowdown here in 2Q could really disappoint the bulls, as the improvement in this segment was likely a contributor to the positive reaction in the stock.
Product Offering Changes Have Been Disruptive - Amazon is starting to toy with some of its successful offerings that drove increased traffic to the site (e.g. raising prices on Subscribe & Save customers in some cases by 50-100%), this could result in customers canceling their subscriptions potentially hurting revenue growth. I wouldn't be surprised to see them test similar tweaks with their prime offering. And further missteps here could hurt top-line growth. Perhaps even more importantly for the long-term investor, some of these tweaks could materially hurt Amazon's brand if customers feel they're being taken advantage of. Admittedly, this is a bit of squishy topic, but brands do matter when selecting an online vendor, it's just hard to say how much and what the revenue impact will be.
Negative FCF Could Force The Firm To Focus On Profit Not Growth - Based on Amazon's definition of Free Cash Flow, the firm generated $1.2b in the TTM, but Amazon's definition of Free Cash Flow leaves out two very important uses of cash that affect what level of cash is truly available to the long-term shareholder: 1) cash acquisitions and 2) Net share repurchases. As I show in the table below, on a TTM-basis this metric is now negative. Essentially, Amazon is now spending more than it takes in. If this trend continues, and it can't forever, Amazon will need to invest less for growth, allow share count to grow, compete less on pricing, and/or raise capital (either selling debt or equity). The firm certainly has the flexibility to decrease share repurchases, to conserve cash, but this will result in the long-term shareholder being diluted. Below, I show a graph of the firm's historic adjusted FCF and the firm's FCF margin, both of which are in steep decline.
(click to enlarge)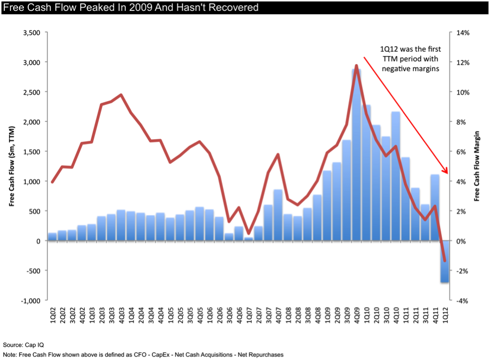 My thesis is that if revenue growth slows, the bulls will be forced to reevaluate a core piece of their investment thesis, i.e. that Bezos can deliver growth indefinitely. Once that critical keystone of the bull thesis is called into question, I think the current valuation level will be reexamined and will likely be found to be unsustainable. To be clear, if Amazon continues to deliver top-line growth (even at the expense of bottom line growth), the stock could very well continue its upward march, but if that growth slows watch out below.
A Sign We're Near The End
This section is admittedly a bit speculative, but just as a thought exercise, humor me. If a company has been investing its whole life to spur growth, has grown revenue by a factor of 16x over the last decade, and is the undisputed leader in its space, would you expect that firm to be delivering improving margins or steadily declining margins over that period? While there are obviously many factors that could be causing the firm's current margin compression, I would have expected the firm's margins to have generally climbed upward as the firm matured and asserted its dominance.
Instead, we've seen operating margins fall steadily for 2 straight years. To me, this is most likely indicative of a changing competitive landscape. It's no secret that retail is a very, very competitive business with razor thin margins, un-loyal customers, and the occasional spat of irrational pricing. Furthermore, given the increasing ease of price comparisons online, it doesn't seem unreasonable to expect a more permanent impairment of the firm's ability to convert the top-line to the bottom-line.
Who Has Been Buying Recently
I don't have the background or network to really know if high frequency trading firms or a colluding group of big fish have been pumping the stock up. But my theory is essentially that if you think revenue growth will continue to beat expectations, at least in the near-term the stock could continue to march higher. So in my view, the buyers could very well be just ordinary hedge funds and traditional asset managers who don't anticipate revenue growth will slow next quarter.
If the market has already allowed this stock to untether itself from the burdens of an earthly valuation, what's to stop it from continuing its march higher? Below is a quick little Bloomberg screen shot showing the firm's stock price vs analyst estimates for 2012 revenue, which appear to be reasonably correlated.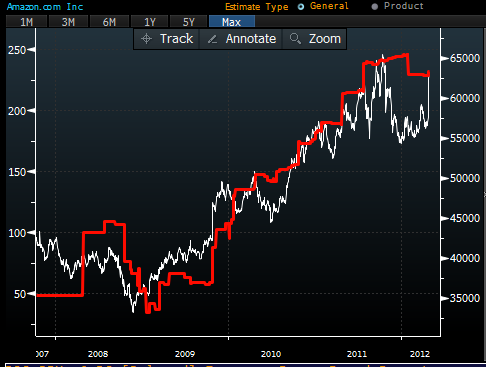 The stock seems significantly less correlated to analysts' estimates for the firm's 2012 earnings. Take a look at this Bloomberg graph: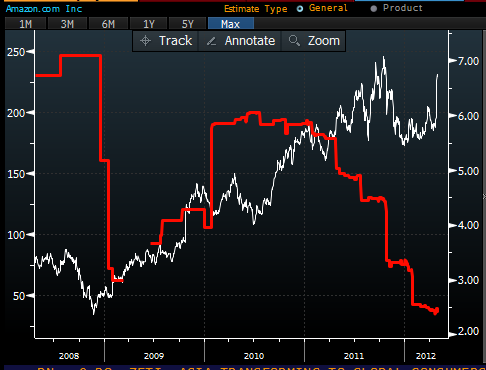 Bottom line
I am short the stock because I believe the firm's long history of strong revenue growth is threatened by increased competition and it will only take a small top-line miss to send the stock much lower. For example after the 4Q miss, analysts 2012 revenue estimates fell from $65.6b to $63.2b, a mere 3.7% drop. On this drop in expectations, the stock fell 30% from peak-to-trough (the S&P was up 2% over the same period). I, like many of the bears, believe the current valuation is unjustifiable from a cash flow perspective, but more importantly, I think that analysts will re-examine their valuation assumptions once we have a quarter or two of weaker than expected revenue growth.
Also, for those who are interested in a more numerical/fundamental analysis, I've done a fair bit of work determining what level of growth and margins are currently implied by Amazon's stock price. If for example, you believe that Amazon's revenue can triple over the next decade then you also need to believe that Amazon can raise it's free cash flow margin to 8.7% just to justify the current price. That article can be viewed here. If you, like me, believe that Amazon's valuation will again begin to matter, you'll find the model I've included in that article useful for estimating a fundamental price for the stock.
In the interest of full disclosure, I'm currently short the stock because I believe it only takes a small revenue miss to send the stock much lower, competition is increasing which could hurt revenue growth, and the valuation is unsupportable at current levels without making BOTH heroic top-line growth AND margin expansion assumptions.
As always, your comments and questions below are appreciated.
Disclosure: I am short AMZN.