Over the last month, we have seen signs of a steady economy in the United States, decent earnings and continued low Treasury yields. These factors, when combined, support credit fundamentals across the corporate risk spectrum. While sovereign concerns continued during the month, that did not stop the domestic fixed income markets from gaining ground and turning in positive returns.
One of the more attractive segments of the fixed income markets continues to be high yield, as corporate balance sheets are in better shape than they have been in a while, the default rate continues to be low and, well, there is still some meat on the bone in terms of yield.
High yield continued to perform well in 2012 with April returns to Barclay's U.S. High Yield Corporate Index showing an overall gain of 1.05%, bringing year-to-date gains to 6.44%. (all data is from Barclays, all index references are from Barclay's family of indices)

The BB sector of the high yield market had the best gains, owing to its longer duration and relative value from a historical spread standpoint (something I wrote about here). I continue to favor the BB and "5B" segment of the high yield market due to its spread relative to historic levels and the stronger risk profile of the credits within the segment generally.
Flows
During the month, fund flows remained positive and supply continued to be solid, with high yield issuers bringing over $20 billion in April - year-to-date totals are now over $120 billion. I would expect to see a continuation of decent issuance as the market is ready, willing and able to absorb it, and issuers can print at some of the lowest absolute yields in years.
Sector Returns
During April, all sectors of the high yield index were positive, with the exception of the communication sub-sector, which was negatively impacted by the wireless sector (think Clearwire (CLWR)) which had the worst returns.
(Click to enlarge)

Click to enlarge
Of note, Ford (NYSE:F) showed a strong return of 3.31% for the month as its credit profile improved and the company was upgraded (I wrote about its ETNs here). Ally Financial increased 2.83% for the month (bringing its YTD return to 11.93%) as the company was upgraded due to its funding profile and increased chatter about shedding the albatross known as Residential Capital.
Bottom Line: High yield bonds should continue to perform well going forward due to the demand for yield and the supportive credit, economic, and ratings environment. As I have said previously, I continue to favor the "BB" and "5B" ratings segments of the high yield market.
As an aside, the SPDR Barclays Capital High Yield Bnd ETF (NYSEARCA:JNK) returned 1.30% for April and 2.77% on a year-to-date basis. Realize that this fund tracks the Barclay's High Yield Very Liquid Index (graph from Yahoo!).
(Click to enlarge)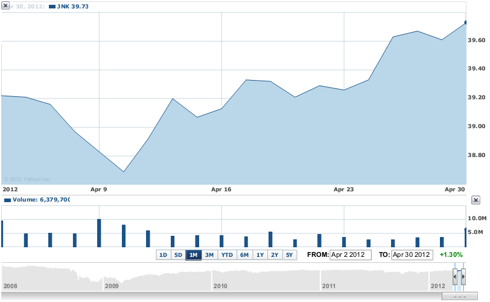 Click to enlarge
Disclosure: I am long F.