It is one thing to write articles or hand out actionable advice for buying and selling stocks, it is another thing to be held accountable for your recommendations. As a creator of portfolio strategies at Portfolio Cafe, I feel responsible for every single trade recommendation I make (or picks that the model generates). Advisors need to stand behind their recommendations for better or for worse. With that in mind, I would like to discuss the two best and worst recommended trades last month in the Herculean Healthcare model portfolio.
Herculean Healthcare Model Performance
The model is built on the premise that the healthcare sector is often viewed as defensive. Smaller firms often have higher potential due to niche markets, higher earning potential or a possibility for being bought out. In addition to targeting small value healthcare companies, this model exclusively picks up firms which have received a favorable earnings upgrade in the past couple months. New trade recommendations are generated on the first day of every month and an optimum of 10 stocks are held. What were the two best and worst recommendations last month?*
Two Worst Picks
Magellan Health Services (NASDAQ:MGLN)
This was the biggest dropper in the portfolio with a loss of 5.43% for the month. Why the loss? Earnings were the culprit as the company had a negative earnings surprise of 15.7%. Over the course of 2 days, prices fell from $49 to just above $44 and forward earnings have been revised downward. I don't see how you can avoid situations like this other than sitting out earnings (which can hurt you if earnings are good and you have to buy back in at a premium).
(Click to enlarge)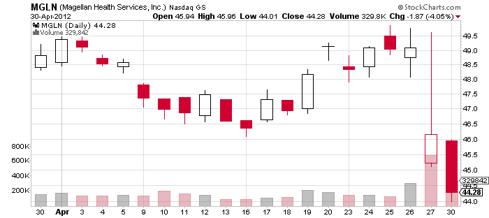 Medical Action Industries (NASDAQ:MDCI) - From entry to exit, this stock was down a net 3.5% in April. This is a thinly traded stock with a baby market cap of $90 million. Higher volatility is expected. Is there anything we could have done to minimize losses or time this better than simply buying on the first day of the month? I also have some experience as an intra-day trader and the chart reveals one technique that could've been used. You only buy when the daily bar exceeds the peak of the daily bar directly before it. This is one simple rule to help you stay clear of falling knives. If this rule was adhered to, we would have waited until April 12th and $5 before buying for a 10% profit. Hindsight is 20/20 though.
(Click to enlarge)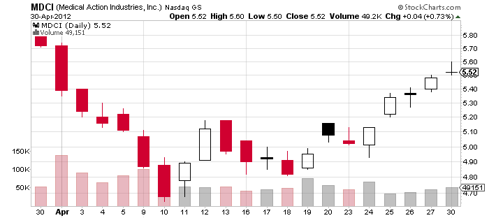 Two Best Picks
Select Medical Holdings Corporation (NYSE:SEM) - Our best pick generated 11.7% returns in the month of April. The upside gain was linked to a Centers for Medicare & Medicaid Services announcement of a proposed phasing in of a three-year period to cut reimbursement-payment rates for in-patient stays at long-term care hospitals. The 2012 cuts were at 11% in U.S. nursing homes, but payments would be increased by 1.9% in the 2013 FY to skilled nursing facilities. While we did not foresee this coming, the model does target the deeper value stocks that may appreciate on better than expected news. Again, using our two-bar trading rule (buy when current bar rises above peak of last bar) we could have waited until April 11th at a price under $7.40 for a larger return.
(Click to enlarge)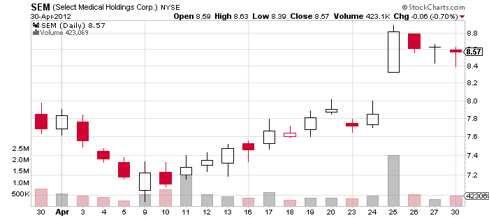 Community Health Systems (NYSE:CYH) - The second best pick this model generated returned 10.58 monthly gains. CYH is a highly liquid company with a decent 2.17 billion in market cap. Forward P/E is still low at 6.1. Earnings came out on April 27th and they didn't disappoint with a positive surprise, positive future earnings revisions which led to analyst upgrades. This is a model example of a great healthcare stock with deep value with an upgraded future.
(Click to enlarge)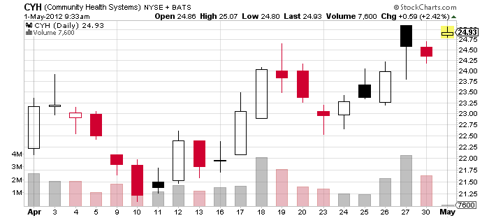 Total Portfolio Return - The total portfolio return last month with this strategy is 1.6%. This seems a bit anemic but by putting this into context of the market (NYSEARCA:SPY) falling 0.75% in the same amount of time we have an excess gain of 2.35%. (The healthcare sector SPDR (NYSEARCA:XLV) was down 0.61% for the month). A few technical trading rules could have been applied to this mechanical strategy using monthly re-balancing periods for enhanced gain.
(Click to enlarge)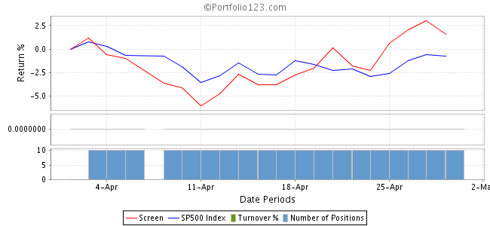 This article comes with a request for other brokers, advisors and writers to discuss their best and worst recommendations to create more transparency and trust between advisor and advisee.
*Rebalancing software buys and sells positions at the opening price of the day. The periods were set from April 1st to April 30th thus stocks were sold at morning prices on April 30th. By entering May 1st you are holding overnight between April 30th and May 1st (which is also not part of the strategy). Total return calculated using opening prices of May 1st are 1.4% or 2.15% market excess gain.
If possible, sell your positions sometime before closing bell on the last day of the month.
Disclosure: I have no positions in any stocks mentioned, and no plans to initiate any positions within the next 72 hours.