Shares of construction company Shaw Group Inc (NYSE:SHAW) are down 20% over the past year. However, there are now three reasons to consider Shaw.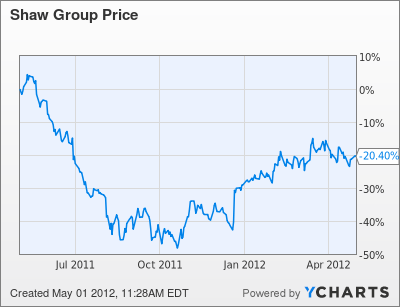 Options Activity
Option Monster reported on the high level of bullish options activity recently; 4,000 July 34 calls traded against open interest of just 100 contracts. Overall, call volume significantly outnumbered put volume. The large trade of 4,000 July 34 calls likely represents institutional money. Institutional money is usually smarter, thus worth following. In summary, the recent options activity points to more upside ahead for Shaw over the medium term.
Construction Spending Increases
The government released figures that show construction spending rose by .1% to $808.07 billion. Overall, construction spending was up 6% compared to March 2011. These numbers point to continued strength in the U.S. economy, which should benefit Shaw.
Financial Strength
Currently, Shaw has no net debt. This means that if the economy were to slow, Shaw would be in a less difficult financial position than rivals. Shaw's strong financial position also means that the company could reward shareholders via a dividend or share buyback as earnings increase.
Conclusion
While Shaw has not been a good stock over the past year, the improving economy, bullish options activity, and financial strength of the company are all reasons to consider Shaw.
Disclosure: I have no positions in any stocks mentioned, and no plans to initiate any positions within the next 72 hours.