When we last looked at Danaher Corporation (DHR), there were upward revisions being made in the future of the company's earnings for 2012. The company looked pretty strong but since the first of April has turned bearish in a peak and valley pattern. Most analysts are still bullish on the stock long term.
This last quarter the company had good profits, $612.9 million to $429.8 million a year ago. EPS also surpassed expectations at $0.73 when expectations were at $0.71. These are all good readings but a couple signs put cautions out for us as we look at the company. The company said it expects to post a second-quarter profit of 76 cents to 81 cents a share. Wall Street previously forecast earnings for the quarter of 82 cents a share.
Expecting shrinking profits is a result of the recent acquisition fitted into its calculations. But we need to take into account the cost reductions that came in the fourth quarter of 2011. With a combination of reducing costs higher profits, and higher sales (Sales for the 2012 first quarter were $4.3 billion, 31% higher than the $3.3 billion reported for the 2011 first quarter), the company is in good shape to remain bullish through the year. We see no reason to think otherwise. Everything a company needs to be profitable is here with Danaher.
(click to enlarge)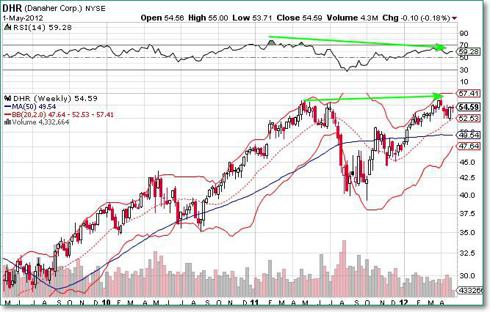 We believe it will make a good long-term investment even now as the stock has dipped. Although there is a good chance the stock will continue sideways - bearish for a period of time. This has been a regular pattern for the last couple years. The RSI is also showing a negative divergence, which confirms the consolidating period. So if it does not proceed upward right away this is the reason.
But you have a strong stock here. It continues to show good profits, just made some good cost cuts and continues to have a good showing in product sales.
"With improving core growth, the cost reductions undertaken in 2011 and an attractive acquisition environment, we believe we are well positioned for the balance of 2012 and beyond," CEO Lawrence Culp, Jr. said. I would agree whole heartedly. This stock is a good investment.