The Bureau of the Public Debt Tuesday announced the new earnings rate of 2.20% for Series I (for Inflation) savings bonds issued from May 2012 through October 2012.
Series I Bonds, or i-bonds, are a low-risk, liquid savings product. While you own them they earn interest and protect you from inflation. You may purchase I Bonds at TreasuryDirect.gov. As of January 1, 2012, they are no longer available at local financial institutions.
Earnings rates for i-bonds are set each May 1 and November 1. Interest accrues monthly and compounds semiannually. I-bonds held less than five years are subject to a three-month interest penalty. I-bonds have an interest-bearing life of 30 years. When the inflation rate is less than zero, a bond's earnings rate is less than its fixed rate, but the earnings rate is never less than zero.
The composite earnings rate for Series I Savings Bonds is a combination of a fixed rate, which applies for the life of the bond, and the semiannual inflation rate.
The 2.20% composite earnings rate combines a 0.00% fixed rate of return with the 2.20% annualized rate of inflation as measured by the Consumer Price Index for all Urban Consumers (CPI-U). The CPI-U (Table) increased from 226.889 in September 2011 to 229.392 in March 2012, a six-month increase of 1.10%.
Inflation Bond Facts:
I Bonds earn interest from the first day of their issue month.
You can redeem them at any time after a twelve-month minimum holding period
They are an accrual-type security
They increase in value monthly and the interest is paid when you redeem the bond
I Bonds are sold at face value; i.e., you pay $50 for a $50 I Bond
I Bonds grow in value with inflation-indexed earnings for up to 30 years
If you redeem I Bonds before they're five years old, you will forfeit the three most recent months' interest; at or after 5-years old, you won't be penalized.
Annual rates compounded semiannually
Maximum purchase (per calendar year): $10,000 at treasurydirect.gov.
I bond fixed rates are determined each May 1 and November 1. Each fixed rate applies to all I-bonds issued in the six months following the rate determination.
More information:
Best Time to Buy I Bonds: Near the end of the month. Make sure you leave enough time for funds to clear.
Best Time to Sell I Bonds: At the start of the month since interest for the prior month is computed on the first of each month. You don't earn interest for fractional months so sell only after the new interest shows up in your account, usually the first of the month.
I Bond Composite rate = [Fixed rate + (2 x Inflation rate) + (Fixed rate x Inflation rate)]
Higher Rate Alternatives:
Currently, you can only invest $10,000 a year into I bonds per Social Security number. You can get a higher base rate with individual 20-year and 30-year TIPS (Treasury Inflation Protected Securities) with no limit on how much to invest. Unlike I-Bonds, TIPS are not tax deferred so they are best for IRA and 401K accounts. You can also buy the TIP exchange traded fund if you want simplicity for a fee of 0.20% a year. Be careful with the TIPS funds as they may pay a negative real rate after expenses for their given duration. I'd rather not pay a fee of any type, especially with interest rates so low. I buy new issue individual TIPS at my broker for no fees at all.
Click to enlarge.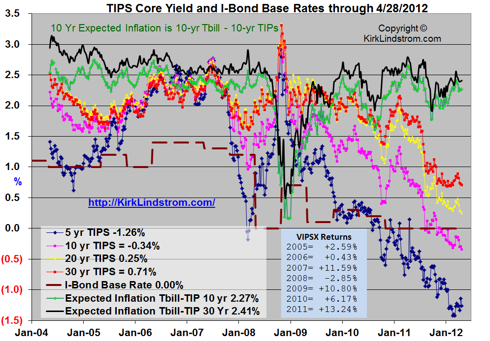 Other alternatives with low expenses that pay higher current interest rates are bond ETFs. These are my favorites:
| | | | |
| --- | --- | --- | --- |
| Ticker | Bond ETF Name | Price $ | Yield % |
| AGG | iShares Barclays Aggregate Bond | 110.33 | 3.54 |
| BND | Vanguard Total Bond Market ETF | 83.61 | 3.51 |
| LAG | SPDR Barclays Capital Aggregate Bond | 58.20 | 3.16 |
| SCHZ | Schwab U.S. Aggregate Bond ETF | 51.90 | - |
| TIP | iShares Barclays TIPS Bond | 119.04 | 2.48 |
These all have interest rate risk. That means if interest rates go up then their NAV (net asset value) will probably go down.
Zero Risk Alternatives
Series I bonds don't go down in value and they are fully guaranteed by the US Government. At the very worst case, they will earn zero interest during any periods of deflation. Other 100% safe alternatives are FDIC savings accounts and CDs. Today you are lucky to get about 1% in FDIC savings accounts. See Best Savings Account Rate Survey for a survey of recent rates.
Note, individual TIPS held to maturity also have zero risk since you will always get your principal back and you keep the interest they earn.
Disclosure: I own Series I Bonds in my personal account with base rates between 0.0% and 3.00%. That means I get as much as 3.00% if inflation falls to zero percent! Thus, I have no plans to sell these 3.00% i-Bonds until they stop paying interest in 2031 or I see a chance for deflation greater than their base rates. I own individual TIPS in my ROTH and regular IRAs bought when base rates were much higher so I'm in no hurry to sell those either. I am long individual TIPS, not the ETF TIP that has a management fee.