On March 26th, I published a sell short recommendation on Dunkin' Donuts (NASDAQ:DNKN).
What happened since then?
The company reported a positive Q1 2012 quarterly report on April 26th. Specifically, revenues were up 9.5% and operating income was up 19.8%. The company's same store sales also performed well with an increase of 7.2% in the U.S. Everyone cheered, the stock reached a 52-week high and we got stopped out of our trade at a minor 10% loss.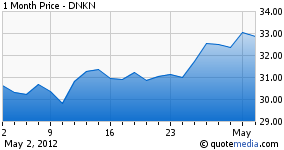 There were (and still are) various valid reasons for our sell short call, among them:
Valuation
If we are to compare Dunkin' Donuts to various of its rivals in the baked goods and coffee industry, such as Starbucks (NASDAQ:SBUX), McDonald's (NYSE:MCD), Peet's Coffee & Tea (NASDAQ:PEET), Caribou (NASDAQ:CBOU) and Krispy Kreme (KKD), we will come up with the following results:
| | | | | | | |
| --- | --- | --- | --- | --- | --- | --- |
| | DNKN | SBUX | PEET | KKD | CBOU | MCD |
| Market Cap | 3.7BL | 41.7BL | 0.9BL | 0.5BL | 0.35BL | 97.3BL |
| Trailing P/E | 87 | 33 | 56 | 3 | 10 | 18 |
| PEG | 1.7 | 1.58 | 1.84 | 1 | 1.34 | 1.7 |
| Price/Sales | 6 | 3.4 | 2.7 | 1.23 | 1 | 3.6 |
| Price/Book | 5 | 8.7 | 5.5 | 2 | 3.4 | 6.8 |
Dunkin' Donuts is extremely overvalued: Its PE is sky high and the growth rate of the company (as reflected in its PEG) does not support such a high PE. Not only that, but the Price/Sales metric (a highly influential gauge among branded merchandise companies) is passing through the roof.
Insiders Are Selling
On March 16th, the company disclosed to the SEC its intentions to pursue the sale of 22,000,000 common shares of the company. The star sellers are the three private equity firms that participated in the initial buyout of DNKN: Bain Capital, the Carlyle Group and Thomas H. Lee Group.
You see, the business model of equity funds is to always buy a company using excessive leverage, load the new company with excessive amounts of debt while pulling out fat dividends at the same time so the fund can finance the debt obligations it incurred in the process of the purchase. Then, once the company shows a good performance record, the PE funds immediately sell their shares.
In almost all cases, that is a great point to exit, not to enter.
Nevertheless, we were stopped out of the trade at $33.
How should we avoid these mistakes in future trades?
Placing our stop loss too tight could "kick" us out of a trade sooner than we expected due to a sudden move in price. As always, after we were stopped out of the trade, we would surely watch the trade move in our favor. Ironic, but still true.
The explosive combination of an earnings season and a growth stock on steroids should have given us the red flag. Very often, it is preferable not to take any side of a trade when circumstances warrant an extra sense of caution. Not jumping on the wagon often turns out to be a better move than jumping on the wagon and regretting it afterwards.
We will try and aim at companies with less of a brand name power. Very often a company with such a strong brand name is able to increase prices and roll it over to customers in order to overcome reduced sales. This stacks the odds in the company's favor and against our short.
I believe that Dunkin' Donuts is still a great short play at current prices for the braver traders among you.
Disclosure: I have no positions in any stocks mentioned, and no plans to initiate any positions within the next 72 hours.