I admit I was skeptical when I learned Merrill Lynch (MER) has hired John Thain to be its new CEO. Merrill, after all, is the ultimate wirehouse: its core competitive advantage is its network of 16,000 retail brokers in the firm's Global Private Client group. GPC is Merrill's single biggest business, by far. In 2006, even as the firm's doomed CDO business was still going strong, GPC kicked in 35% of overall revenues. And in the third quarter, when parts of the rest of the firm were imploding, GPC revenues soared by 23%, to $3.3 billion. Not only is the unit highly profitable in its own right; its distribution heft gives Merrill a key edge in its other businesses, too, most notably in equity and fixed-income underwriting.
Merrill's Lynch's retail sales network isn't just bigger than its competitors'; its brokers are more productive, as well. Pound for pound, Merrill Lynch financial advisors have more assets under custody than do the FAs at the three other big national brokers. Plus, Merrill brokers bring in more per head in revenues and pre-tax earnings as well. I don't think it's a stretch to say that the most important people at Merrill Lynch, by far, are its retail brokers.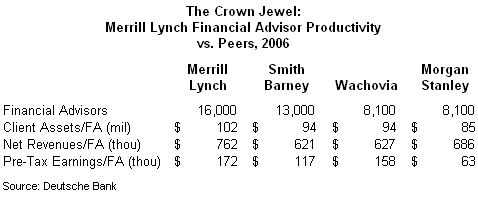 And so Merrill goes out and hires Thain? What in the world does he know about the retail brokerage business? Nothing, that's what.
As I say, I'm confused. I used to work at a wirehouse or two, and know first-hand that retail brokers can be independent-minded and highly entrepreneurial—and occasionally prickly and thin-skinned, as well. Like other individuals whose work is central to an organization, they need a certain amount of care and attention if they're going to be optimally productive. Stan O'Neal certainly wasn't a brokers' guy at Merrill—and I'm not so sure John Thain will be, either. And his arrival comes at a time, by the way, when Merrill's broker network is about the only thing keeping the ship running.
So here's my question—to all Merrill Lynch financial advisors within the sound of my voice. What's your take on Thain? How will his arrival affect morale among producers, including your morale? Are financial advisors (including you) more likely to stay at Merrill, or might you consider moving somewhere else? Or will his arrival have no effect at all?
Tom Brown is head of BankStocks.com.